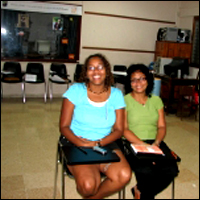 By Patricia Grogg
HAVANA TIMES, June 14 (IPS) – Izet Samá does not feel sorry for dedicating 24 hours of every day to her mission; she serves as the pastor of the Reformed Presbyterian Church in a small town in Cuba's Havana Province.
Nonetheless, being a woman, young and black tripled the challenge to break conventions set by men for men, she told IPS.
"You have to constantly demonstrate your capabilities and aptitudes, showing that you can serve well, and do a good job of it. And that's rough," she explained.
At 35, and having been ordained as a pastor for five years, Samá is certain that she has chosen the right path for herself, despite the torments and difficulties.
"Perseverance," she said, "is the key. I didn't give up. There were moments in which I had to work at three churches at the same time, and under very difficult conditions, but the more the complications and obstacles, the more force I put into my efforts to continue," she related.
"My ultimate goal was to work in a community and be the pastor," she said. Along that road she never lacked support; "Pastors and religious leaders there helped me," she recalled
When she was finally assigned to a community to minister her pastorship, she found it full of problems and divided by internal conflict. Now "it's completely different," the reverend said.
Samá's church is in the town of Los Palos (literally "the sticks), in a municipality of Havana Province but closer to the city of Matanzas than the capital.
Among the main social problems faced by her flock, she says, are domestic violence (gender and intra-family) and alcoholism.
"It's a community in which many people are unaware of their rights as citizens; therefore I have to deal a lot with the constitution and Cuban laws. One of my tasks is to help to forge better citizens. To the degree that they understand the situation, they contribute more to transforming it," she affirmed.
The very fact of being a religious leader in a country with the peculiarities of Cuba – its socialist system, the macho remnants that rise above the law, and formally expressed women's rights – has been a challenge for Samá.
"This has implied risks, and often disillusions and frustrations," she admitted.
"However," she added, "being a pastor is necessary. It's necessary to transform conditions. It's necessary to be here in Cuba, with all that this implies. Along the path you can run into many complications, much pain and misunderstanding, but if you desist and veer from the path, the problems will become greater."
In Cuba, with its 11.2 million inhabitants, religious freedom was reestablished in the constitutional reform of 1992. For two decades the state had defined the country as being atheist, and religious beliefs were perceived as contradictory to the nation's revolutionary ideals.
With the religious opening there reemerged the tremendous syncretism that has traditionally characterized the Caribbean island with regard to creeds, according to various experts.
It is believed that the majority of the population is Catholic, and – at the same time – being baptized in that Church is a necessary step to be initiated in the rite of the Santeria, a popular religion of African origin that is widely practiced in Cuba.
The Cuban religious landscape is made up of the Catholic Church, a wide spectrum of Protestant churches, expressions of African origin, Spiritualism and manifestations brought by previous migration movements, such as Judaism and voodoo.
FEMALE PASTORS AGAINST THE PATRIARCHY
However, this diversity of faith has not been the greatest challenge to Samá and many other women who have looked for leadership within their churches; rather, it has been the breaking with patriarchal preconceptions.
Firstly, not all Protestant denominations allow women pastors, just as Catholicism does not permit female priests. In fact, what different religious confessions have had as a common denominator around the world and throughout their histories is the secondary role assigned to woman.
"In my case, being young and having a concept different from the pastoral clergy presented many obstacles in the beginning, because the model that we were implementing was questioned," said Samá.
"Little attention is paid to what we are contributing; rather, people focus on the fact that we don't fit the traditional mold into which pastors have been pigeonholed," she explained.
Samá opted to work with a methodology of popular education, interacting with the community and seeking to make each person aware that they can contribute and participate. This is a formula that "requires complete dedication," she stressed.
"Also, there are many colleagues who don't accept us; they see us as enemies, as people who are coming into the church to usurp positions," she detailed.
"It is a question of power, of their not losing presence in positions of decision-making authority, while we only want to share our experiences," the pastor concluded.
Despite such obstacles, in 2007 the Cuban Episcopal Church ordained Nerva Cot Aguilera as its first female bishop and in recent years the Cuban Council of Churches was presided over by Reverend Rodhe González, of the Pentecostal Christian Church.
Another outstanding case is that of Ofelia Ortega Suarez, pastor of the Reformed Presbyterian Church and president for Latin America and the Caribbean of the World Council of Churches, among other positions.
These new social actors demand a leading role, but women don't conform to the patriarchal structures that block their advance, in addition to other obstacles that confront them. "Power does not concede power, it has to be challenged," asserted Cuban anthropologist and historian Maria Ileana Faguaga.
"Churches are part of societies, and in them are reflected the same tensions and re-adaptations that are seen in every social scenario, included sexist and racist ones. We are also seeing transformations occurring within the nucleus traditionally referred to as the family," the expert added.
Enrique Lopez Oliva, an academic and secretary in Cuba of the Commission for the Study of the History of the Church in Latin America (Cehila-Cuba), told IPS that this process of the incorporation of women into leadership roles in non-Catholic Christian churches began gradually at the end of the 1960s.
This was in the early years of the Cuban Revolution, when there were sharp tensions with the United States. Many pastors fled Cuba, and some of their responsibilities began to be held by women who remained in the communities. "The churches experienced a special situation," commented Lopez Oliva.
Later came the incorporation of women in theology courses. Now, many are teachers at the Evangelical Seminar of Matanzas, and it is not unusual to find them heading their own religious communities. "This process has been unfolding over the last 20 years," Lopez Oliva added.
When taking a retrospective look at the period since women were first admitted to "full priesthood," Bishop Cot admitted a "certain frustration," because they remain a noticeable minority. "Men still prefer to hold the positions of power and authority," she wrote in an article on the woman's situation in the church.
Cot argues that the macho mentality persists – in men as well as in women – when it comes time to assume, choose, name or designate positions of importance in the work of the church. Any male who is ordained in a church, she considers, is measured with less strict standards than that used to gauge a woman – regardless of their ability.
In current day Cuba, with religious freedoms guaranteed constitutionally, there are 27 churches and 12 ecumenical groups that are members of the island's Council of Churches, with these representing a sizable portion of Protestants, Evangelists and Pentecostals here.
There are also nearly 60 officially recognized denominations that are not members of the Council, and about 100 mostly very small groups that are not officially registered at all.
Most of the Protestant churches maintain stable and respectful relationships with the Cuban government, and several of their pastors and leaders have been chosen to hold important political positions, such as deputies to the National Assembly.
On the part of the Catholic Church, during this decade there has also taken place "a general improvement in the relationships" with the government, Cardinal Jaime Ortega recognized recently. The improvement, he explained, is not only institutional, but also reaches the situation of individual Christians in general and Catholics in particular.