Cuba's Haarlem Baseball Showing
Peter C. Bjarkman*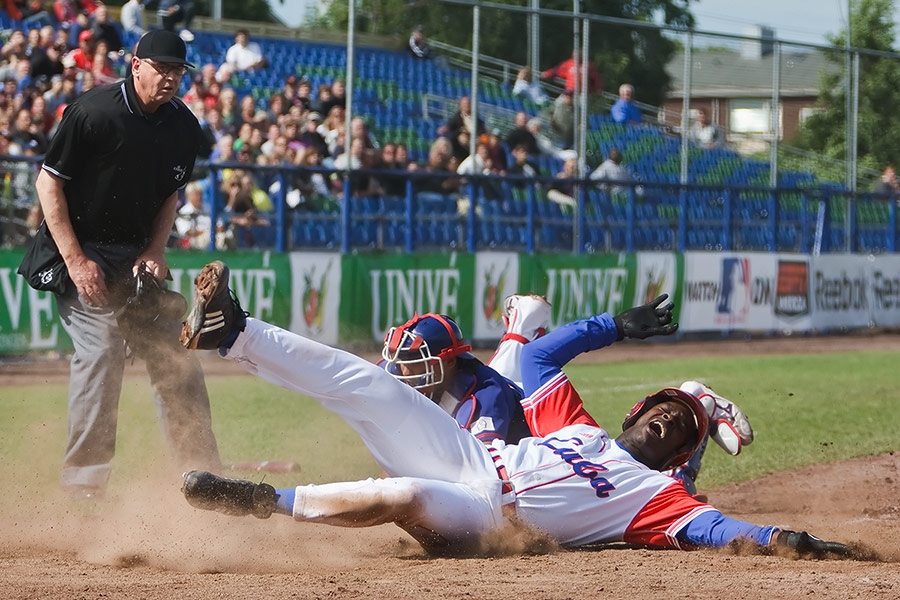 HAVANA TIMES, July 27 — Cuban teams have never been very successful in Haarlem and this year's second-place trophy continued a monotonous string of runner-up finishes here during the current decade. Unlike the companion World Port Tournament (held on odd-number years in Rotterdam and dominated by Cuban entries over the past dozen renewals), Haarlem hasn't witness a Cuban championship since 1998; during the first decade of the new millennia the Americans have triumphed here on three occasions and the host Dutch have now also laid claim to a third first-place banner.
Meanwhile Cuban teams have been the bridesmaids (second) on five occasions and limped home third (2002) in a sixth outing. Of course one can point to the fact that it has almost always been a second-string Cuban squad that has represented the island forces in Haarlem; but that is equally true of Rotterdam where gold medal finishes have been par for the course. Even when the Cuban brain trust did send its frontline roster to the Low Country (on the eve of the Beijing Olympics in 2008) the equally disappointing result was a pair of losses to an outfit of talented American collegiate all-stars fronted by the masterful pitching of current big leaguers Mike Minor and Stephen Strasburg.
This summer's Haarlem championship race slipped away from the Cubans during the middle stretch with a pair of meltdown performances versus the host Dutch and the spunky Japanese. A much-anticipated first meeting with the host club was over early when Dutch hitters jumped on starter Ciro Silvino Licea in the opening frames, plating three each in the first and second, and two each in the third and fourth. It was indeed the first time this writer had ever witnessed a Cuban team fall victim to a ten-run knockout (10-0) during an international tournament event. German Mesa for his part seemed content to let the slaughter continue, leaving ineffective reliever Yoelkis Cruz on the hill to struggle mightily for the final four-plus nightmare innings.
The follow-up loss to Japan (4-2) a day later was a very different story, however.  Although the Cuban offense was still sluggish, this was a game the islanders might well have won with a reasonable break or two during the final two innings. Trailing 4-1 in the top of the eighth, a potential rally fell by the wayside when Eriel Sanchez scorched a liner down the left field line (with a pair of runners on board) that fell mere inches outside the foul line marker; Sanchez then skied out to deep left field to end the threat. In the ninth the first two runners reached base and thus again ignited strong comeback hopes. But a sinking smash by Serguei Perez into left center was snagged on a circus grab by diving center fielder Shota Goton; had the Perez hit eluded Gotoh the door would have swung wide open on a near-certain game-saving rally.
Revenge on the final day
The team did not actually play badly outside of the Tuesday battering at the hands of the eventual champions. Some rumored off-the-field unrest in the Cuban team hotel on the eve of the two losses might reasonably be cited as the main culprit in the pair of mid-week sub par performances. There were circulating reports of widespread unhappiness with manager Mesa. And there was indeed a minor flare-up in the team hotel on the very afternoon of the whitewashing by the Dutch. But things settled as the week progressed and the tournament undeniably ended on a Sunday afternoon high note. This was quite a reversal from 2008 when Cuba blew a winner-take-all final versus rival Team USA. Ironically, if there was any reason for some head-hanging in the Cuban contingent it resulted only from the fact that the second-place silver trophy was accidentally misplaced at the hotel and thus remained in Haarlem when the team departed for Havana on Monday morning.
The clear highlight for Team Cuba came on the final day with a thorough thrashing (12-5) of the first-place finishers. The runner-up Cubans were clearly gunning for revenge when they roughed up ace Dutch starter David Bergman in the home half of the first. Before he was able to retire a single batter the veteran Bergman was touched up for four runs on two doubles (Bell and Mendoza), three singles and a walk. Given a huge five-run first inning cushion, Cuban starter Angel Peña cruised through the game's first half, yielding only a pair of harmless singles (both by Michael Duursma) through five frames. But a brief reversal did occur at the game's mid-point when Peña seemed to collapse in the sixth and the Orangemen quickly stormed back into the fray with a five-run outburst of their own. It was nonetheless destined to be Cuba's day and a towering Alexei Bell homer to center in the seventh quickly put Mesa and company back in the driver's seat. A final offensive explosion—a six-run eighth capped by a two-run single off the bat of Serguei Perez—sabotaged once and for all any faint Dutch hopes of sweeping the tournament field. Reliever Nick Veltkamp contributed mightily to his own demise during the late-inning Dutch surrender, first misplaying an intended sacrifice bunt (off the bat of Rudy Reyes) and then also wild pitching home the first of the half dozen insurance runs.
Carrillo emerged as the brightest prospect
Robelio Carrillo—making his debut in international competition at age 24—emerged as the brightest prospect in Cuba's Haarlem lineup. The Villa Clara southpaw was the only one of Mesa's nine pitchers to see no action throughout the team's first five outings. But when he finally got the call, Carrillo recorded two big victories that launched Cuba's gutsy comeback during the final three days of action. In his first outing the lefty was a single pitch away from slamming the door on a late Taiwanese rally before yielding an opposite-field two-RBI single to catcher Chun Chieh Wang that allowed Taipei to climb back into contention. But after he was victimized by Wang's exceptional piece of hitting, the wiry southpaw benefited from his team's timely rebound (two runs in the home eighth) and breezed through the final Chinese at-bat unscathed.  Twenty-four hours later (facing team USA) Carrillo again dodged several bullets and worked in and out of trouble while recording a second notch in the victory column.
The rebound victories in rematches with the Taiwanese and Americans were—ironically enough—nearly carbon copy games in a number of different respects. In both contest there were late inning rallies that erased mid-game setbacks. Falling behind the Chinese 2-1 in the top of the eighth—when a throwing error by Rudy Reyes opened the door to a pair of unearned tallies—Mesa's club rallied back in the home half of the same frame. The big blows were Duarte's double that plated Ariel Sanchez and Bell's two-out smash to right knocking home Duarte. After again giving up the lead on Thursday—when the Americans rallied in the sixth against Borroto—once more Bell came through (this time in the seventh) with a single driving home both Castro (the game-winner) and Duarte (a much needed insurance run that later proved to be the margin of victory). As noted, Robelio Carrillo was the pitching hero out of the bullpen on each occasion, converting a blown save into an eventual victory versus Taiwan, and holding the Americans at bay during three final tense innings. And in both matches it was the opportunistic Alexei Bell who manufactured the clutch hit and produced the game-winning run batted home.
Norberto, Alexei and Duarte
Cuba's top individual stars were prominently on display throughout the Haarlem festival and if the team effort fell a bit short the outing nonetheless did provide several of the tournament's top hurlers and top batsmen. Norberto Gonzalez was perfect in three brief outings and was one of three hurlers to ring up perfect 0.00 ERAs. Norberto was especially strong in the finale, allowing a number of inherited runners to score after relieving Portal in the sixth (with the bases jammed and none retired), but then yielding only a pair of harmless singles over the final three shutout frames while striking out five. Bell (with a homer a trio of game-winning hits) and Duarte (the tournament pacesetter in both base hits and RBIs) outdistanced the field in a number of offensive categories. Mendoza (.407 with two doubles and a triple) and Castro (with Cuba's only other homer) also stood among the top hitters in several different batting departments. And Carrillo was one of only two hurlers to pick up a pair of victories. As a ball club, Cuba (with the only aggregate .300-plus batting mark) posted the best hitting numbers of the five entries. The Dutch barely out slugged the Cubans (.409/.394) but trailed the islanders in total base hits (by 84 to 78).
I have already received email inquiries from several followers of our internet reports concerning who might be true emerging stars here in Haarlem—ballplayers with some legitimate future national team prospects. Alexei Bell clearly stole the ten-day show (batting above .400, leading the field in slugging and runs scored, and trailing teammate Duarte by only one in the base hits department); if there were any lingering doubts at the end of the recent National Series about Bell's complete rebound from his 2008 injury, they were certainly put to rest with a vengeance in Holland. This writer will be shocked if Alexei is not the Team Cuba right fielder (with Despaigne in center and Cepeda in left) for the big international matches in October. Norberto Gonzalez (a disastrous omission for the September World Cup squad) has also apparently punched his return ticket to the frontline national team.
Freddy Asiel Alvarez continues to impress as one of the top two or three Cuban starters. But the cases for Maikel Folch and Angel Peña are more marginal and both may well find themselves sliding out of national team contention in the near future. A pair of young southpaws—Carrillo and Yoandry Portal—flashed brilliance and thus also promise over the past ten days and will likely make eventual appearances with the top club, although neither may be quite ready by October. Yunier Mendoza was solid here with both the bat and glove and I would not be surprised to see him emerge quickly as José Dariel Abreu's understudy at first base. Donald Duarte had a fabulous week in Haarlem and continues to hit well in his few brief trials with Cuba B squads. But with Yulieski Gourriel, Michel Enríquez and Hector Olivera all entrenched above him it seems that Duarte has virtually no chance of ever cracking the elite national team infield.
The Dutch—fielding their number one national squad—appeared to be the best club on the field in Haarlem across nine of the ten days of tournament action. Even if the one-sidedness of the first Cuba-Holland match may have been an anomaly, the Dutch A-level squad was every bit the equal of (if not superior to) Cuba's second-level roster. Cuba's top clubs have often struggled with Dutch teams in recent international play and this particular Netherlands squad managed by Jim Stoeckle is likely the nation's best ever outfit (and that includes the WBC team that shocked the Dominicans twice last spring in San Juan). But in fact their margin of superiority over the Cubans this past week fell mostly in the realm of pitching, where outside of Freddy Asiel Alvarez and Norberto Gonzalez the Cubans brought anything but their top guns. With pride on the line during the final Sunday afternoon rematch German Mesa's club reasserted the expected Cuban dominance and they did so against two of the top Dutch arms—veterans David Bergman and Leon Boyd.  Holland took home the prestigious trophy and they certainly earned it fair in square—even if the tournament's final round-robin format was not the one we originally started out with. But after Sunday's convincing 12-5 Cuban victory over the already-crowned champions, the issue of the best team in Haarlem was anything but satisfactorily resolved.
Full-time amateurs
Questions have been raised by some of my Dutch press colleagues here in Haarlem about an earlier published statement of mine that the Holland Honkbal league (honkbal = home ball = baseball) was in fact professional in stature.  This same issue has also often been raised about the Cuban League itself and has drawn comment on this website from time to time. Cuban ballplayers are by every reasonable standard "professionals" even if those standards allow no room for considering the size of the athlete's paid salary. Cuban Leaguers are indeed paid, they are full-time ballplayers, and they devote their full energies to practicing their chosen profession. When asked about his "amateur players" during a press conference at the first World Baseball Classic, manager Higinio Velez appropriately quipped that school teachers in North America are not considered "amateurs" just because they earn  only a tiny fraction  of what rock stars or big leaguers demand for compensation. The Dutch leaguers do fall into a slightly different category, since they are not technically full-time athletes and do hold other employment during a league season in which they play only three days weekly. But they are indeed paid to play, and they are entirely "professional" in their approaches to training and performance; they are also under financial contract to specific league teams, and their expenses for international tournament play are entirely covered by the Dutch Baseball Federation. For my money, they are indeed professionals.
The ten-day event here in Haarlem was in large part a major disappointment for big league scouts on hand, but it can hardly be classified that way for the large fan turnout. With the string of host team victories stretching all the way to the final day, local fans turned out in surprisingly large numbers and enjoyed themselves from opening to closing pitch as only Dutch fans do. The record 10-day attendance of slightly over 66,000 (an average of 3,300 for the 20 contests) was especially noteworthy in the light of two factors—a national mania surrounded the Dutch appearance in the soccer World Cup finals during the opening weekend, and the uncooperative rains that damped mid-week action. Pim Mulier Stadium was packed to its full capacity (just under 5,000) for all evening games featuring the Dutch squad and all the games of Team Cuba also drew hefty turnouts. MLB scouts on the other hand complained to this writer frequently that they were largely wasting their time. The talent level of the American, Taiwanese and Japanese university clubs featured only a sprinkling of potential pros. The Cubans of course brought at least half-a-dozen athletes capable of turning scouts' heads, but Cubans remain off-limits for big league clubs. And most of the top performers for The Netherlands were seasoned veterans who either had already washed out of North American pro careers or were (by now in their thirties) too old to merit talk of minor league contracts.
Cuba's mixed-results visit to Haarlem was only the first of several important international visits for island all-star teams during the months of July and August. A talented roster of 18-year-old prospects will carry the nation's colors to the World Junior Championships in Thunder Bay, Canada, later this month. And during the first week of August another strong Cuba B squad (featuring such frontline stars as Alfredo Despaigne, Hector Olivera, Yadier Pedroso and Miguel Angel Gonzalez) will vie for honors in Tokyo at the fifth renewal of the World University Games. With such major events as the Americas World Cup Qualifier (San Juan) and the IB AF Intercontinental Cup (Taiwan) looming on the horizon in October, island rooters are keeping their fingers crossed that the Haarlem results don't foreshadow an extension of an already embarrassingly long string of second-best silver medal outings in recent top-level international competitions. Over most of the past half-century the Cubans have brought home gold in better than ninety percent of their top international events. That remarkable level of success has now made mere second-place finishes (welcomed by virtually any other ball-playing nation) today seem somehow quite hollow by comparison.
Final Haarlem Team Standings
Team                          Record            GB       Runs Scored    Runs Allowed  Batting Average
Netherlands                  7-1                   —-        52                    26                    .295
Cuba                            6-2                   1.0       43                    34                    .312
Japan                           3-5                   4.0       36                    39                    .235
USA                             2-6                   5.0       30                    53                    .232
Chinese Taipei              2-6                   5.0       22                    31                    .247
Final Haarlem Baseball Week Individual Statistics
Batting Average (Batters)
Po Ting Hsaio (TPE) .500
Donald Duarte (CUBA) .452
Shaldimar Daantji (NED) .440
Alexei Bell (CUBA) .419
Yunier Mendoza (CUBA) .407
Slugging Percentage (Batters)
Alexei Bell (CUBA) .613
Donald Duarte (CUBA) .583
Po Ting Hsiao (TPE) .583
Donald Duarte (CUBA) .581
Yunier Mendoza (CUBA) .556
Runs Scored Batters)
Alexei Bell (CUBA) 9
Danel Castro (CUBA) 7
Yunier Mendoza (CUBA) 7
Katsumichi Noguchi (JAP) 7
Danny Rombley (NED) 7
Eugene Kingsale (NED) 7
Base Hits (Batters)
Donald Duarte (CUBA) 14
Alexei Bell (CUBA) 13
Po Ting Hsiao (TPE) 12
Yunier Mendoza (CUBA) 11
Danny Rombley (NED) 11
Shaldimar Daantji (NED) 11
Runs Batted In (Batters)
Donald Duarte (CUBA) 8
Danny Rombley (NED) 7
Yunier Mendoza (CUBA) 6
Home Runs (Batters)
Alexei Bell (CUBA) 1
Danel Castro (CUBA) 1
Bryan Englehardt (ND) 1
Jason Halman (NED) 1
Wade Hinkle (USA) 1
Jared Womack (USA) 1
Total Bases (Batters)
Alexei Bell (CUBA) 19
Donald Duarte (CUBA) 18
Danny Rombley (NED) 16
Yunier Mendoza (CUBA) 15
Danel Castro (CUBA) 14
Earned Run Average (Pitchers)
Diegomar Markwell (NED) 0.00 (11.0 innings)
Norberto González (CUBA) 0.00 (7.0 innings)
Leon Boyd (NED) 0.00 (7.0 innings)
Yu Ching Lin (TPE) 0.82
Wen Yang Liao (TPE) 1.12
Opponents Batting Average (Pitchers)
Leon Boyd (NED) .130
Diegomar Markwell (NED) .135
Wen Yang Liao (TPE) .148
Norberto González (CUBA) .160
Naoki Shirahama (JAP) .171
Freddy Asiel Alvarez (CUBA) .196
Innings Pitched (Pitchers)
Yudai Ohno (JAP) 19.1
Wen Yang Liao (TPE) 16.0
Freddy Asiel Alvarez (CUBA) 14.1
Paul Davis (USA) 13.2
Yoshito Uramoto (JAP) 13.0
Strikeouts (Pitchers)
Wen Yang Liao (TPE) 14
Luis Borroto (CUBA) 13
Freddy Asiel Alvarez (CUBA) 11
Andrew Morris (USA) 11
Angel Peña (CUBA) 10
Yudia Ohno (JAP) 10
David Bergman (NED) 10
Wins (Pitchers)
Robelio Carrillo (CUBA) 2
Yusuke Matsubayashi (JAP) 2
* Peter C. Bjarkman is author of A History of Cuban Baseball, 1864-2006 (McFarland, 2007) and is widely considered a leading authority on Cuban baseball, both past and present. He reports on Cuban League action and the Cuban national team for www.BaseballdeCuba.com and also writes a regular monthly Cuban League Report for www.ibaf.com. He is currently completing a book on the history of the post-revolution Cuban national team.