Cuba's Jeniel Marquez: Soccer Star and Taxi Driver
Duanys Hernandez Torres (OnCuba)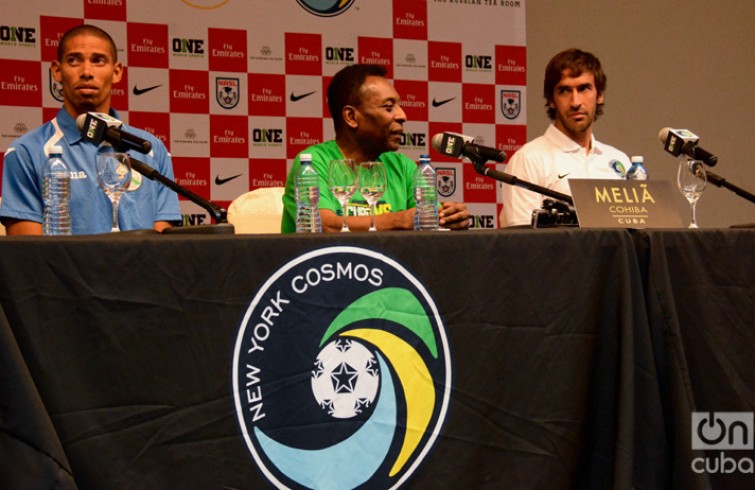 HAVANA TIMES — In Cuba, you can run into a talented athlete who's just traded kicks with New York's Cosmos and fraternized with soccer legends Pele and Raul and who, after wiping off the sweat worked up by the match, returns to his native city to continue roughing it with his private "business."
Jeniel "El Croqui" Marquez, captain of the Cuban national soccer team, seven-time national champion, a man who's participated at the Golden Cup on seven different occasions and has been named the year's best soccer player, is also a motorcycle taxi driver.
Many fans in Villa Clara find it hard to believe that their idol is behind the handlebars of this vehicle (a very Cuban mix of motorcycle and coach). When the initial shock wears off, however, they pay the 5 pesos that the ride costs.
OnCuba trecked the distance, all the way to the parking lot where this "scooter" rests, in the city of Santa Clara. There we found an unassuming Cuban who has shed the familiar jersey, eager to push his business forward.
Why did you take out a self-employment license?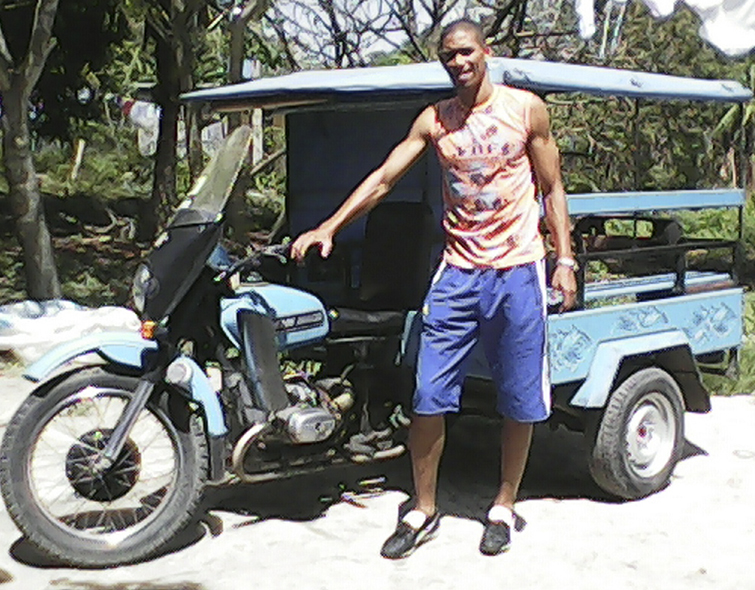 My main objective is to guarantee that my two kids have a future. I have an 8-year-old boy and nine-year-old girl. When my wife came back from Venezuela, where she'd been working on a government to government contract, we decided to invest the money and buy a scooter. [As a top soccer player Marquez earns less than 50 USD a month].
Just like that?
It was tough, because I had to drive the scooter myself all the time the first few months, without the driver I'd hired to alternate with me. In the morning, I'd drive the scooter and, in the afternoon, I'd either train or play. Luckily, that was only for a few months, because I'd end up dead-tired by the end of the day. It was highly demanding from the physical point of view.
Did other drivers and passengers recognize you?
I have a number of interesting stories. For instance, when I started driving the scooter around town, the other drivers started calling me "the athlete," because it was something out of this world for them. On another occasion, I was taking people to the university and a kid was looking at me through the rear-view mirror. Whenever our eyes met, he would look the other way. When he got off, he said to me: "Aren't you the captain of Cuba's soccer team? What are you doing driving a scooter around?" I started laughing and said to him: "It seems incredible, but it's the truth."
What do you do when the scooter breaks down?
I have to look for a mechanic, and try and fix the problem. Luckily, in such emergency situations, which haven't been many, the trainers have allowed me to miss one day of training, provided I do a bit of training on my own.
Are you still driving?
No. The scooter just passed the technical inspection and I'm going to hire a driver. I hope he doesn't do what the last one did.
How did your family react to you becoming self-employed?
They've offered me a lot of support and I am grateful because it was very hard to do both things at the beginning. The people close to me have always encouraged me, both in my sporting career and personal life. Without their support, it would have been impossible for me to do this and play soccer at the same time.
What's in store for the soccer player and scooter driver?
I am doing very well physically, sports-wise. I'll do everything in my power to enter the national selection and match Odelin Molina, who participated 8 times at the Gold Cup. Now that there have been changes in the world of sports in Cuba, I'll work to find a contract with a foreign league. Oh, and of course I'll keep the scooter business.