Cuba's JoJazz 2012 Kicks Off
Irina Echarry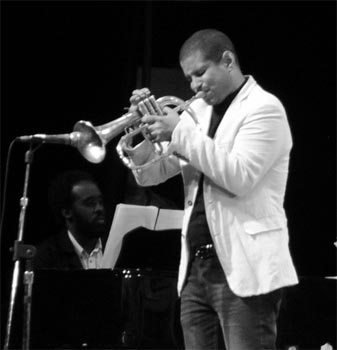 HAVANA TIMES – Something unusual happened on the night of Thursday November 22, the Mella Theater was packed for the opening of JoJazz 2012. Generally this event just draws young music students and a few fans of the genre, but it seems that the story will shift from now.
A screen passing Maikel Herrera's paintings, guitars hanging on stage, a huge saxophone and other musical instruments decorated the room that hosted the presentation of two discs on the Colibri label: Sueños del pequeño Quin and En la Espera.
First Alexis Vazquez was recognized for having opted for young talent 15 years ago and making Jojazz a reality. Then began the gala dedicated to the fifty year history of the National Art School (ENA).
Joaquín Betancourt commented that it was the day of St. Cecilia, patroness of music and musicians, and presented the Young Jazz Band; together they performed the songs on Sueños del pequeño Quin, recalling the times when our jazz bands shined on the Cuban and  international music scene.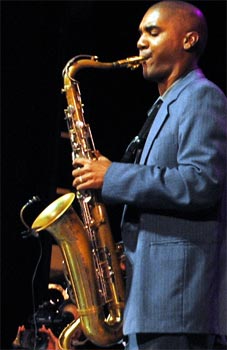 Made up by young and not so young talent The Contemporary Jazz Band had as guests Gipsy Garcia on drums and trumpeter Yasek Manzano, who played a beautiful version of Te quedarás..
Betancourt introduced a disciple who he does not consider as such but instead a colleague who has "a good ear for music but also to listen to good advice": Michel Herrera, that permeated the evening of freshness and originality with his Young Jazz group performing: Mother Earth, Danzon to In my Taita, En la espera, receiving the applause of the audience.
However, the most acclaimed was My Funny Valentine accompanied on flute by Evelín and singer Yanet.
Thus opened the 15th edition of Jojazz, which this year features 36 contestants from Havana, Santiago and Holguin, plus the visiting group Out Side of El Salvador, Victor Goines, jazz saxophonist and clarinetist from theLincoln Center Orchestra, and artists of different nationalities gathered in the Dutch orchestra Arifa.
The JoJazz festival continues in Havana through Sunday November 25.  Hopefully all the presentations will also have a large public.

Click on the thumbnails below to view all the photos in this gallery. On your PC or laptop, you can use the directional arrows on the keyboard to move within the gallery. On cell phones use the keys on the screen.