Cuba's New Hotels and Dollar Stores
The money road hasn't changed with the pandemic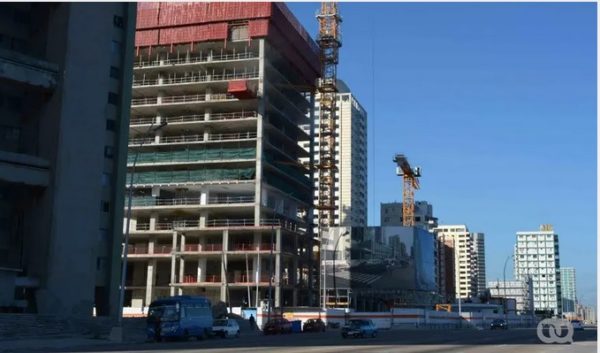 By Amaury Valdivia (El Toque)
HAVANA TIMES – It's been over a year now that the only trucks you see on the highway and roads around the Jaronu sugar refinery, in Camaguey, belong to the Military Construction Co.
Immune to some residents' skepticism, military developers haven't stopped working on the project of turning Cayo Cruz into a tourist resort with over 25,000 rooms, a plan that was born a few years ago. In spite of hotels being closed today because of COVID-19, water pipes are still being laid down, the electricity network is still being set up and they are still building roads that lead to the plots of land where the hotels have yet to be built. By late 2020, pipelines spanning 89 kms ensured the water this place might need, even at its peak.
Radio stations all over the province are calling on people to apply for jobs in building brigades, and there are plenty of resources at hand for such a risky bet.
The country's uncertain future ahead hasn't put a dent in its tourism development plan. Statistics from Cuba's Office of Statistics and Information (ONEI) confirm this. Between January and December 2020, business services and retail estate and rental activity hoarded 45.6% of the State's budget for investments. These sectors (that make up different parts of the hotel industry) received the lion's share of available capital for new building projects.
Economist Pedro Monreal, an advisor at UNESCO, uses a comparison in order to explain the issue. In one year of the pandemic, marked by the collapse of international flights, a partial dollarization of Cuba's economy and shortages of basic essentials; Tourism "received 3.5 more times investment than industry, 7.5 times more than agriculture and stockbreeding, and 72 times more than science and technological innovation [… a percentage] that is higher than back in the "golden" years of 2017 and 2018."
Contrary to what you may have expected, this tendency that Monreal pointed out was not only upheld in the beginning of 2021, but it was ramped up. Between January and March 2021, tourism investments received 50.3% of national investment funds, and the sector now has a greater advantage over activities such as agriculture, the food and fishing industries.
All of this comes after a year when not even emblematic destinations like Varadero were able to keep a tenth of their hotel facilities booked and revenue probably dropped by up to 80%.
According to figures published by ONEI, only 64,712 tourists traveled to Cuba in the first four months of 2021. This figure, which is only the equivalent of 6% of international holidaymakers that had visited the island in the previous year (983,099), takes on its real meaning if we compare it to the figure recorded at the end of the 2019 peak season, when 1,9 million foreigners came to spend summer on the island.
It's likely that that the almost 97% drop in the number of physical clients is more when it comes to revenue.  Hotel occupation rates weren't very high, even before the pandemic.
As a result, this course of action is striking (at the very least), if we bear in mind the fact that in July 2020, when the Social/Economic Strategy to give a boost to the economy and the country's fight against the COVID-19 pandemic was presented, president Miguel Diaz-Canel said that food production and replacing imports were a top priority. In February 2021, the minister of Economy and Planning, Alejandro Gil Fernandez, ratified these sectors as essential, even after the pandemic goes away.
In search of US dollars
In October 2019, the Cuban government announced on the Mesa Redonda TV show, that Cubans would be able to buy electrical appliances, parts and car parts, as well as other merchandise, in US dollars. What was announced as a temporary option, limited to the sale of only mid/high range items, didn't take long to become the general rule.
Right now, imports of goods and merchandise have dropped considerably, in comparison with numbers in past years.
According to the government's plan, some of the revenue from MLC stores would be put towards developing national industry, so that they can be in a condition to satisfy the domestic market's demands and export, at some point.
"A certain amount of merchandise needs to be sold in dollars, in order to get foreign currency and continue to expand these kinds of sales; and because some of the money collected in this way would be reinvested into national industry, so that they can become a source of products for these stores and others," Diaz-Canel said at the time.
However, between regular shortages on the retail network and tourism investments still getting priority, it doesn't seem like much capital is finally being used to modernizing Cuban industry.
Talking about national shortages and the ban on the self-employed importing goods for retail purposes, the minister of Economy argued on the episode of Mesa Redonda (that was broadcast on February 19, 2021), that this practice would encourage a drain of foreign currency abroad, would stop this capital from being reinvested in national industry, wouldn't create jobs and would leave the State without the means to supply the market.
This is an issue that the Government and Cuban citizens have been wrestling over, for years. The government's stance was ratified by minister Gil Fernandez when he said that excluding this activity from the list of prohibited self-employment activities "wouldn't help to protect our economy or our people [… as they are] measures that encourage the flight of foreign currency outside the country."
At the VIII Cuban Communist Party Congress in April, Raul Castro insisted that: "there are boundaries we can't pass because the consequences would be irreversible and would lead to strategic mistakes and the very destruction of socialism, and herein national sovereignty and independence." Such a dramatic appeal called for monopolies to remain in place, such as the retail market, which has been an important source of revenue for public coffers, ever since the early 1990s.
Just like before the pandemic
By the time the Cuban government authorized sales in USD and some ways for individuals to import, purchases abroad had dropped considerably.
Neither renegotiating Cuba's debt repayments, nor the renewed interest of foreign business, has managed to counteract the burden of sanctions that came after Trump's administration came to power. The Cuban government's strategy hasn't helped give economic recovery a boost either, with decisions like restricting reforms in agriculture and suspending the creation of new non-agricultural cooperatives.
The growing number of stores using USD has not translated into better-stocked shelves. In less than a year, the number of retail units of goods and services in this currency went from an initial 72 to a much higher number that has yet to be disclosed, with no tangible benefit for consumers.
Celebrities like actor Luis Silva (the protagonist on TV show Vivir del Cuento) have called for a regulatory framework that would allow private individuals to supply the domestic market with imports. The actor blames the Cuban government for not allowing imports of goods for resale in Cuba, and he proposes this method as an immediate response to nationwide shortages.
According to experts like Pedro Monreal: "Imports by natural persons don't stop state-led agencies from getting a hold of foreign currency, it rather demands that they compete to get them," he reflected.
On the one hand, the State is advocating for gathering foreign currency to fund an industry that provides goods for national consumption; on the other hand, the private sector is asking to participate in importing goods for reselling in the country. In the meantime, real statistics of investments prove that real estate, rental activities and business services, exceed investments in economic activities that could help to produce goods and services for national consumption, like they themselves have said.
Giving up a space within a captive economy, like Cuba's, would reduce the wide profit margins that corporations – such as CIMEX and Tiendas Caribe – are used to. The fact they belong to the Armed Forces Business Enterprises Group leads us to guess that some of their revenue ends up being invested in the "brick fever" that persists in tourist areas. Just like it did before the pandemic.