Cuba's Pedro Luis Lazo Calls it Quits
by Peter C. Bjarkman*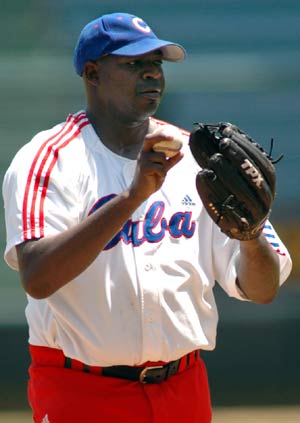 HAVANA TIMES, Sept. 2 — Pedro Lazo's announced retirement nearly overshadowed the release of Team Cuba's shortlist for the upcoming October roster.  Lazo will pitch for the national team in this fall's international events but will not be back for the 2010-2011 Cuban League that follows.
Pedro Lazo ranks in almost any estimation as the greatest hurler in the half-century of post-revolution Cuban baseball.  While one-time fellow Pinar ace José Contreras opted to flee the island in 2003 for the lure of big league dollars, Lazo remained at home to rewrite the Cuban League record books.
He has now amassed truly a formidable statistical legacy for generations of new hurlers to aim at in future campaigns. In addition to his rank at the top of the heap in wins (more than 20 ahead of 46-year-old and still active runner-up Carlos Yanes) and strikeouts (second behind García), he also stands in the career top ten in complete games (fifth), starts (sixth), winning percentage (seventh), and total innings pitched (second, trailing only Yanes). Only Yanes (27), Misael López (24), Faustino Corrales (23), Gervasio Miguel Govin (22), and Adiel Palma (21) have logged more National Series seasons than has Pedro Luis Lazo.
While an ace starter on the domestic front in Pinar, Lazo became over the years a dominating presence in the Cuban bullpen and thus one of the most feared closers found on the international scene. His most memorable moments came in San Diego in March 2006 (where he closed out the WBC semifinals versus Dominican big leaguers) and in Grosseto and Florence (Italy) last September (where he shut down first Australia and later Canada on the road to the most recent World Cup finals).
One of Lazo's rare poor showings came in his last outing a year ago at the September 2009 World Cup event; perhaps overused during a week-long run up the gold medal match, Lazo was unable to quell a fateful 6-run USA seventh-inning uprising that began against Norge Vera and ultimately cost Cuba a world championship.
It was that highly forgettable showing (in what could have been his final international outing) that likely convinced Lazo to return for one more crack at the tournament circuit. The towering right hander will now have two more chances to erase the memory of his ineffective meltdown last year in Nettuno.
Cuba will not only lose its most accomplished pitcher this fall, but the Cuban League will also be bidding farewell to one of the most colorful characters in island baseball history. Perhaps only Victor "El Loco" Mesa holds a similar stature in the five decades of post-professional Cuban baseball.
The image of the huge bear-like Lazo lumbering out of the national team bullpen has long struck fear into the hearts of enemy batters.  But the "Cuban Skyscraper" (one of many colorful nicknames) has long been equally as renowned on his native island for his personal charm and unorthodox style and as for his blazing fastball and unhittable sinker.
My own personal memories of Lazo will always be vividly colored by several moments during the June 2009 Cuban League post-season playoffs. The first was his departure from the mound after a failed attempt to claim career victory number 250 at Nelson Fernández Stadium (Habana Province) in what seemed at the time to be potentially his final career outing; the behemoth hurler had already stripped off both his uniform jersey and under sweat garment to the delight of a howling crowd long before reaching the Pinar dugout.
The second was his repeated presence hanging over the dugout railing during that same series puffing on a huge black cigar in full view of the entire grandstand.
(*)Peter C. Bjarkman is author of A History of Cuban Baseball, 1864-2006 (McFarland, 2007) and is widely considered a leading authority on Cuban baseball, both past and present. He reports on Cuban League action and the Cuban national team for www.BaseballdeCuba.com and also writes a regular monthly Cuban League Report for www.ibaf.com.  He is currently completing a book on the history of the post-revolution Cuban national team.