Cuba's Rural Railway Network, its Plan B to Survive
By Istvan Ojeda Bello (Progreso Semanal)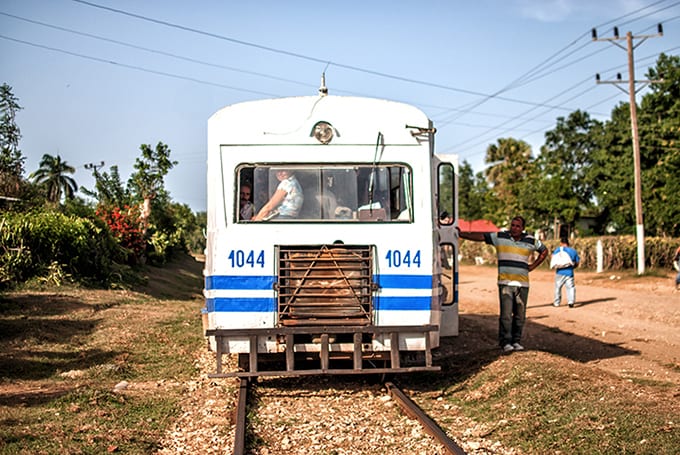 HAVANA TIMES – "Hurry up, the carahata (bus-like rail car) is here!" If you don't hurry up, you don't go anywhere. This is how intense the catalytic effect of these rail cars is on the everyday activity of people living in inland communities in the Jesus Menendez municipality of Las Tunas province in eastern Cuba.
When the aforementioned artifacts make their daily journeys, residents in these places are able to access basic services and activities, which they don't have in their communities: buying in hard-currency stores, going to the medical specialist, visiting people, getting legal paperwork, going to work… All of this depends on the carahata; this and a thousand other things.
However, if this rail-bus stays put, or the stop is too busy, you'll have to put off your plans for another day. Any news that involves renovating these machines is of the greatest interest, not only in Las Tunas but in different places all over Cuba.
The carahata is passing by…
Due to its capacity, fare (1 peso) and the fragile state of dirt roads when it's been raining, carahatas have been not only the best, but also nearly always the only transport option people living in these rural communities in provinces like Las Tunas have had for decades, the railway tracks here extending in all directions.
This name sounds almost natural among its passengers, from saying it over and over again, although very few people know that the first carahatas circulated after the Revolution triumphed in the town of the same name, very close to Quemado de Guines (Villa Clara province). Technically-speaking, they are buses that have been adapted to roll on rails and they were built across the rest of the country to make the most of the railway network that used to connect sugar mills. Even when Cuba's car fleet was considerably large, it still remained just as relevant. In 1989, there were 156 carahatas on the tracks in Las Tunas alone, double the number of what were available in provinces that are bigger than Las Tunas in terms of territory size, such as Camaguey.
In nearly 20 years, the number of carahatas has fallen five times, but the inventiveness of technicians and the sporadic supply of spare parts has enabled them to keep a very small group running which cover over 30 different routes. These connect, on a daily basis or on alternate days, dozens of towns and rural settlements with municipal capitals, transporting an average of 125,000 people per month.
Photo: Carlos Ernesto Escalona Marti (Kako).
Unsuccessful route to Cardenas
At the beginning of this decade, the Transport Ministry put Operation Biran into effect, which was meant to revive this critical rural transport network supported by rail tracks. Las Tunas was one of the first to write its "letter to Santa Claus", outlining its needs in order to strengthen its existing rail-cars technically-speaking and then to increase them in number. They were to be given trailers in order to also convert them into a way of supplying retail establishments which are nestled along their respective journeys with products from the Basic Food Basket.
Replies came soon after in the form of new engines and spare parts which have kept the Taino make of carahatas running, while hopes are set on the new ones being assembled at the Jose Valdes Reyes Central Steel Company in Cardenas.
It was stated that the factory in the Matanzas province would put together 51 rail-buses as part of a joint venture with a Russian company. However, not even the monitoring of one of the most prominent figures of the Cuban government, Vice President Ramiro Valdes Menendez, could put this plan on the right tracks.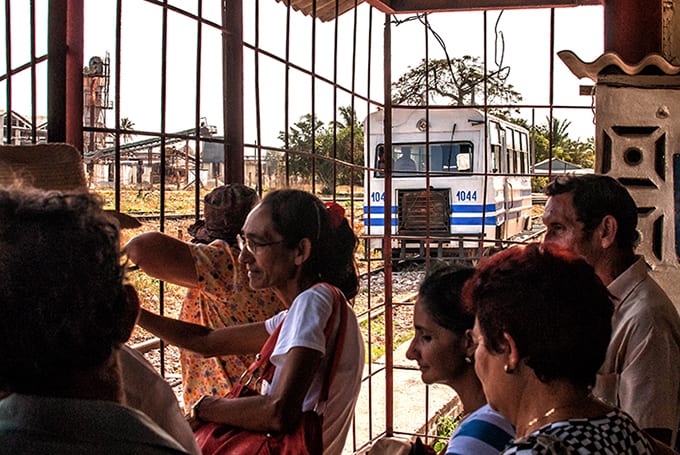 Between 2014 and 2017, national media announced that the vice-president was coming to the Cardenas Steel company on an average of twice a year. Nevertheless, in early 2016, the Company had only completed half of their job, due to a lack of skilled workers, delays in raw material supplies and, most worrying yet, due to problems in implementing payment systems that would incentivize its workers.
Orestes Baro Ugarte, a Human Resources expert, admitted the "workforce's lack of training in order to assimilate a new technology and the demotivation of its employees." The negative working environment which was created by inadequate financial remuneration was obvious, so much so that on one of Ramiro Valdes' visits there, he criticized the fact that the Factory's union leaders weren't looking out for the interests of its members as they should. "The important thing in a factory is its people, not the machines, no matter how important they may be," said Valdes.
The solution will come by sea
Juan Carlos is very well-known in some of the rural Las Tunas communities, as he drives the "Brigada 7-Chaparra" carahata, covering the longest journey in the province. Over the 90 kilometers he covers from the south to the north, he visits two municipalities and connects dozens of smaller towns. The man sees people traveling for many reasons, the farmer going to see his grandchildren, the young man who wants to go and dance to the latest trap music in the city's carnival, or the pediatrician who is on their way to an appointment.
Many things have changed since Juan Carlos first started out in this job. In the beginning, he remembers that his contact with the traffic control center was via a phone which he needed to connect to cables which used to hang off posts; now radio communication allows them to be in contact in real time.
What hasn't changed is his special ability to make sure that everyone fits in the carahata's limited space. With no kind of unease, but politely, he orders: "Friend, stand to the side… Like that, back to back," "Let's see, who is going to give up their seat to the woman carrying a child?", "Come on man, there's only two people left outside!"
Watching a new carahata driven by Juan Carlos substituting the old one would be a great success, there's no doubt about it, because of how relevant this form of transport still continues to be there. This picture might be a dream come true after the third trimester this year when the first new rail-cars completely manufactured in Russia will be distributed in Las Tunas, Camaguey and Ciego de Avila.
The arrival of these, announced last month by executives at the Center-East Railway company, means that a Plan B has been put into effect which will rescue Cuba's rural railway network in the short-term at the expense of assembling them here, also with Russian help, which wasn't able to become a reality at the Cardenas factory.
Imported entirely made or assembled on Cuban soil, thousands of people being able to listen to this morning whistle which will allow them to welcome the new day with a bit more optimism depend on one of these programs being brought to fruition.