Cuba's X Alfonso: A Concert to Remember
By Aimelys María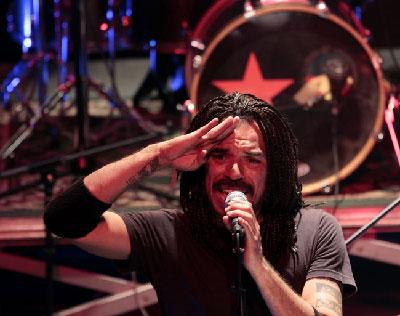 HAVANA TIMES — One of the distinctive characteristics of contemporary Cuban music is the plurality of its sounds and styles. Of the artists who have recently emerged to produce works that are unique for audiences at home and abroad, I believe that X Alfonso is one of the most outstanding, having had the courage to experiment and merge musical genres from different traditions.
Offering us daring and critical lyrics, the performer reveals us his essence in every piece, as we were able to confirm recently when the Raquel Revuelta theatre in Vedado, Havana, opened its doors to X Alfonso and his entourage.
The production was backed by his artistic Project ("The Art Factory") and Canal Arte, a program aired by a French-German broadcaster currently filming a documentary in Cuba, with the Raquel Revuelta lending its stage as it has for other singer/songwriters.
Afro-Cuban and Caribbean rhythms and even classical rock combined to yield a concert that was very well received by the audience of this small theatre. If I had to offer a concise description of the event, I would say it was both intimate and special.
The proximity of the performers to the public, owed to the spatial characteristics of the theatre, intensified the enjoyment of the lyrics and music, heightening the emotions felt by the highly mixed audience, which energetically applauded the pieces.
X Alfonso (playing the piano and bass), Maikel Olivera (playing the guitar), Perugorría (playing the drums) and Rey Guerra (playing bass), performed numerous pieces which met with enthusiastic ovations.
Pieces like "We are the Children" ("Somos hijos"), "You" ("Tú"), from the album "Reverse", "Habaneando", "Starting from Scratch" ("Empezar de nuevo") and "A Friend" ("Un amigo"), from the soundtrack of Benito Zambrano's "Havana Blues", found an attentive audience which knew each of the lyrics by heart and sang along with the performers.
The harmony of lyrics and rhythms, whose transgressive edge makes them unique in Cuba's music scene, spoke of an artist at the height of his creative powers, constantly experimenting with new forms of expression, such as the music video, at times central to his works.
Though the performer's talented voice and impressive melodies sufficed to astound the public, the stage light design was crucial in bringing the concert together. Every tonality of light became part of the harmony achieved on stage. Different intensities and colors of artfully-located lights gave the diverse rhythms a coherent and compelling form.
I feel the Raquel Revuelta theatre ought to be commended for working to bring different art forms to the public and not limiting itself to theater as such, and for thus enriching Havana's cultural scene.
This is, at least, what the concert thrown by X Alfonso and his band, a veritable manifesto for good art, showed us. Some may soon forget the evening. Others may remember it, and retain one of the performer's most notable statements that express his belief that artistic creation can transform society: "I am an art-antibiotic for the promised land."