Doctors Fired in Leon, Nicaragua for Assisting those Wounded by Ortega's Forces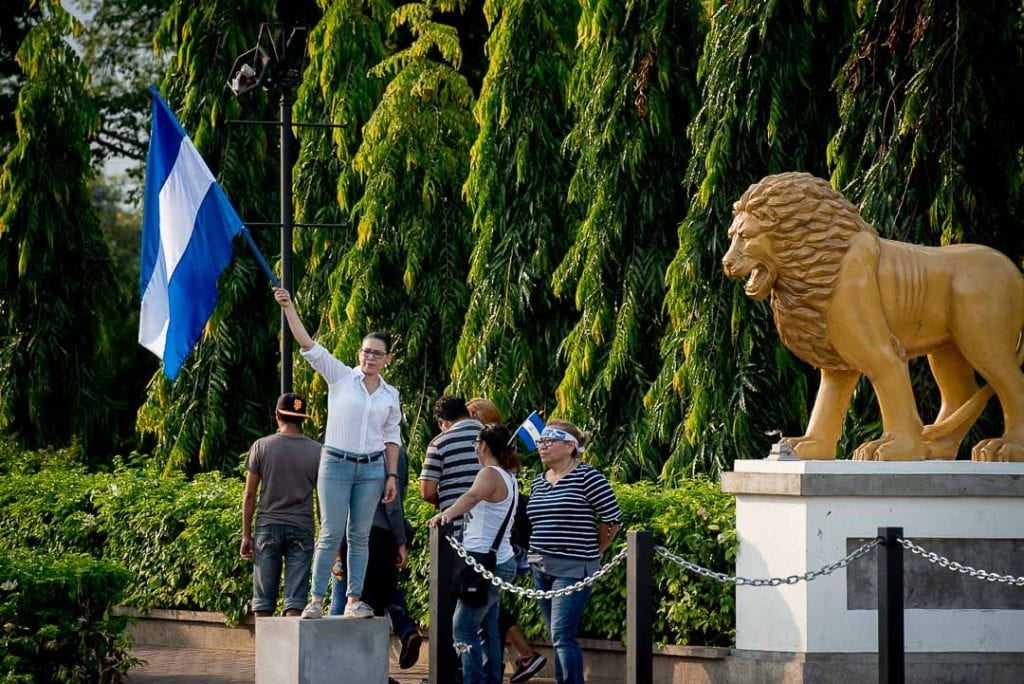 Hospital director arbitrarily fires ten doctors, twelve nurses and 13 medical staff employees.
"Every doctor at the Hospital in Leon rejects this affront which even Somoza wasn't capable of doing. We have a clean conscience."
By Maynor Salazar (Confidencial)
HAVANA TIMES – At least ten doctors, twelve nurses and 13 medical staff employees at the Oscar Danilo Rosales Arguello School Hospital (Heodra), in Leon, were arbitrarily fired by Judith Lejarza Vargas, the hospital's director, who admitted that the dismissals were for "political" reasons.
Javier Pastora, the former head of the hospital's Department of Surgical Gastroenterology, told Confidencial that Lejarza Vargas told him that she had no complaints with his over 30 years of work at this center; however, he was being laid off because he supported protestors in their fight for freedom against the government of President Daniel Ortega and his wife Rosario Murillo.
"We received the news individually. We weren't given any explanations. I asked the director why I was being laid off and she told me that it was for political reasons. I asked her if some high-ranking government leader had asked her to fire me and the rest of my colleagues and she told me that she was the one who had made the decision," said Pastora.
This is the second time that Pastora is being laid off for protesting or defending "a just cause". The first time it happened was during President Arnoldo Aleman's government. "Now, there is a long line of people at Human Resources. The number of people being laid off will probably increase," he said.
Aaron Delgado, the only surgical oncologist in Leon, was informed of his dismissal while in the middle of an operation. In spite of him explaining that he was in the middle of surgery, he was forced to go up to the director's office so as to receive his letter of termination.
"They didn't care that I was operating. I was told to leave the surgery where I was at, but I finished because my patient shouldn't have to suffer because of her arbitrary actions against us. We are protesting, defending our rights and asking for people to support us," Dr. Delgado pointed out.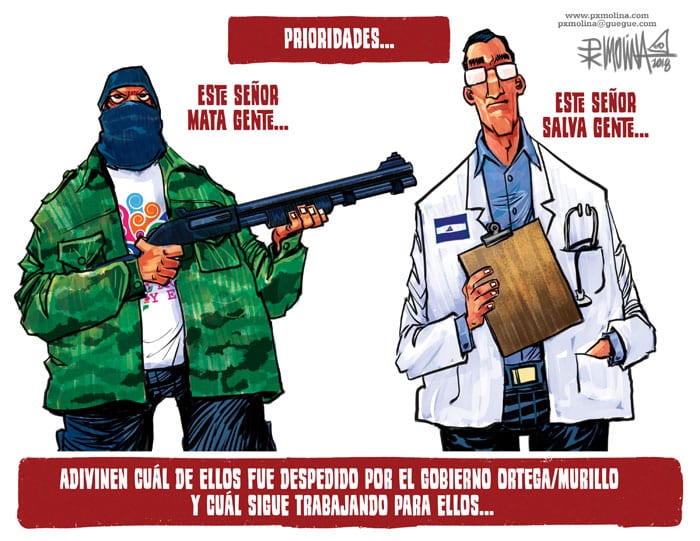 Edgar Zuniga, a pediatric doctor, said that there weren't any good reasons to lay off so many people, however, he claims that they were dismissed from their positions at the Hospital because "they think differently, thinking that we need democracy and freedom in Nicaragua and for the repression to stop."
"The government is clamping down on all of us who support democracy, freedom of speech, media, thought and if we don't think like them, we are terrorists in their eyes," Zuniga said.
"Specialist and sub-specialist care for Leon and the West of the country will be empty, to put it one way, and it's an extreme weakness, but this Hospital's board doesn't care and doesn't take into account the situation of its patients, who are supporting us, thank God," Dr. Pastora said.
Javier Pastora is one of the most well-renowned doctors in this university city. He stood up alongside other Heodra Hospital doctors who refused to obey the administration's order not to assist persons who arrived injured from protests, last April.
In addition to Pastora, Gladys Amanda Jarquin, the city's only pediatric infectious diseases specialist and Gustavo Herdocia Baus, head of the Plastic and Reconstructive Surgery department, who had been working at this Hospital for more than 30 years, were also dismissed.
Also fired were Jorge Ernesto Aleman Zapata, a pediatric lung specialist; Yamileth Rufina Ruiz, Head of the Pre-Surgery and Anesthesia Room; Rosario Pereira, a pathology specialist; as well as the son of Department of Medicine at UNAN-Leon's dean, Jorge Aleman, who is a pediatric neonatologist.
Aleman said that they aren't only affecting doctors and other medical staff who were laid off, but patients who need to be cared for every day by the Heodra's medical staff.
"The entire population is suffering, not just us. Children with respiratory problems are suffering, children with cancer, citizens who need to carry out a countless number of operations, which aren't being carried out because we have been fired," Aleman said.
Dr. Pastora had a few ironic words about vice-president Rosario Murillo's message of love, peace and solidarity which she preaches every day at noon on government media.
"We aren't afraid. Of course, it pains us, we can't understand how the Vice-President is talking about reconciliation, love and solidarity while doctors who have been serving for over 30 years are treated as if we were vandals and terrorists," said Pastora.
The doctors will continue to protest outside the Heodra Hospital. They believe this to be a temporary measure and they also said that they will always want to help care for patients.
"With this dismissal notice, they are taking our personal and family's right to a livelihood away. Every doctor at the Hospital in Leon rejects this affront which even Somoza wasn't capable of doing. We have a clean conscience, faith in God and we are willing to fight for our rights without any fear," Pastora concluded, adding that they will go to the corresponding administrative levels to get their jobs back.