Efforts to Clean Rivers Reach Havana Suburbs
The El Guardabosques environmental project made a call to volunteers to come and clean a stretch of the Luyano River and to keep the #trashtagchallenge going in Cuba.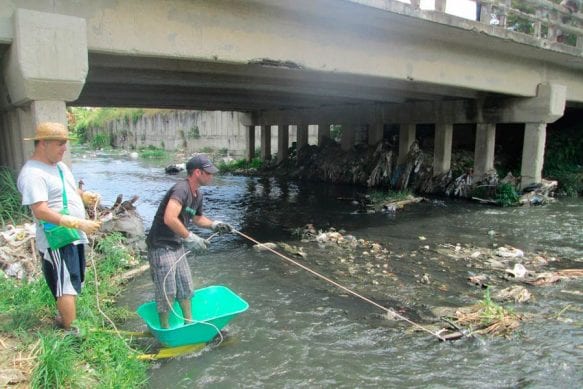 HAVANA TIMES – Members of the independent Guardabosques group came together and cleaned up a part of the polluted Luyano River with the limited and uncertain means at their disposal, but with a great deal of ingenuity and perseverance, as part of the #RioLuyanoLimpio project. The Luyano River is one of the rivers that meets the sea in Havana Bay.
Known for their continuous volunteer efforts, especially in the suburbs, Guardabosques joined the global movement "#trashtagchallenge" on April 20th, which invites people from all over the world to clean a natural setting and to post photos of the before and after.
Plastic containers, many plastic bags, old brooms, truck tyres, fan bases, bicycle frames and decaying fabrics were some of the objects that volunteers removed from the river, located in Havana's Diez de Octubre municipality.
After several failed attempts to get rid of the petulant waste islands that accumulate, environmentalist Jimmy Roque's ingenious maneuvers and dangerous incursions into the river allowed for collecting suffient debris to leave this stretch of the river looking completely different.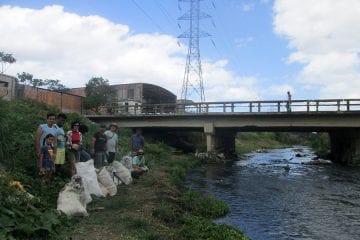 "Anything we do for the environment, no matter how small and even when we know that we won't be able to clean, repopulate or reforest 100%, helps the surroundings in some way and raises people's awareness," said Arliz Plasencia, who has been working with Guardabosques for three years.
Six-year-old Lena, Arliz and Mario's daughter (Mario is another activist), also put on a pair of gloves, collected garbage and saw that in spite of how bad the river and its riverbeds are, life always finds a way in the form of pumpkins, bitter melons and bluebells.
"I always bring her and I see how easy it is for children to become motivated in these efforts, take part and an environmental awareness grows with them," Plascencia pointed out.
Ahmed Toledo, a 25-year-old Philosophy student, says Cuba and especially Havana, are facing an environmental crisis.
Cleaning a river "at least helps raise awareness so people throw away less garbage," the young man weighed in, who has been promoting these kinds of events on social media and hands out flyers within the community.
[pullquote]
An Inside Look at Guardabosques
This project is made up of approximately 20 activists, not only in Havana but also in the country's interior and eastern provinces.
Connected to cleaning efforts, Guardabosques edits the digital and printed newsletter that shares the same name, which is available nationwide, denouncing environmental situations in Cuba and the public, private or international institutions involved.
Meanwhile, it suggests alternatives on a wide range of subjects, including food production and permaculture, which they are currently offering a course on.
According to Arliz Plascencia, the group is opening up a new branch called "Argumento Ambiental", so as to introduce a series of news features and interviews with experts about Cuba's environmental problems (for example, solid waste, the giant African snail and mining), presenting solutions and opinions about each of them.
[/pullquote]
Activism without Borders
Founded in 2007, El Guardabosque group carries out reforestation projects across the Cuban capital and neighboring areas, as well as environmental sanitation. Another aspect of their work involves reporting environmental violations in its newsletter and taking their complaints directly to the corresponding authorities.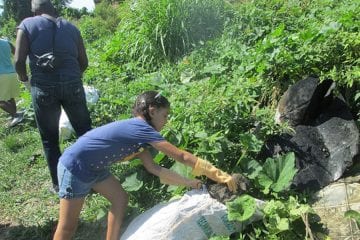 "We are doing what we've been doing for a while now. We have done cleanup campaigns in the Quibu, Ariguanabo (in the Artemisa province) and Almendares rivers, and we have also worked on Havana's Malecon. Generally-speaking, we clean up and reforest," biologist Isbel Diaz explained, the independent project's coordinator.
Diaz notes that a movement has been created in Cuba linked to the global #trashtagchallenge call to collect garbage and clean rivers. "Even though this isn't anything new to us, it really does encourage us, we think it's great that new people are signing up and this is our contribution," he continued.
In spite of having handed out printed information in the neighborhood to get people together during the first event at the Luyano River, they were unable to get the community involved.
Diaz wasn't discouraged by this setback: "it isn't the most polluted river, pollution levels aren't that severe in this stretch at least, and I think that we can change this if we manage to get the community involved and have greater manpower and resources."
Some of the comments made by passers-by were: "they're just doing this for fun, the government should be doing it," "whoever throws garbage into the river should receive a 50,000 peso fine, then they won't ever do it again," "they're crazy… it's going to be the same again tomorrow."
The proximity of the ABRA Social Center and Libertarian Library was the reason this place was chosen, as "identifying the problem is that right next to you, that you see every day, and something you can do something about and change, is the most important thing," Diaz pointed out.
"We didn't ask for any authorization to do what we are doing because we feel like we have every right to do it, but we would like to get everyone who wants to and can join us to help, and if they are institutions, then that's even better," he stressed.