Essential Colors Show at Havana Gallery
Irina Echarry, photos: Caridad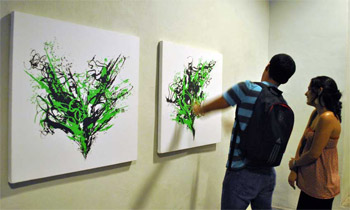 HAVANA TIMES, Nov. 18 — The "Factoria Habana" gallery exploded on the Havana art scene last month as a space for experimental art. Currently, three independent exhibits are on display though collectively titled "Colores esenciales." What they have in common are the uses of new technologies in such artistic projects.
Screens of different dimensions, robots and media installations serve to question the world we live in and provoke reflection.
"Lagoglifos" by Brazilian artist Eduardo Kac, displays visual symbols representing "Alba": a real, living fluorescent rabbit created by the author in 2000 and widely used in exhibits and publications worldwide.
According to the artist, who has also written experimental poetry since the early 80's: "In Lagoglifos I bring together different shapes and themes that have been the subject of my art. In fact, it constitutes a new calligraphic synthesis and is also a new beginning, one in which words and images come together as imprint and as meaning."
"Tetra Bric's" is organized by the International Video Art Festival of Camaguey (Cuba), which since its inception has been distinguished by its multiplicity of ideo-artistic perspectives, which have provided a broad view of world reality.
The exhibition draws attention to the issue of diversity in the economic sphere and the implications for its depletion in the West. "BRICS" (Brazil, Russia, India, China and South Africa), which until now was a set of initials read by economic analysts, becomes the target of other perspectives through video art.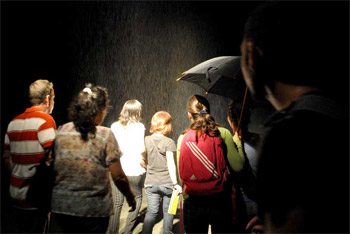 Another important sign is that the winners of the "Grant for the Creation of Art with New Mediums," awarded by Factoría Habana, were the artists Lorena Gutierrez and Silvio Enrique Campos.
Lorraine, with her work "Estado en siete colores" (The State in Seven Colors), appeals to the interaction with the viewer in a more experiential manner. Each person from the space they occupy and their personal imagination will appreciate her unique rainbow. Viewers with and without umbrellas will get "wet" from the rain that is produced. Art, technology and nature interact and stimulating in the audience different reactions ranging from surprise to aesthetic enjoyment.
Silvio leads us through the theme of human migration using mini robots that move in search of light. Throughout history human beings have moved and traveled around in order to find better living conditions. "DS-156" (the title of the work) comes from one of the forms that have to be filled out as part of the legal process of travel.
Until late December, Factoria Habana (located at 308 O 'Reilly Street, between Habana and Aguiar streets in Old Havana) will host these three different exhibits that combine the intention of doing art differently.
Based on New Media Art, these national and international artists intend to transcend their personal barriers to assure the public — accustomed to passivity — are infected with these dynamic and participatory works, and do not view these as simple spectators.

Click on the thumbnails below to view all the photos in this gallery. On your PC or laptop, you can use the directional arrows on the keyboard to move within the gallery. On cell phones use the keys on the screen.