"Everything is gone" – Brumadinho, Brazil Residents Still Shaken by Dam Break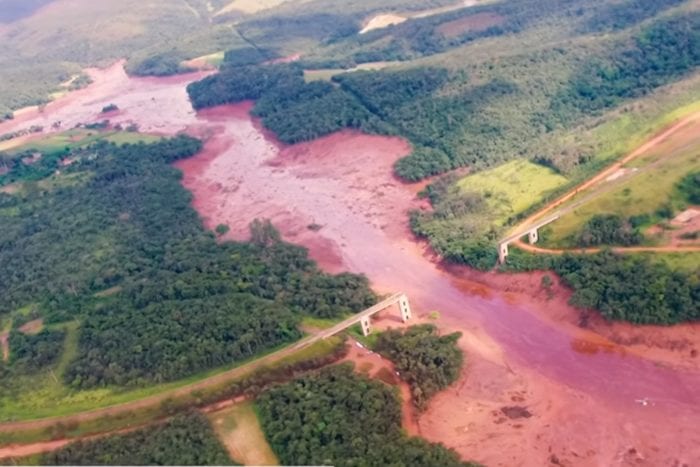 It was a day that changed the lives of thousands of people. At around noon on January 25, the dam of a mine burst near the Brazilian town of Brumadinho, unleashing a devastating mudslide. Two months later, the mood is one of anger, mourning and desperation.
By Angelika Engler, dpa
HAVANA TIMES – Cracked reddish-brown earth now covers what was once a green valley of pastureland and vegetable fields. In the tiny stream Corrego do Feijao, the water runs red.
In the middle of this destroyed landscape there's a mattress draped over a tree trunk, a car stuck in the ground, and all around, the rubble of destroyed homes.
The unfathomable destruction of the dam break of the Corrego do Feijao iron ore mine near Brumadhinho, in south-eastern Brazil, is perhaps best measured in the small settlement of Parque da Cachoeira.
Right there, on January 25, a mudslide bearing toxic heavy metal waste burst through after the retention basin broke at the Vale-operated mine a few kilometres away. At least 212 people were killed, and 93 are still missing.
"I simply cannot believe it," says Sueli de Oliveira Costa as she emerges along with a friend from a car to survey the destruction.
Her husband was a janitor in one of the Corrego do Feijao settlement's houses and, as always, he was at work there on January 25. Since the mudslide, there has been no trace of him. It was 12:30 in the afternoon when the dam burst.
"We talked on the phone at 11:40. I wanted to drive over there to him," the 48-year-old said. "But then I stayed a bit longer with a girlfriend and all of a sudden a neighbour came and said that something had happened at the mine."
At first, she hoped that her husband was in hospital. "He always knew how to take care of himself. But I have not found him, and to this day I haven't heard from Vale or the municipality."
She has now joined together with other residents whose relatives are still missing. "I want to bury my husband and have a place where I can mourn," she says, all too aware that two months on, there is probably not much left of his remains.
The Vale mine is the largest employer and taxpayer in this region, which is fertile but also visibly damaged from the mining also carried out by other companies. Many of Vale's 600 workers live in Brumadinho.
"As long as the last victim is missing, the search will go on," says Lieutenant Ocimar Andrade, head of the local civil defence authority.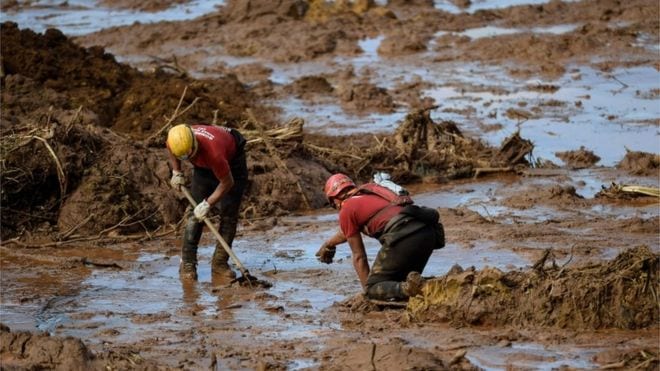 Together with the fire department he is in charge of the search operations. "The search currently is concentrated on the Vale building at the mine. That is where most of the dead were," he said.
Many Vale employees were eating lunch in the canteen when the dam, located higher up, burst.
The mudslide took the lives of five members of Adriano Dias Barbosa's family. Deep in thought, he stands at the freshly-painted church Nossa Senhora das Dores in Corrego do Feijao.
Following the catastrophe, the church initially served as the operational heaquarters for the fire department. Helicopters carrying corpses had landed on the church lawn. From there, the bodies were taken to Minas Gerais's capital Belo Horizonte for identification.
The church got a fresh lick of paint as a gesture of gratitude. But looking at it is of no comfort to Dias Barbosa. "They should have done much more earlier on," he says bitterly, adding that Vale and politicians never cared about the people working at the mine.
One person who for years had been battling the negative effects of mining in Brumadinho, such as contaminated water, was Ka Ribas, together with his movement "Water and mountains from Casa Branca."
The mountains, he notes, store a great deal of water thanks to their geological structure, and in fact several rivers spring from them.
"We first learned last November of the risk that the dam up there could break," the 48-year-old recalls. "When it then happened two months later, we could only cry."
According to the civil defence authority, some 1,500 people were directly affected by the catastrophe. But hotel and restaurant owners are also suffering as tourism has declined since the tragedy.
Minas Gerais state justice authorities are investigating several Vale employees and a subsidiary of the German technical inspection company, Tuev Sued, which twice in 2018 had attested to the stability of the dam.
Chief prosecutor William Coelho told dpa that preliminary findings indicated that Vale, Tuev Sued and other inspection companies had, at least as late as November 2018, been aware of soil liquefaction at the dam.
"This type of dam was the cheaper, but more risky, variant," civil defence official Andrade said. In the wake of this catastrophe, dams of this type must be taken out of action in Minais Gerais by 2021.
Vale aims to pay every resident of Brumadhinho some emergency relief money. The first residents of Corrego do Feijao and Parque da Cachoeira recently received their payments. Compensation is also to be paid for the loss of businesses and farms, as well as to relatives of the victims.
The company is also providing water and food every day and has taken measures to prevent the contaminated waters of the Paraopeba River, now mostly regarded as biologically dead, from reaching other streams.
For many people, the money is no comfort. "I would trade the 100,000 reals (25,880 dollars) from Vale if I could be here with my husband again," Oliveira Costa says.
"We had a house, two cars and were happy. Everything is gone." Asked what she now wishes for, she says: "That Vale and all the others involved will finally take responsibility for all this."