Extremely Slow Renovation Work on Havana's San Rafael Pedestrian Boulevard
By Osmel Ramirez Alvarez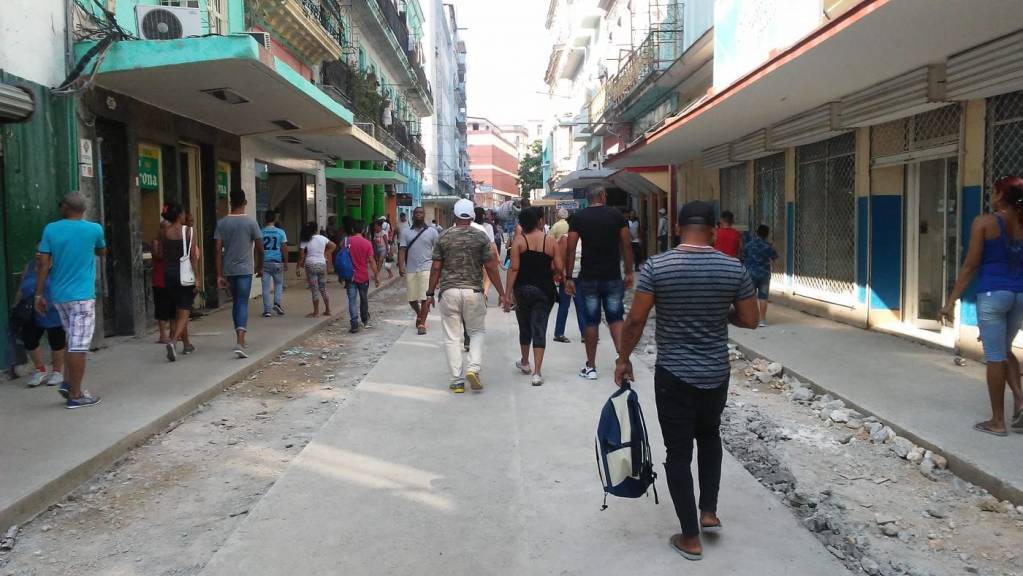 HAVANA TIMES – The San Rafael Pedestrian Boulevard is an emblematic place in Havana's historic center paved with cobblestones a long time ago so that it was for pedestrians only.
You can find well-located hard-currency stores, regular peso stores, markets, cafes, restaurants, cultural places and hostels there. Walking down this busy boulevard is pretty much a must-do for many Havana residents and visitors.
We might say it's the Cuban people's boulevard in the sense that Obispo Street is geared more towards foreign tourists. Although nothing separates them, it's just a matter of there being more in one place than in the other. San Rafael could well be the the continuation of Obispo street, once you pass the parking lot between the Universal Art Museum and the Manzana Hotel, and then Central Park. However, it isn't quite this because of the historic city's asymmetrical design.
Recently, in the first half of October, I walked down this "boulevard" nearly every day on my way to my accommodation. It is still under construction today, being renovated. On the two blocks next to Galiano Street, old cobblestones had been lifted up and concrete was being dumped in strips, with pedestrians still walking past.
Only a small part has been completed with granite, on the first two blocks as you come off Central Park between Inglaterra Hotel and the Grand Theater. The strange thing is that I was here in June last year, 16 months ago, and these renovations were exactly the same and I don't know how long it's been since nothing else has been done.
Back then, cobblestones were being lifted in the central part, which still hasn't been covered in concrete properly yet. I believe that such a busy street should be worked on intensively so as not to avoid inconveniences caused to the public as much as possible, not prolong these projects for years on end with no end in sight.
I'm not a civil engineer but basic common sense tells me that any half-efficient construction company could do all of this work on the boulevard in a week or so, if they have everything they need. They could have built the highest building in the world in all this time it's taken them to renew the boulevard, and with the time they still need to complete it, they would still have months left over! This country won't make any progress with such an inefficient economic system. If this is what they use planning for, then it's no good.
While walking there, between magnetic hammers, service elevators and bits of cobbles, I took many photos and even a video which accompany this article. I would like to especially draw your attention to a very curious fact… just how engrossed people connected to WIFI at the park on the corner of San Rafael and Galiano are, as they almost bump into heavy machinery and carry on. It's the hypnotizing power of the Internet.
Click on the thumbnails below to view all the photos in this gallery. On your PC or laptop, you can use the directional arrows on the keyboard to move within the gallery. On cell phones use the keys on the screen.