Cuba's Aging Family Dilemma
By ROBERTO MENDEZ MARTINEZ
HAVANA TIMES, Dec. 16 (IPS).- The Cuban population is aging. Demographers have been warning us about this since the 1980s, while some rejoiced and others were startled, almost no one was worried to note that Cuba's age pyramid stopped being the typical image of a Third World country with a broad base of young people and narrow vertex of the aged. Instead it has gradually come to resemble a sort of irregular pentagon, as if we aspired to a demographic profile like the one in Belgium, Holland or Germany.
For more than 20 years the tendency was an abstraction. Now, it has become a government concern, translated into gradual modifications of the pension system and most recently the controversial proposal of a law that would increase the retirement age by several years.
My neighbors, too, are concerned. Many of them have an elderly person at home, who unfortunately is no longer productive. The deficiencies in the economy, aggravated by recent natural disasters have taken their toll on the household economy, making it even more difficult to care adequately for these members of the Cuban household.
Praiseworthy initiative, deteriorating conditions
It is undeniable that during the half century of revolution there was an endeavor to create and improve institutions for the elderly. Homes were created in the rural provinces from Ciego de Avila to Las Tunas to give shelter to former seasonal farm workers who lived isolated in their huts. The emergence of Centers for the Elderly and even the development of the geriatrics medical specialty were widespread and praiseworthy initiatives.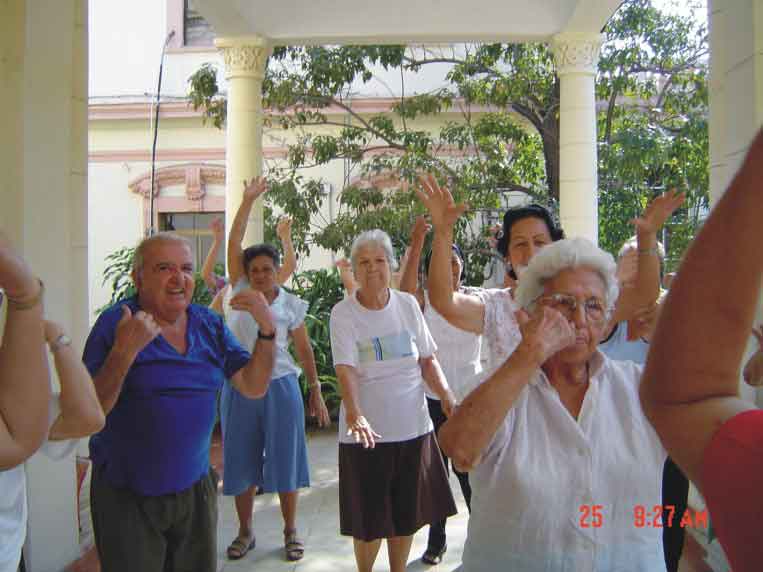 Physical exercise groups, social clubs for pensioners and cultural festivals, for years offered a sunny side to the golden years. However, this has become fragile in the face of very complex circumstances: the housing crisis, the precarious two-currency economy, the lack of food supplies and with them the transformation of the psychology of the population in general, which is losing a culture of coexistence in favor of the "law of the jungle."
Complicating the situation are our cultural attitudes. The European-Western lifestyle has predominated in Cuba, strengthened by our proximity to the United States: the view of life as an obligatory upward line in personal realization.  It has promoted the image, very proper of modernity, that each person has to forge their own path if they want to achieve self-realization, and each obstacle on the road should be pushed aside…including the elderly.
I don't believe that we have ever seen the elderly as a top priority as the Asian cultures do: giving the elderly person top hierarchy in the home, respecting their knowledge and listening attentively to their decisions. Nor does it seem that this will be achieved in the near future despite exhortations by psychologists, social workers and religious leaders.
We have two alternatives
Given this, the struggling Cuban families face two alternatives: home care or care in a State or private home for the elderly.
I remember that during my childhood – I'm talking about the 1960s – the worst thing one could say to a person was "he/she sent his/her mother or father to a home." It was understood that those institutions were for persons who had no family and couldn't take care of themselves. For years the social assistance regulations raised objections to sending persons who had direct family members to those institutions, unless their socioeconomic situation was extremely serious. However, it was always possible to find cracks in those regulations and many got rid of their bothersome family members thanks to good contacts.
The state-run homes for the elderly can not unanimously be qualified as good or bad: they are simply a reflection of the country. They have had their bonanza and their crises. They have had self-sacrificing staff, people who have made the life of the residents more pleasant, but also inconsistent, corrupt and even sadistic people, who have used their meager positions to profit or to satisfy their desire for power.
Many of these homes, from Camagüey to Havana, are located in very old installations that require remodeling or relocation. Sometimes their exterior images can be depressing.
Parallel to this, some private homes for the elderly or those jointly managed by non-governmental organizations and the state, as is the case of those founded by religious or fraternal entities, have continued to operate in Cuba.
Why are these places able to be more welcoming? Not because of the economic resources, but rather because the personnel who manages them have an ideal that goes beyond personal benefit. It is not uncommon that persons who are long-time atheists and have an irreversible Marxist affiliation go through great efforts to enter those institutions, whose capacity is always limited. As one of them, a Communist Party member in his barrio once said: "Because those nuns have a conscience and really do things as they should."
So what can be done in this island that is aging? Pay as in other nations to encourage the birth rate to go up and that there again be more young people than elderly ones? Improve the state-run homes and at the same time encourage the emergence of other private ones? Perhaps all of this can be debated but the matter goes beyond this: it is a question of lifestyle, psychology and education.
Varying Situations at Homes for the Elderly
I visited a state-run asylum, excuse me, "a home", where several elderly persons live, and asked them about their life there.
Isabelita, a woman who lost her only son in an accident and, a few years later, the room where she lived with her husband when the precarious structure collapsed, sees it as providential that both of them were relocated to a place where they don't have to worry about a roof and food.
That is not the case of Telvia, a woman with mental health problems who has been in this place for decades. When a great deal of her family left the country she was left a magnificent house and some modest resources. But she wanted company and brought some relatives from another province. In the end, the relatives took over the house and Telvia was sent to the home.
She remains in the institution, like a phantasmagorical presence, sustained only by her Christian resignation.
I couldn't even speak with Trinidad another person living in the institution. She had been a famous pedagogue, a woman with a strong character and very independent. But when her health was deteriorating, none of her children could "compromise" their careers and commitments by taking care of her and were able to put her in the home against her will. She remained there, embittered and in a continuous attitude of protest, until she passed away a few months later.
Things can be equally tragic for elderly people who remain in the midst of an uncaring family. Today's circumstances tend to aggravate domestic violence, including a growing violence against the elderly. This ranges from attempts to burden them with household tasks and procedures outside the home so that they can be "useful in something", to verbal and physical attacks, "Just you wait, if you continue like this I'm going to get you placed in a home." To top off this situation, increasing life expectancy seems like a nightmare invented by Jean Paul Sartre.
I could be told that other nations with greater economic possibilities have not been able to resolve the matter. In the United States, Canada, the United Kingdom or Spain, some alternatives have been created. But the elderly continue complaining in the majority of cases: sometimes because the care is not adequate, others the care it is impersonal and regimented like military service, or because the absence of family members means loneliness and estrangement.
If this is so, what can be done in Cuba, which has much fewer economic possibilities? In short, it must be thought out further, but not for much longer, because in the meantime some of us, too, could reach old age.
A while ago, my small son stayed awake long enough to see a chapter of the US television series The Sopranos. It was the chapter in which one of the main Mafioso characters' "helpers" contracts an enormous debt to put his elderly mother in an exceptional home.
When the broadcast ended, my son asked me with certain curiosity: "Dad is it going to cost me a lot of money to place you in a place like that when you get very old?" I confess that ever since that night I have one more reason to suffer from insomnia.