Fernando Cardenal: A Life for Love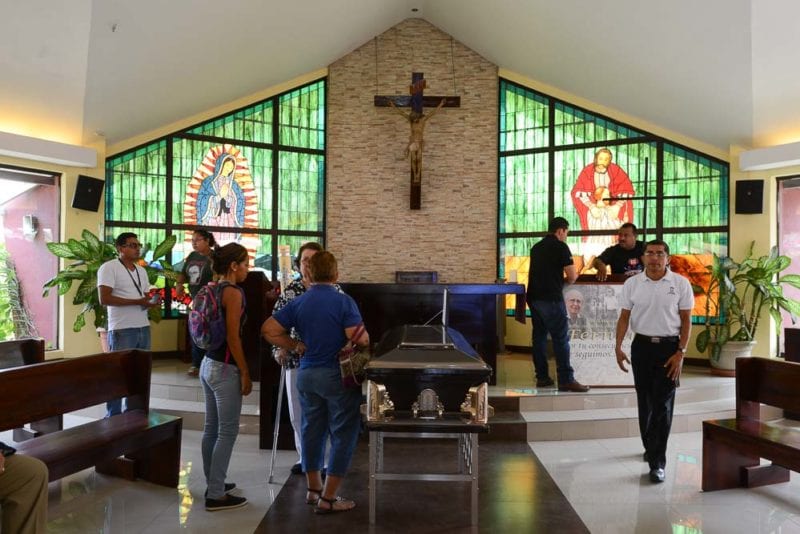 By Anagilmara Vílchez  (confidencial.com.ni) 
HAVANA TIMES — Fernando Cardenal couldn't be entrusted with the simple task of going to buy bread. On the way home he would break off pieces and give them to the poor, and by the time he got back not even the crumbs would be left. He of the bushy eyebrows and blue eyes was a dismal errand boy, but a skilled wave-hunter, a true follower of Christ, and the man at the head of the National Literacy Crusade that reduced illiteracy in Nicaragua from 51 to 12.9 percent. A man of fixed habits (he had to eat at exactly 12 noon) and plagued by a constant headache, Fernando Cardenal – the Jesuit, the adventurer, and the literacy teacher – passed away early on February 20, at 82.
"Those who are here today saying goodbye to him, are sending off three people: a friend – and he was a good friend – a spiritual guide and a confidant," said his nephew, Fernando Cardenal. Family, scholars, priests, writers and politicians, gathered on Saturday in the chapel of the Central American University, UCA, to say goodbye to the former minister of education.
A firm believer in "the freedom to offer an opinion on contentious issues," Father Cardenal could drop direct opinions on celibacy, therapeutic abortion, pedophilia and women priests in the same conversation. "Hopefully the moral theologians of the Church approve letting the State castrate rapists," he said once.
He did not live far from controversy. In 1985, Pope John Paul II pushed him out of the Society of Jesus for being linked to the Sandinista Revolution. "He ordered me to leave the Revolution. I had made a very thoughtful decision in 1973, convinced that it was Jesus who asked me to commit myself to that revolution for the poor. In my spiritual and communal judgment, Jesus' voice was stronger than the Pope's," confessed Cardenal in his last interview with the Esta Noche TV program.
Years later, in 1997, they revoked his suspension from the religious order and allowed him to return. Former guerrilla commander, Dora Maria Tellez remembers him for his unwillingness to accept the status quo. "He wouldn't accept Nicaragua as a country of poor people; as a country that wasn't fully free; and he was always appealing to young people, the youth, girls, boys, to intervene to change the country," she said. "He was the general of the most important battle fought during the Revolution, the battle against ignorance," asserted author Gioconda Belli.
"A life for love"

Fernando Cardenal believed in an inclusive and loving God, one who could not send his children to hell. "You have to do something for others to achieve grace," he repeated to his nephew. "Fernando's life can only be seen through the moral integrity of his feelings and beliefs, and his actions as the outgrowth of those feelings and convictions, all part of a dense ethical tissue in indissoluble unity," said Sergio Ramirez. "From the beginning, his very life has been a life for love," added the writer.
In a collection of personal and family photographs to which Confidential received access, Cardenal could be seen anchored to the rocks of a cliff, reading, teaching, browsing, smiling, always smiling.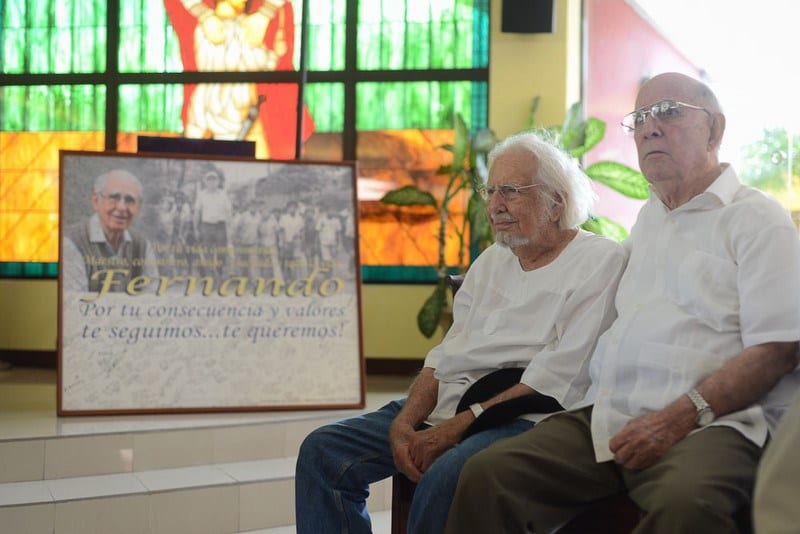 "The greatest legacy of Father Fernando for Nicaraguans is his love for others, especially those who have less," said Ana Margarita Vijil. She took on the task of putting together this memorial based on snapshots. Whether behind the wheel of a car or buried in a book, in each image, he is felt nearby. According to his friend Odilie Pallais, "he radiated love and faith." He was also, says Pallais, a somewhat impatient man. At age 75 he was able to swim 15 kilometers offshore.
He was simple in his dress and in his way of perceiving God, "a God that was love and action," said his nephew. "He never asked for anything for himself, it was always for someone else," he added.
Writer Gioconda Belli admired him for his integrity. "This is a country where we lack such people," she noted. Silvio Gutiérrez, executive director of Fe y Alegría Nicaragua – an organization that was Cardenal's initiative -, summarized: "the legacy of father Fernando is his ethics, the incredible consistency of his life. His was a life full of many battles; a warrior of many battlefields, trying to bring about social change. Fernando was not ours, he belonged to the many. "
The other Fernando
Fernando Cardenal, the teenager, was a very different person from the man who returned from Colombia in the 70s, after living for nine months in a very poor neighborhood of Medellin.
"In the Central American School of Granada I was a beast in terms of homosexuality, because there was an attitude of total rejection. That is, we even lynched one. We were savages," confessed Cardenal on the Esta Noche TV program.
"After I changed, of course, to an attitude of great respect for homosexuals, which is what Pope Francis is asking. Respect and mercy for them, "he said.
His cousin, Ricardo Coronel Kautz, was his friend since childhood. "He was firm in his beliefs. He wasn't submissive. Very open, very clear on everything (…) a cheerful guy, playful. Once I got in a fight with him and I was elbowed in the eye. One of those fights among friends," recalled Coronel Kautz, a businessman and brother of the president of the Grand Canal of Nicaragua Authority.
Born into a wealthy family, Fernando was a boy who knew little about poverty.
"At that time in Nicaragua there was not among children that great degree of awareness of poverty. Once Fernando returns as a priest, he assumes a much more comprehensive and much more aware position on issues such as poverty," notes Kautz.
Fernando Cardenal was, before his novitiate, a young man who "was just beginning to enjoy life," reads his diary, which Confidential had access to.
Undisciplined and loving. "I felt destined for love, beauty and life." Until "the moment came to join my life to Christ" and he said to a young woman, "I cannot continue loving you." "I have found a greater love".