French Elegance vs. Cuba's Food Crisis: Le Diner en Blanc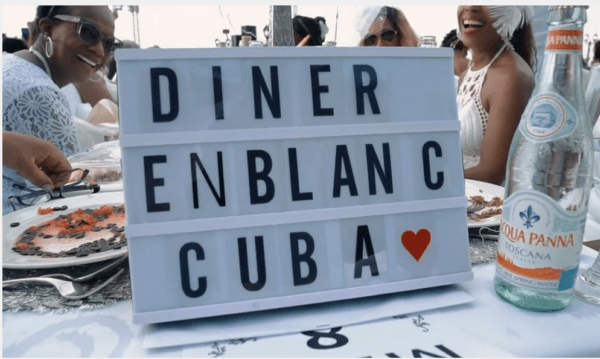 By Eloy Viera Cañive (El Toque)
HAVANA TIMES – Le Dîner en Blanc took place in Havana on November 11, 2023. The large-scale picnic from Paris was born in 1988 and its main objective is for a group of friends dressed in white to meet in a public place to share a dinner.
Le Dîner en Blanc became a tradition for its founder, French native François Pasquier. Later, his son transformed the event into a profitable business using an international company that has now exported the project to dozens of cities worldwide.
A typical feature of Le Dîner en Blanc is that participants don't know where the picnic will take place up until a few hours before. As a general rule, the meeting place is a public spot and dinner guests can take their own food and share it with everybody else.
The announcement that Le Dîner en Blanc would take place in Cuba has sparked a heated debate and Cubans have different opinions. However, this isn't the first time the picnic has been organized in Cuba. The first Le Dîner en Blanc took place in 2019 on the terrace and in the gardens of the Hotel Nacional.
Le Dîner en Blanc in 2019 had over 500 attendees; mostly US citizens who came to the island just to take part in the event, arguing that the trip fell under the special "cultural exchange" category. Despite this being the legal justification that travel agencies used to sell tickets for the event, only approximately 80 of the 500 dinner guests were Cuban. Some US citizens paid around 1,000 USD for holiday packages to spend a night at the Hotel Nacional, take part in the dinner and return to the US.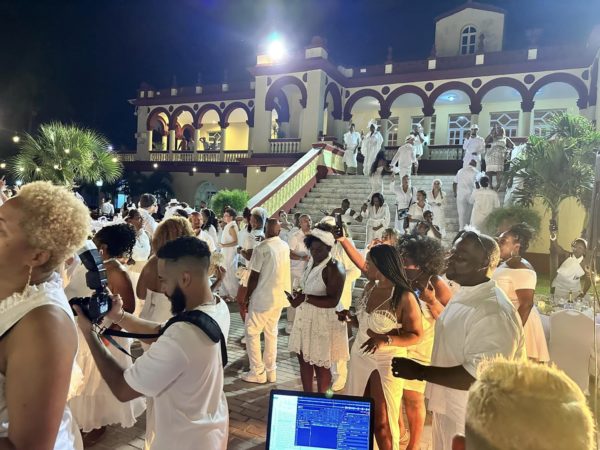 Beyond the debate, the problem with Le Dîner en Blanc isn't the spectacle in itself, but the dichotomy it represents by celebrating a chic and snobbish event in a country where people are suffering the effects of a severe food crisis and demand solutions.
The main problem with celebrating the Le Dîner en Blanc in Havana is that it's an event which, far from being organized to celebrate an interaction with the Cuban people, has been designed to reproduce an ever-growing divide between the privileged and connected people with a people who are starving and living in misery. Cubans have to struggle every day to put meals on the table, while Le Dîner en Blanc is a symbol of luxury dining. It's proof that there is an elite on the island that is becoming less and less wary of standing apart from the society it has to endure.
The above makes the Le Dîner en Blanc discussion not just moralist or purist. Hunger in Cuba is an obvious and undeniable reality. A reality that has even been implicitly recognized by the dinner's organizers and those who are in favor of it being held in Cuba. I say implicitly because they have taken measures that diverge from the original model of the event to avoid facing consequences if it were to take place in a Cuban square or park.
The website promoting Le Diner en Blanc in Havana recognizes that the initiative "recalls the elegance and glamor of high French society, and guests engage one another, knowing that they are taking part in a truly magical event. There are no disruptions: no car traffic, no pedestrian traffic." But the most interesting thing on the event's official website is that the only disruption at Le Dîner en Blanc are the "only amazed and astonished looks from passers-by observing the scene before them."
This is the main problem with celebrating Le Dîner en Blanc in Havana. This taking place in the Cuban context is so surreal that not even its organizers can stick to one of its basic priniciples, sharing "French luxury and class" publicly in a square or park. They don't do this because it would be very dangerous to rub a people in need's face in a spectacle like this. Organizers of Le Dîner en Blanc and the Cuban Government know that maybe in Toronto, the event only gets "amazed and astonished looks", but in Havana, it's very likely that there would be angry demonstrations if it were to take place in a public space.
For that reason, Le Dîner en Blanc in Cuba takes place in a closed place, in a restaurant, hotel, in a space protected by walls that separate the privileged from those who don't have enough class to enjoy these pleasures.
Figuring they can host Le Dîner en Blanc in Cuba is extremely perverse and, as a result, the discussion surrounding it is hugely political.