Going Deep into Cuba: Organized and Tolerated Crime
By Repatriado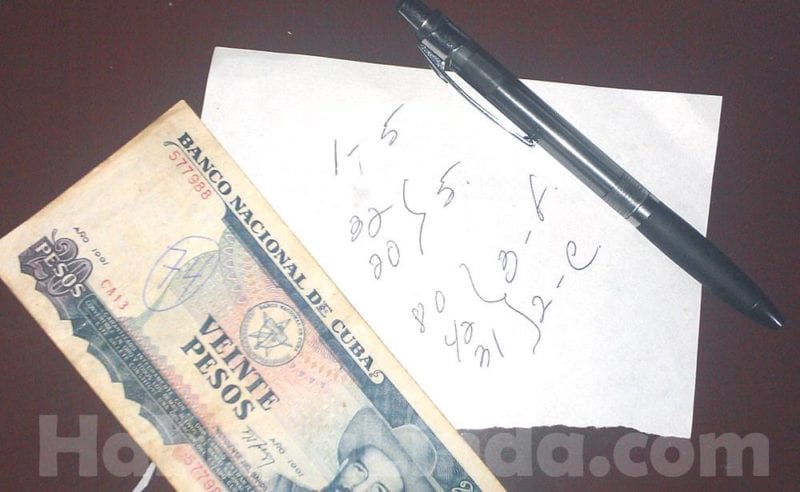 HAVANA TIMES — A modern electrical moped goes around the neighborhood at the same time every morning, driven by a beautiful 30-something year old young woman. She wears the best brands of sports clothes, has hair extensions down to her waist, long and sharp artificial nails, several gold chains and a Yemaya bracelet on her left wrist. She decorates her face with half a kilo of make-up and a satisfied and ever-present smile.
She stops every now and then and enters a house for a couple of minutes, other times, someone is waiting for her on the pavement with a well wrapped package that she puts inside her pink Adidas backpack. The girl is very polite and always thanks them with a joking remark. She is happy with her work. She doesn't hide her job nor is she discreet about it; she enjoys it and flaunts it as if it were another piece of her overdone attire. She works for a "banker".
The guys that live on street corners and "compliment" every woman that passes between 13 and 63 years old between swigs of bad rum don't mess around with the girl on the moped. I have seen them jump out onto the street making great gesticulations and gallantly stopping traffic so that the moped can pass by as if it were floating. All of them love her, all of them respect her.
In this neighborhood, where wearing a gold chain is an invitation to be robbed at knife-point, where alcohol, dominoes, pigeon and dog fighting are all constant reasons for violent scuffles, the ease with which the girl passes by is striking, especially as she travels alone and with thousands of dollars piled up in her backpack.
None of the regular suspects with long criminal records have ever thought about attacking her and taking away the money, an amount of money that none of them will ever see in their lifetimes.
Her morning run is just the collection of money collected the day before in the thousands of bets that are made every day on the illegal Cuban lottery; I say "illegal" because it hasn't been legalized, but nobody is chasing after them as bets are made in broad daylight and everyone knows where you can go to make a bet.
It's normal to hear people talking about what numbers came up, about what numbers they bet on, about who won what prize or who is indebted up to their eyebrows. The vast majority of lottery players are ordinary people that put aside between 1 and 10 pesos every day to bet, but there are professional players who carry out mysterious and complex calculations with more faith than reasoning and then there are those who obsessively look for everyday signs that tell them what to bet on. If they see a dog that's a little strange looking, they'll bet on 15, if a cat jumps, then it's 4, if they have to go to the doctor on that day then it's a 26, if the police stop them to ask to see their ID cards then it's 50.
The 100 numbers that make up the Cuban lottery are associated with animals, events, vegetables or things, the more conservative players still lay down at mid-day, not to enjoy a siesta, but to scrutinize their dreams for signs from the beyond and make their bets accordingly.
A constant stream of people coming and going mark the places where bets are made. Bets are taken by a "note-taker" or "lottery person", who has assistants who offer a home betting service to make the process more efficient. Both bets and money are collected every day, in this case by the girl on the moped, and taken to the "bank", where the banker and his employees organize, hand out prizes and distribute profits.
Word has it that there was once someone who couldn't pay their debts, so the banker's "assistants" took him to a mountain where they tied him up to a tree and they stabbed him and cut him. A doctor had accompanied them so as to cure the man in debt, who spent the whole night tied to the tree. The next day, the "assistants" and doctor came back and they repeated the process, stabbing and cutting under medical supervision. This torture was repeated for a week and some people say he even died while others say his family paid the debt.
This story might just be a myth, I don't know, but it's effective at showing that noone doubts that it is possible and the best proof of this is watching how the beautiful girl gets up on her moped every morning at the same time, carrying more money in her backpack than what the thousands of poor Cuban workers who play the numbers ever will.
It doesn't seem to be a decent game for the "new socialist man", but the old men that rule over us must think it's tolerable, and they mustn't be upset that the Cuban people remain entertained and hopeful betting their few pesos illegally.
On November 26, 2016, bets reached a record-high, the vast majority bet on 1, 64 and 91 (which if you translate the numbers would mean Horse, Big Death, Communist) others included 45 and 14 (President and Cemetery). Guess what had happened the day before?