Good Cuba Rumba in Havana's Vedado
by Irina Echarry, Photos: Caridad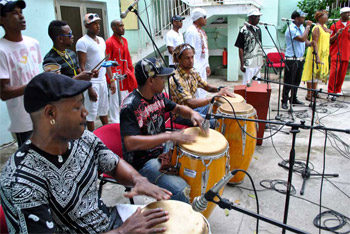 HAVANA TIMES, Dec 27 — Despite the slight threat of rain there in the courtyard of the Center for Research and the Development of Cuban Music (whose aim is the integration of research, creation and musical praxis), the institution presented one of its "learning concerts." On this occasion it was dedicated to rumba, one of the most authentic expressions of Cuban cultural identity.
The group Los Muñequitos de Matanzas — which is now marking 60 years since its creation — had almost all those in attendance on their feet and dancing. Even the more timid were moving their shoulders and tapping their toes from their seats.
Present were students from the faculty of Foreign Languages of the University of Havana??, passersby who decided to drop in, renowned "rumberos" (rumba dancers), scholars and others who had known about the day's activities.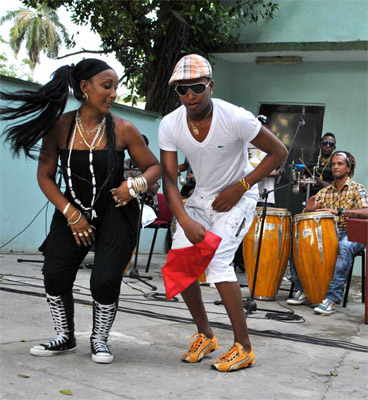 We were all captured by the beat of drums and the strength of the songs, because — as one of their sayings goes — "The Muñequitos have something: enjoyment, feeling, and quality."
The resplendent history of the rumba in Cuba, particularly in Matanzas, could'nt be traced without the story of this group, which was created in 1952 at a bar in La Marina neighborhood, the cradle of the truly great "rumberos."
Today many of its current members are direct descendants of the founders, with the resulting range of ages giving their rhythm a touch of freshness mixed with tradition.
This concert was offered along with William Hernandez, a Venezuelan drummer who has been promoting exchanges with Cuban musicians. He presented his creation: the Obba box drums, an instrument that can recreate a host of drum sounds – from the tres bata (drum), to bongos and congas; it's even used to accompany flamenco.
William didn't perform with the Muñequitos, though this had been something many of us were hoping for, but he did danced and sing with them.
Perhaps it was the drumming, or maybe it was the desire of all of us to continue listening to their guaracha tunes; in any case, the sky cleared up completely and the afternoon displayed a radiant sun.

Click on the thumbnails below to view all the photos in this gallery. On your PC or laptop, you can use the directional arrows on the keyboard to move within the gallery. On cell phones use the keys on the screen.