Havana Airbnb Story, Market Ups and Downs
Airbnb is now a 120 million dollar industry in Havana, says estimates
By Ross Andersen*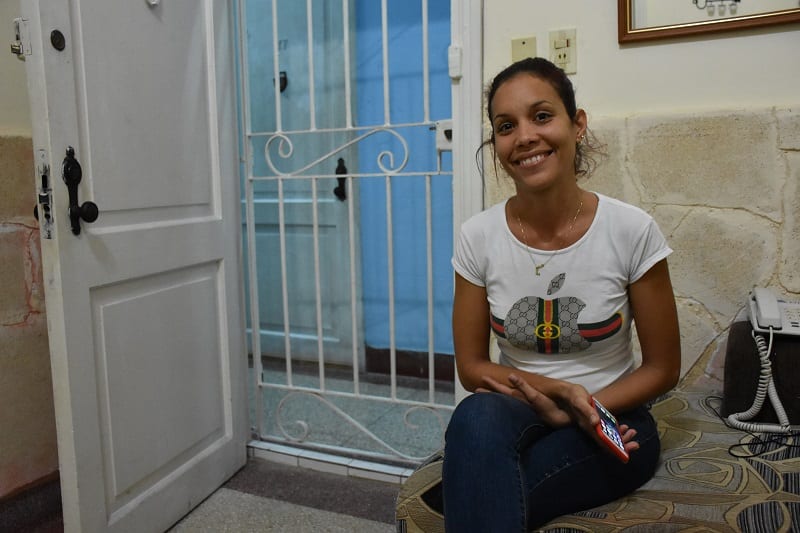 HAVANA TIMES – A Havana mother says if it weren't for rental platforms like Airbnb she wouldn't have any time to spend with her family.
Lisandra Cordero is a young mother of two who quit her demanding bartending job on a cruise line to rent full time through Airbnb.
She was working long hours, five days a week, for eight years. In 2016, she stopped serving drinks and decided to rent her father's vacant Old Havana apartment. Three years later she is still able to make a living through Airbnb being a main source of income.
"It's amazing, my apartment is going to be busy for the next two months," said Cordero.
She says the convenience of direct credit card payments eliminates any need for cash exchange. And with internet becoming more readily available to the public, more people are cashing in on rentals.
Cordero's story is one of many.
As Cuba's tourism grows, more tourists are choosing non-traditional travel methods, and the island's capital is capitalizing on that. Numbers provided by AirDNA, a company that analyses short term property rentals detail how illustrious the home sharing industry is in Havana.
According to estimates from AirDNA, Airbnb generated roughly $120 million USD in Havana. The number of Airbnb listings peaked in April 2018 with more than 20,000 properties being rented in the city.
For people like Cordero, this means being able to put money away for her family's future. Not only do Airbnb profits directly benefit the Cuban people, it's also driving the infrastructure in Havana. Cordero says she can literally see the money being put back into the city.
"When the municipality taxes hosts, one percent is put back into the city and you can literally see it in Old Havana," said Cordero.
"A decade ago Havana was falling apart but now you can see how it's growing, that's mostly because of us."
Despite Havana's private tourism sector growing, the Cuban government continues to encourage traditional means of tourism. Even though Airbnb is disrupting the hotel industry around the world, luxury hotels continue to sell out and even more are being built in Havana.
Short term property rentals are nothing new for Havana. Many people who choose to travel to Cuba often stay at the popular casa particulars, but until more recently many hosts have offered them through Airbnb.
John Kirk, an expert in Cuban relations and a professor in Dalhousie University's department of Spanish and Latin American studies (Halifax, Canada), says the numbers are not surprising.
Kirk, who once served as a translator for Nova Scotia premier John Savage during a meeting with Fidel Castro, credits former US president Barack Obama for the explosive hike in US travellers.
"Until Obama's presidency, US tourists faced major obstacles when visiting, and when those obstacles disappeared, suddenly massive amounts of tourists went to Cuba," said Kirk.
Abigail Long, a spokesperson at AirDNA, says she suggests the spike in Airbnb rentals could be the result of the Trump administration blacklisting Cuban hotels for US citizens in November 2017. US tourists who use travel agents or pay with cash however can easily bypass these hotel restrictions.
"The number of Airbnb listings hit a peak in April 2018, but has since been in steady decline, particularly significant when the number of listings over the same time period the year previous saw an upward trend," said Abigail Long.
Kirk believes a steady decline in Airbnb rentals within the last year is because of the US president's animosity towards Cuba. Kirk fears the administration is attempting to reverse much of the progress the two countries have made.
"Havana's economy is uncertain right now because of the opposition from Trump," said Kirk.
Cordero says she also noticed the difference in the number of US visitors who stayed at her apartment. But two years ago she had some of her most profitable years hosting – to which she credits the US tourists.
"The year 2016 was amazing for Havana and all of the Cuban people because Obama was in power and US citizens were free to come, I met a lot of people from the US," said Cordero, noting that the boom lasted into 2017.
Cordero plans to eventually boost her platform through Airbnb experiences. This way she will not only be able to accommodate guests but also give them individualized historic tours through Old Havana.
"I hope it will keep growing, it doesn't make us rich but we can survive," said Cordero.
—–
*Havana Times guest writer