Havana Mozart Festival Oct. 15-23
by Laura Stanfield Prichard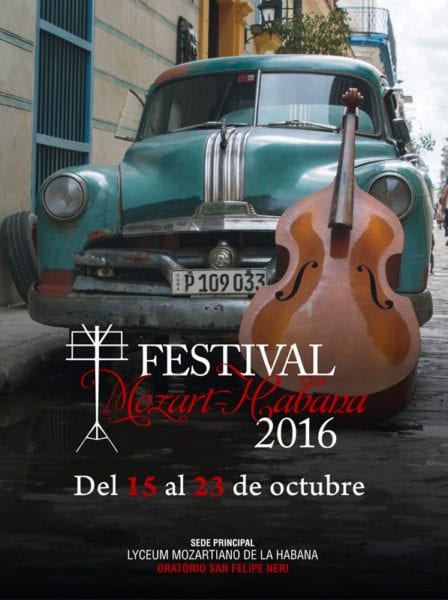 HAVANA TIMES – Last October, I had the opportunity to travel to Havana for ten days as a correspondent from the Boston Musical Intelligencer to the first Mozart Havana Festival. Major concerts were held in the historic Old Town, including the Cuban premiere of Mozart's Mass in C Minor and over a dozen professional recitals and chamber music concerts in the newly refurbished concert hall at the converted San Felipe Neri church.
Through the financial support of the EU's Cultural Affairs Office and the aggressive, long-term organizational improvements and new education programs established by Austria's Salzburg Mozarteum Foundation, the festival presented almost two weeks of internationally-acclaimed artists and brought Steinway pianos to many major venues for the first time. But that's not all the Salzburg Mozarteum has for us this year.
The 2nd Mozart in Havana Annual Festival Lineup

This year, the Cuban festival runs from October 15-23 and celebrates the 70th anniversary of the relationships between Cuba and Austria. The Office of the Historian for the City of Havana has been very active in designating which historic sites and churches have received attention and made available for concert use: this is crucial, since most churches in the Old Town have not operated as religious sites for many years, and cultural groups are gradually taking on the role of caretaker and manager. This "musical rejuvenation" of acoustically significant buildings has had a remarkable impact on Cuba. The festival promotes Mozart's contributions, along with other masterworks of chamber and symphonic music, in order to enrich Havana's cultural diversity.
Isachi Durruthy Peñalver, Manager of International Press for the Festival, remarks, "This year, the Lyceum thought about new ways to spread the legacy of this virtuoso combining his music with visual art and contemporary dance in surprising programs, not only for our large audience, but for the increasing number of foreign visitors." The Festival is promoting the increased availability of internet connectivity by featuring a free, downloadable music app in Spanish (http://www.lbpromo.com), although most travelers will still find the best wifi is available in major hotels, through the purchase of time-limited internet access cards. Notable soloists appearing as both concerto soloists and collaborative chamber musicians this year in Havana include French virtuoso clarinetist Florent Heau and young Cuban pianist Lianne Vega.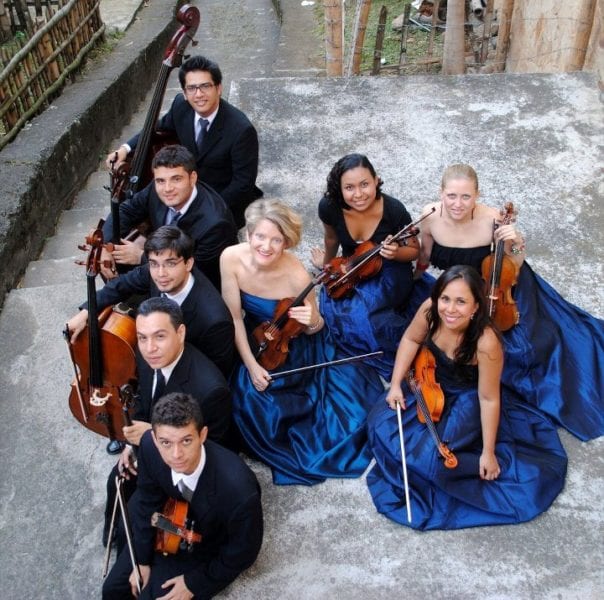 Like last year, both the Universidad de las Artes (ISA), on the southern edge of Havana and the hilltop Universidad de la Habana will contribute to the Festival.
On Oct. 20, Dámarys Gómez will conduct a choral concert at the University of Havana contrasting European music by Ola Gjeilo, Schubert, Stainer, and Mozart with local Cuban favorites by Beatriz Corona, Nicolás Guillén, Miguel Matamoros, and Senén Suárez. The final concerts of the festival will feature a semi-staged version of Mozart's early opera Bastien et Bastienne (in Spanish) in the modernist Teatro Nacional and an orchestral finale combining students from ISA and the Lyceum in the beautifully restored Teatro Martí (Haydn's Symphony No. 95, Mozart's Symphony No. 39, and Schnittke's Moz-Art a la Haydn). The full program (in Spanish) can be found here.
OPPORTUNITIES TO CONTRIBUTE & PARTICIPATE
Now that US citizens may travel to Cuba more freely, there are many opportunities for Boston musicians to visit, observe, and contribute to Havana's burgeoning musical classical scene. The Mozarteum maintains a new school called the Havana Mozart Lyceum featuring practice and chamber music rooms in the old monastery offices right above Oratorio San Felipe Neri at 311 Obrapía St. in Vieja Habana. Students from Cuba's University of the Arts (ISA) travel north into the city center for concerts and classes, and Ulises Hernández, the Director of the Lyceum, maintains a busy career as a concert pianist and performer.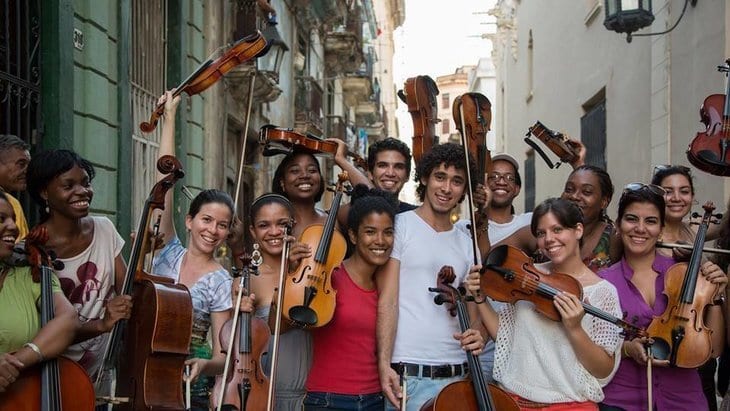 The Lyceum coordinates donations of pianos, string instruments, CDs, and computer equipment that have helped to establish free music courses for local youth, coaching sessions for young players with members of the National Symphony, and master classes with visting virtuosos. This year, open, free master classes at the festival will feature Europeans including clarinetist Harmen de Boer, the Netherlands Wind Ensemble, oboist Justine Gerretsen, French horn player Ron Schaaper, bassoonist Dorian Cooke, pianist Roberte Mamou (performing Kv 414 at the Teatro Nacional on Oct. 16 and three sonatas, Kv 332, 333, 545, and 570 on Oct. 19), violinists Benjamin Schmid (preforming Kv 218 at the opening Gala on Oct. 15 and a recital of Mozart and Henze on Oct. 17) and Tatiana Tchijova (in recital on Oct. 20 in Matanzas and Oct. 21 in Havana), and double bassist Quirijn van Altena Regteren.
For the first time, North and South American teachers and performers will be represented, including the Austin, Texas-based pianist Michelle Schumann, UC-Boulder professor of violin Charles Wetherbee, and the Columbian string nonet Camerata Alférez Real de Cali. Schumann and Wetherbee will collaborate on an Oct. 20 recital presenting the Cuban premieres of Arthur Foote's Violin Sonata in G minor, David Lang's Light Moving, and John Adams' Road Moves.
Luthiers without Borders is still active in a room overlooking the Plaza Vieja, and welcomes donations of supplies and funds: they repair and maintain most of the professional string instruments in Havana, build new violin and bows from scratch, and will only be able to support the training of apprentices through 2017, when their funding from the EU runs out.