Havana's Central Park Like Never Before
By Ronal Quiñones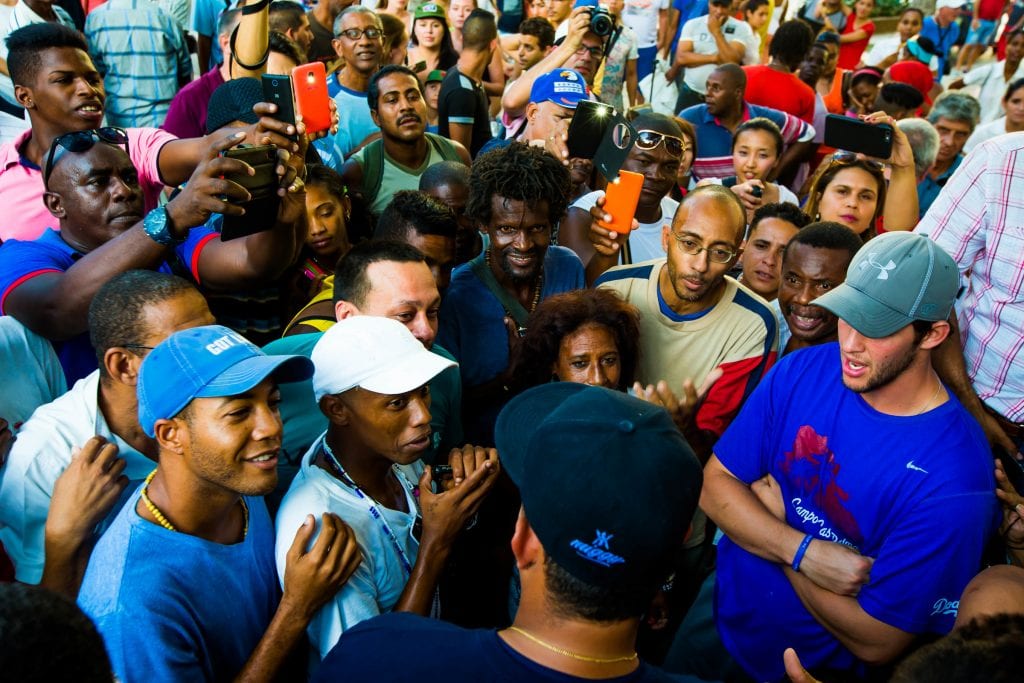 HAVANA TIMES — Few have been the times in which so many baseball stars have met at Havana's renowned Parque Central, and never before have so many of them not born in Cuba. The capital's popular meeting place for sports aficionados had the privilege of welcoming many of the members of the Major Leagues delegation that visited the country in recent days, and the joy was generalized at this spot in Old Havana, the habitual venue of one of the so-called "Hot Corners."
Someone had the great idea of suggesting that former manager Joe Torre and baseball players Miguel Cabrera (Venezuela), Nelson Cruz (Puerto Rico) and Clayton Kershaw (US) visit this public meeting place where people talk sports (particularly baseball) nearly 24 hours a day.
Unfortunately, the players who would have inspired the most admiration, Cubans Jose Dariel Abreu, Yasiel Puig, Alexei Ramirez and Brayan Peña, were unable to attend, because one of the conditions imposed on them to return to Cuba was precisely that they were to remain in their hotel for the duration of their stay, save to participate in the workshops offered at Havana's Latinoamericano and Matanza's Victoria de Giron Stadiums.
At any rate, it was a treat for all the fans who gather at the venue regularly to be able to touch the living Major League legends and converse with them freely and spontaneously.
Jorge Villalon was one of the privileged few who were able to be there that afternoon, for the one public activity the visitors took part in that hadn't been reported on by the press (and therefore did not draw a greater crowd).
"It was really quite a surprise for us," said Villalon, "because we knew they were here, but we never imagined they'd come down to this spot. Luckily, there are people here throughout the day and they would have been able to converse with Cuban baseball fans any time of day. But we would have prepared for the meeting better had we been previously informed. I can't imagine what this place would have looked like if word had gotten around, because no one would have wanted to miss this great opportunity."
"Listen," Francis cut in, "had they announced they were coming, the whole of the old town would have come to a standstill. Don't you remember what it was like in the San Isidro neighborhood when Mayweather came? They also didn't announce it. I think that, if people had found out they were coming, they would have had to cordon off the entire block that day, because the park could not have held that many people, and it's a big park."
"It was a great honor for me," veteran Maximo said. "I've been a Yankees fan all my life, and having the man who led them to four titles here is a big deal. I also realized he's a very humble person. Perhaps that's how he managed to get so much out of the stars he had in his team. It's a pity I don't speak English or Spanish very well, because it's harder to communicate through an interpreter. That said, I felt I was up in the clouds, he's like a god to me. I never thought I'd have the chance to give him a hug."
"I truly regret not having been there," Giovanni said. "I'm a big fan of Miguelito Cabrera, from the time he was with the Marlins. They've told me he was one of the players who enjoyed this visit the most and that he told people they hold get-togethers like this one back in his country, where people debate out loud and nothing ever comes to blows."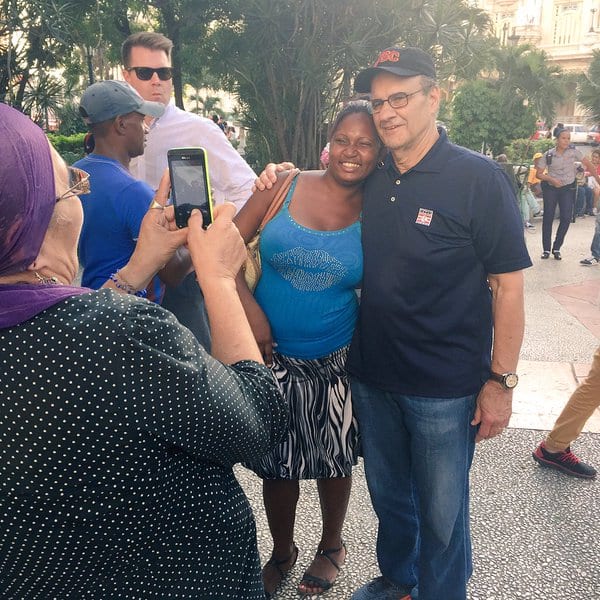 "That was really nice," Villalon recounts. "He's a humble person and a joker. Everyone liked him immediately, even though some nut told him Albert Pujols was better than he was, and another fellow said to Kershaw that a Cuban All-Star team could beat one from the United States any day. We had a bit of everything; there was even one who dared compare Joe Girardi with Torre."
"Hold on, bro," Yankiel interjected. "To beat Joe Torre, you need to look for a manager from the 50s or even 20s, when the other Yankee dynasties were playing. Outside of that, no one's got anything on Torre. I remember that, when he started coaching, they showered him with criticisms, because he hadn't made a name for himself, not a big enough name to manage the world's best team. But he shut everyone up after the Yankees won his first year there."
"I was dying to see Kershaw, the most dominant pitcher in the Major Leagues right now," Yury affirmed. "It's true that, later, at the play offs, things haven't gone as he expected, but it's not always been his fault, and the proof of that is that he's been giving us impressive numbers for several years now. He also seems like a very nice person. I heard him speak wonders about his work with kids, and I was told he was even a barman at a reception."
"Thing is," Jose Carlos explained, "for years they've been saying terrible things here about professional sports, that everyone's there just for the money, that they aren't true to their jerseys or their flag, and that's a lie. There are all kinds of people everwhere, but many of them are millionaires and do feel loyal to their home team, and they do humanitarian work and aren't arrogant or conceited."
"You're right," Maximo retorted, "but one's always wary, because we've seen some arrogant stars, and not just in baseball, in all sports, and one doesn't know how people will be. This was a good opportunity to get to know the human beings behind the players, and it was all the better because we realized they have good, human values."
A few days had passed since the historical visit, but the traces could still be felt in the place. These were unforgettable moments for those who had the privilege or fortune of being there at the right time, and an eternal regret for those who missed out on this opportunity. The way things are going, these types of gatherings may become something far more common in Cuba, or so everyone hopes.