Healthy Juices in Cuba, Tasty & Affordable
By Yusimí Rodríguez     (photos: Juan Suárez)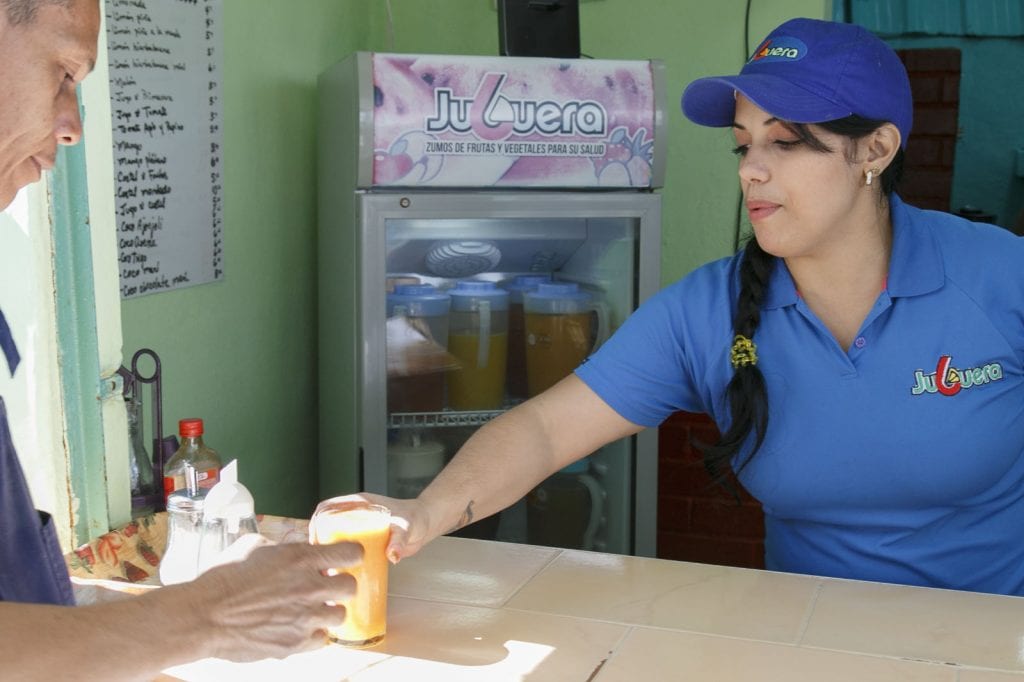 HAVANA TIMES — If you buy a glass of juice at a private food stand or cafe in Havana – I'd rather not write about State establishments here – you generally have to content yourself with something made out of concentrate or syrup, or with a drink prepared using a tiny slice of fruit, plenty of water and sugar. The best thing these juices have is their price, somewhere between 3 and 5 Cuban pesos (15 to 25 cents of a US dollar).
A fresh fruit juice, made on order, available with or without sugar, costs 1 Cuban Convertible Peso (1.15 USD) at a hotel or State hard currency establishment, or at a "top-notch" private place where prices (and quality) are similar or higher.
We Cubans say that "the good life is expensive" and that there's a cheaper one, but that "it's not life at all." At the intersection of 3rd and 6th streets, behind a parking lot, very near the Melia Cohiba Hotel in Vedado, however, we find the Juguera de 6, a place where one can have freshly-made juices for only 4 or 5 Cuban pesos.
You can sweeten these juices with white or brown sugar or even honey, or you can choose not to sweeten them at all. You can order it regular or frappe. I am referring to the most common juices (papaya, guava, orange, pineapple and mango). Fruit combinations, and combinations of fruits and vegetables, are also available. To cut a long story short, there are 97 combinations (I haven't even tried half of them), fruit cocktails, sugar-cane liquor and pru (a drink made out of fermented roots, popular in Cuba's east-laying provinces).
The man behind this business is Jose Alberto Puig Santiesteban, a 36-year-old graduate in Law and holder of a Masters in international relations.
It wasn't a financial decision
Jose Alberto: We needed a place like this, where people could eat fruits and vegetables this way, for a healthy lifestyle. Financial considerations didn't come into it at first. The Fruticuba chain that existed in Cuba in the seventies and eighties is a precursor to this. They sold many fruit products, but they weren't conceived as health products. The country's economic conditions changed, many crops were ruined by plagues and fruit shortages began. Some three years ago, farmers began growing these crops again and I was able to launch this project. We work on the basis of the science behind fruit culture and fruit therapy.
HT: Jose Alberto has studied fruit therapy and the benefits of a fruit and vegetable diet.
JA: Many of these benefits are still unknown to people. The body finds the essential minerals and vitamins for its daily energy expenditure and for cell growth in fruits and vegetables. We eat a lot of animal products to obtain nutrients that are present in fruits and vegetables. I began studying the subject and discovered that certain combinations of vegetables and fruits had a positive impact on a number of pathologies. Many scientists claim they can even cure certain conditions. Soursop has a broad range of properties that are particularly useful in cancer treatments. Beets cleanse the liver and pineapples have anti-bacterial properties. Modern medicine sometimes rejects these findings because big, transnational corporations have to sell medications. Our eating habits are misguided, because of shortages and because of culture.
HT: Initially, Jose Alberto wanted to offer 81 fruit and vegetable recipes to attenuate, reduce or cure certain conditions that aren't full-blown diseases, such as hair loss, graying hair and cellulite.
JA: To do that, however, we would have had to get each recipe certified by the country's sanitary authorities, and that would have taken far too much time. Every recipe is almost a doctoral thesis. We decided to make the information available to customers, such that, if they believed they suffered from a given pathology or condition, they could decide to consume a certain fruit.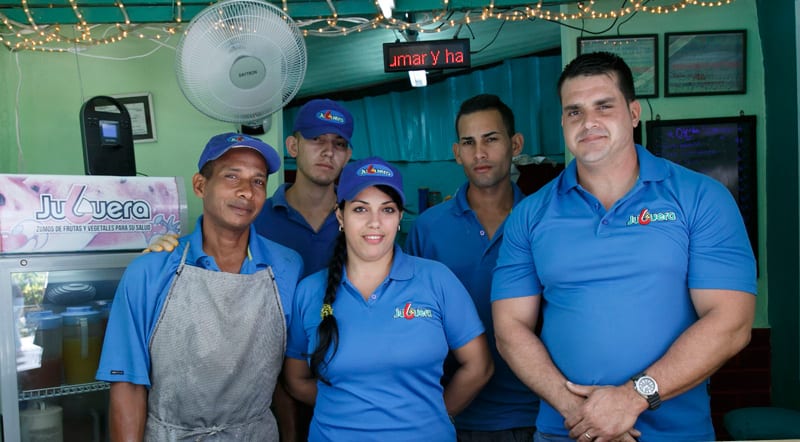 Mango in February?
HT: Here, juices are made with fresh fruit that Jose Albert buys every day.
JA: I choose them personally. I have stable and reliable suppliers. Some, like bananas, mammee apples and papayas, I ripen them myself, to ensure no chemicals are used in the process.
HT: How are you able to offer mango juice in February?
JA: During mango season, I buy a lot of mangos and slice them up. I've rented a freezer that freezes products at minus 55 degrees. The texture, color and flavor are preserved this way. You lose merely 5 % of the texture. You can drink a glass of juice today and think I'd just peeled the mango.
HT: All these fruits are grown in Cuba, including the pears, grapes, plums and strawberries. Jose Alberto buys the apples at the store.
The juice stand offers 97 combinations, using a total of 14 fruits and 13 vegetables. I always see many teenagers around. According to Jose Alberto, many customers claim their children didn't eat fruits or vegetables before.
JA: Most of these kids would ask the traditional, seasonal drinks (pineapple, guava and mango). Later, they started ordering the combinations with vegetables and many have become addicts.
Some recommendations
HT: I'm asthmatic. What do you recommend for me?
JA: To drink pineapple juice regularly. Pineapple has anti-spasmodic and anti-bacterial properties, it helps clear the bronchia. When you have the flu and throat aches, this means a lymph node is swollen due to a small infections. Gargling pineapple juice is highly effective.
HT: What would you recommend for a person with osteoporosis due to a calcium deficiency?
JA: Green juice made of celery, cucumber, parsley and spinach is essential. That combination supplies a group of nutrients essential to the development of bone cells. Human beings require a daily intake of around 90 minerals to ensure the proper working of this machine that we are, and these are found in fruits and vegetables.
HT: I personally recommend the combinations including coconut milk, with mamey or papaya. They taste almost like milkshakes.
JA: Coconut has many essential nutrients. It has a high calorie content but does not raise cholesterol or fat levels in the body. It is a natural, unsaturated fat which is immediately converted into glucose and essential amino acids. It's very good in combination with dry fruits.
A community approach
HT: Despite the large investments Jorge Alberto makes every day, his juices cost as much as those made out of concentrate or syrup at other establishments. The most expensive one is the strawberry juice and combinations with this fruit (between 10 and 12 pesos).
JA: We offer a broad range of juices and this allows us to have a broad range of customers. There are two ways of making profits: by adjusting prices and by basing offer on demand. We opt for the latter. We only earn a few cents on every glass of juice, but, because of high demand, we manage to take in higher profits. A considerable percentage is devoted to developing the juice stand to maintain quality.
We are the suppliers of a number of private restaurants and even some hotels have contracted our services. The same juice that costs four Cuban pesos here, they sell at 1 or 1.50 CUC.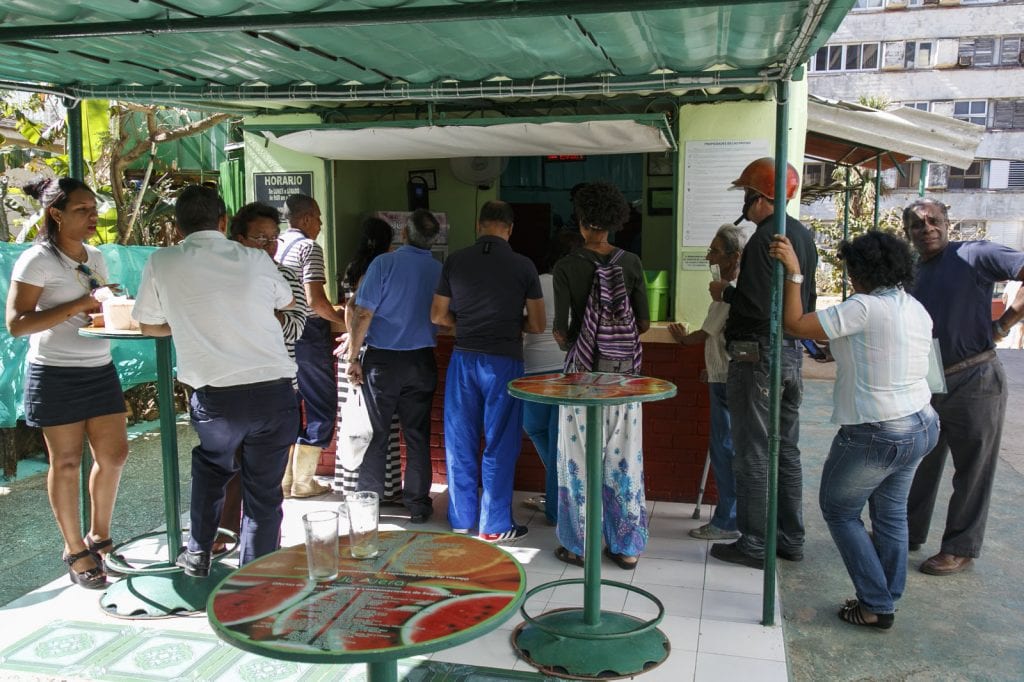 We have a community approach. We offer special services for the elderly, the ill, people recovering from conditions, pregnant women and children under two. We are happy just to see their parents or grandparents bring them here, it's a way of promoting a healthy lifestyle. We're more interested in that than the money.
Customers are our publicists
HT: The benches at the establishment are for all customers, but the elderly and pregnant women have priority.
On one occasion, I arrived at the juice stand and saw a young man standing at the back of the establishment, paying close attention to the service. The employee who served me had forgotten to ask whether I wanted ice in my drink and prepared it this way. I was willing to drink it because it wasn't cold out. The young man at the back gestured at her to prepare the juice again. He's the supervisor.
JA: When I'm away, I need someone to keep an eye over all details: the quality of the service, hygiene, prices. Here, we all follow the principle that the customer can never go away unsatisfied. I have customers who come from very far and that's money they spend. That person, everyone, must get the best service possible. In your case, it was a question of preparing the juice again. Even though we train employees, human error is always a factor. If the customer feels too much lemon was used, for instance, we serve them a new juice and sometimes it's on the house.
HT: The first time I conversed with Jose Alberto Puig, he spoke to me of several experiences with customers that have motivated him in work even more. Below is the one that made the deepest impression on me.
JA: A customer came with his 5-year-old son and bought him a strawberry juice. He ordered an avocado, lemon and pineapple juice for himself. The child hadn't heard the ingredients and, when he saw his father's juice, asked to try it. He liked it and wanted one. The father asked the employee not to mention the ingredients out loud, because the kid didn't like avocado in any form. But he had the juice. The only place the kid would have avocado was there.
Many parents tell us that the only place their kids have a fruit cocktail is here. That is our greatest satisfaction.
I don't put up signs or stickers anywhere, I don't send out sms messages. Customers are our publicist, thanks to how satisfied they are with the service.
HT: The juice stand will turn three on June 6th. It hasn't closed a single day since opening, not even on December 25 or January 1.
JA: Not even when there's coastal flooding. We can't ever close. The customer who comes from far, they may not know about the flooding. They got their feet wet and got this far, they deserve respect.
HT: Despite his devoting to his work, Jose Alberto believes that the quality of the service stems from the quality of the customers.
JH: They asked for a place like this, I only replied to that demand. They have even suggested new combinations.
HT: For Jose Alberto, none of this would be possible without his employees. Which is why he insists they appear next to him in the photo.
Click on the thumbnails below to view all the photos in this gallery. On your PC or laptop, you can use the directional arrows on the keyboard to move within the gallery. On cell phones use the keys on the screen.