High Tension on Venezuela Border as Volunteers Try to Enter Aid
By Sinikka Tarvainen (dpa)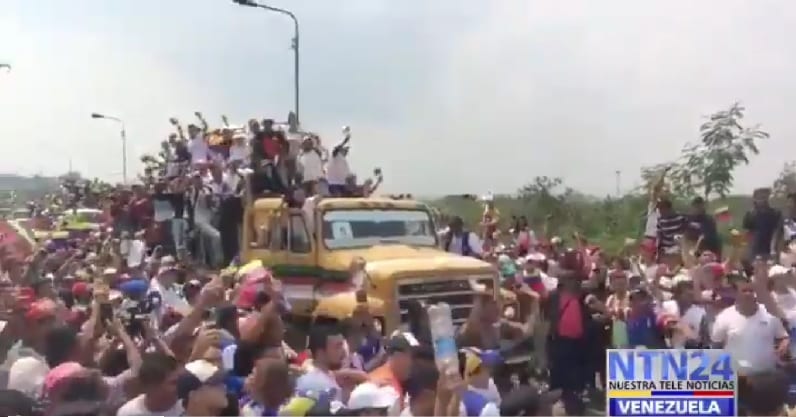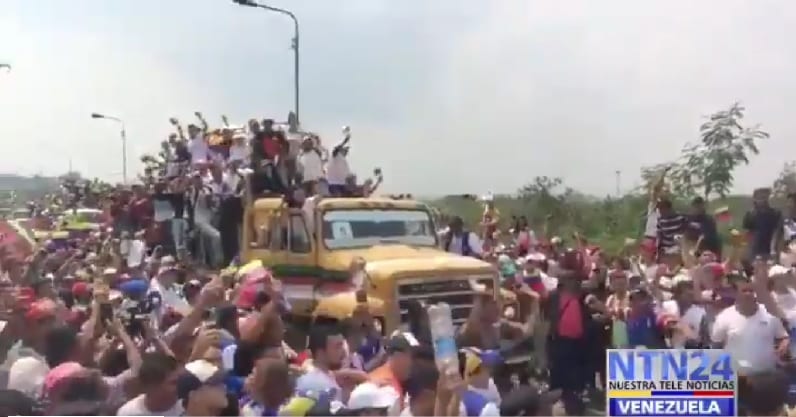 HAVANA TIMES – Venezuelan volunteers were defying an army blockade on Saturday in an attempt to bring humanitarian aid into their crisis-hit country from Colombia while unrest spread on the Venezuelan side of the border.
Venezuelan opposition leader Juan Guaido is trying to bring aid to hundreds of thousands of people who he says are in urgent need of food and medicine. But President Nicolas Maduro regards the aid as a US plot to topple him and does not want to let it through.
Hundreds of tons of supplies, donated mainly by the United States, have been stored in the Colombian border city of Cucuta.
Colombian President Ivan Duque on Saturday officially handed the supplies over to Guaido, who has been recognized by dozens of countries as Venezuela's interim president.
Duque said that preventing the supplies from entering "could constitute a crime against humanity." He and Guaido called on the Venezuelan army to be "on the right side of history" and to let the aid through.
About 14 trucks carrying a total of nearly 300 tons of supplies travelled to bridges crossing from Colombia into the Venezuelan region of Tachira. Caracas has closed the bridges to keep the aid out.
Thousands of people were arriving on the bridges to form human chains and to start passing aid packages to the other side of the border.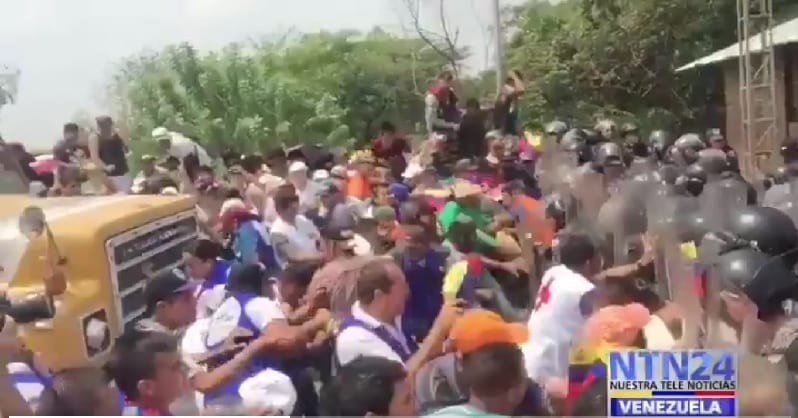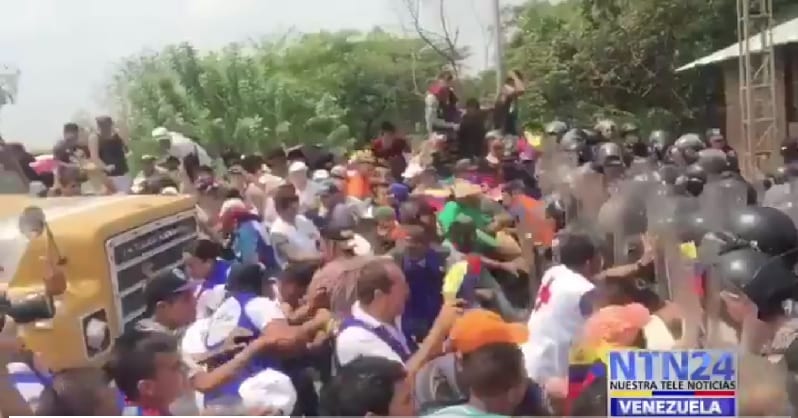 A huge crowd of people accompanying an aid truck filled the Simon Bolivar bridge.
Some people were carrying white roses they planned to hand to soldiers in the hope of persuading them to let the aid through. "The National Guard still has time to take the right decision," a young man named Nacho told broadcaster Caracol.
Maduro's security forces used tear gas and rubber bullets to prevent the entry of four trucks and a crowd over the Francisco de Paula Santander bridge, according to broadcaster VPI-TV and CNN en Espanol.
Six people were reported to have been injured.
Guaido tweeted that aid trucks had already arrived in Venezuela, but that the government was "preventing them from moving ahead." He also said that aid supplies coming from Brazil had entered Venezuela.
Venezuelan soldiers clashed heavily with pro-aid demonstrators in the city of Urena on the Venezuelan side of the Cucuta border. They set on fire a bus which had been due to take volunteers to the Colombian side to help distribute aid, television reports said.
[pullquote]
Venezuelan police burn three trucks carrying aid
Venezuelan police have set fire to three trucks carrying humanitarian aid, the daily El Nacional reported. The trucks, which were transporting food and medicine, had crossed the frontier and were travelling towards the city of Urena.
They were completely burned, according to the report.
Police also used tear gas and rubber bullets against people accompanying the trucks, injuring about six people.
[/pullquote]Smoke was rising from tyres that protesters had set on fire.
The unrest spread to the town of San Antonio de Tachira. In the village of Boca De Grita, some people climbed on top of tanks, Caracol reported.
Large demonstrations for and against the aid operation also took place in the capital Caracas, where no violence was reported. Maduro told a crowd he would "never surrender" and that "the fatherland" was defending its frontiers and its independence.
He announced a rupture of Venezuela's diplomatic relations with "fascist" Colombia and gave its diplomats 24 hours to leave, according to Venezuelan daily El Universal and Colombian television reports.
Caracas had already severed relations with the US, Colombia's close ally.
An increasing number of Venezuelan soldiers were meanwhile heeding a call from Guaido to turn against Maduro and defect.
At least 13 security force members have so far entered Colombia, including 10 members of the National Guard and two police officers, a spokesman for Colombia's migration authority said.
Those who have deserted include a major and a navy lieutenant, according to local media. Some reports put the number of defectors at 19.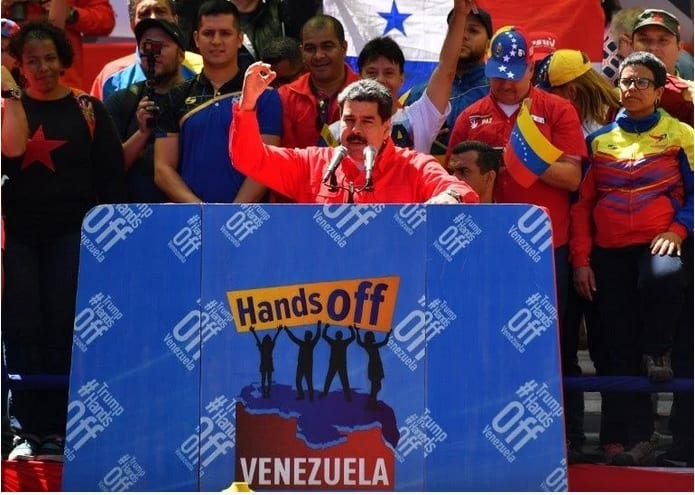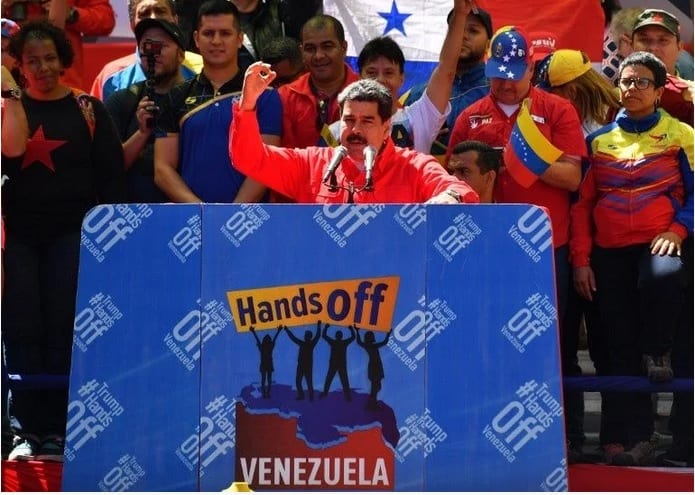 Three of the soldiers who defected used two tanks to escape from the border and to enter the Simon Bolivar bridge. The spokesman for the migration authority denied reports that the tanks had seriously injured several people after hitting a crowd.
Maduro has presided over a massive economic crisis, with annual inflation running at millions of per cent, while more than 3 million Venezuelans have fled abroad.
The president won an election boycotted by most of the opposition last year. The National Assembly, which is headed by Guaido, wants him to resign and to call a fresh poll.