How Much Is a Contract Worth in Cuba?
Manuel Alberto Ramy  (Progreso Semanal)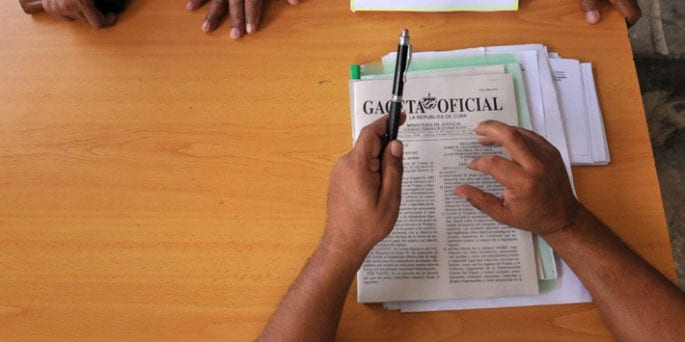 HAVANA TIMES — A small group of former state employees in the city of Artemisa, the capital of the western province that shares the same name, who became independent workers due to the new self-employment law laid out by the Cuban government, face a critical situation.
They had signed a 10-year contract with the government's Services Company in the city so they could develop their work and now they are being forced to leave their site and lose the small investments they made to improve it. The building no longer belongs to them they were told, "Because now it belongs to the government's Retail Sales Enterprise (Comercio) and not the Services Company anymore."
To be precise: they feel "unemployed and helpless."
Published in the provincial newspaper El Artemiseno, this piece of news forces us to reflect upon, at least, three points:
How valid is a contract signed with a government entity when this can be broken with one fell swoop? Is it possible that the conditions stipulated in the contract can be nullified via a verbal order from "the comrade responsible for the renovation work."  No manager came to see us, they didn't meet with us and explain anything to us about the problem, until a few days ago when they came to give us an ultimatum"?
Instead of waiting for an answer from the official, which is what the attitude of those affected seems to be, it would be worth filing a lawsuit, with the help from lawyers, and therefore let their differences be settled in court. Every Cuban citizen should put the Cuban judicial system to the test, a valid, legal attitude, a right they are entitled to by law and which shouldn't be understood as challenging the socialist system but as a way to strengthen it making it more transparent via people exercising their civil rights.
If our immediate future depends on legality and institutionalism, which has been repeated by the highest ranking politicians, the report of this case gives us doubts as it questions essential certainties for the entire population. No civil servant should be above the law or outside of it, no matter what position they hold. Justice courts exist for some reason.
Progreso Semanal reproduces the information published in the aforementioned newspaper on July 12.
Self Employed Workers in Artemisa Await an Answer
By Yusmary Romero Cruz
A short time ago, we received a letter from Elier Estevez, Yurisan Rojas, Jose Alberto Martinez, Ediel Gutierrez and Esteban Pereira, self-employed workers in Artemisa, who have been asked to leave the worksite belonging to the government's Services Company, which they've rented out for 10 years, bound by a contract.
"They are renovating the bouvelard, and this worksite doesn't belong to us, because it now belongs to the Retail Trade Company and not the Services Company anymore," they were told.
This information, they said, "was passed on by a colleague responsible for the renovation work, as no manager came to see us, they didn't meet with us and explain anything to us about the problem, until a few days ago when they came to give us an ultimatum."
"They gave us this worksite in a depressing state and we've fixed it up a little. We were state workers and then we became independent renters. They told us how everything would be, and that we wouldn't end up helpless or unprotected: then this happens, violating everything we agreed on. As the damaged party, where do we stand? Unemployed, helpless?" they summarized.
"We were the first ones in Cuba to work under this new initiative, and will we be the first ones to disappear too? The decision taken isn't the right one, when laws and ideas are being approved to open up the market further to independent workers, cooperatives and contractors."
Their letter went on to give other facts and details which we don't have the space to publish here. However, they explained how the pedestrian boulevard needed a number of services, "Why don't they include us like we have been up until now, and together the government's Services and Trade companies can continue working in harmony with this new layout for the boulevard?"
This is a regretful situation and we hope the independent workers get a rapid answer, and that public services aren't affected, one of the stated missions of this new kind of employment.