IMO in Cuba: Shortening Distances Between Relatives
By Sayli Sosa  (On Cuba)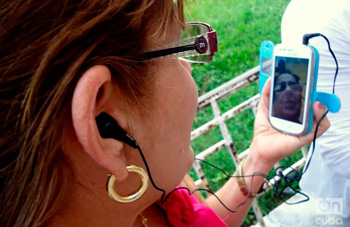 HAVANA TIMES — At 6:30 in the afternoon, the only time the breezes make the city a tad cooler, Idalmis takes out her Samsung phone and a pair of headphones and sits in the shade afforded by the 12-story building in Ciego de Avila.
At 50, it hasn't been easy to learn to operate the devices that bring her these daily joys, two times a week, but the effort, she says, is more than worth it. Going through the logical steps, she activates the Wi-Fi in her cell phone, connects to the ETECSA network available and types her ID and password at the Nauta page.
At the park, someone installed an app in her phone that allows her to speak with and see the faces of her loved ones on the small screen of her mobile phone: IMO. The lines of binary code allow Idalmis to see the most beautiful wrinkles in the world: those of her 79-year-old mother, who lives in the United States.
"It's only been a year since I last saw my mom, but I haven't seen my brother in four. Though the service is still expensive, it's been incredible to be able to talk to them and see them. Now they want me to bring my little girl, so they can see her. They tell me to visit more often. I spoke with my niece, who lives in the Dominican Republic, yesterday. I saw tears in her eyes, she was crying. This is something else."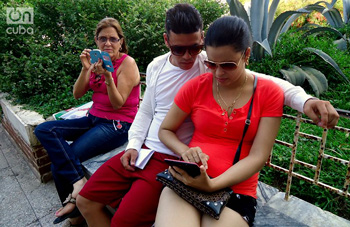 Sitting on the bench and reuniting with her family, Idalmis has also been witness to the stories of other people in Ciego de Avila who appear to be talking to themselves at the park, looking at the face of a girlfriend, a grandparent, a cousin, a parent or sibling on the screen of a cell phone. "I've seen elderly people who only now have been able to see and converse with their grandchildren, as though they were close."
"I hope to see the day when I can connect from home, because there's no privacy here. Everyone can hear what you're saying," she says as she hangs up. She's used up the time for today and, today, she's a little bit happier.
Ones and Ceros Shortening Distances
According to Antonio Aja, researcher at the University of Havana's Center for Demographic Studies (CEDEM), one out of every three Cubans has a relative living abroad. The installation of Wi-Fi areas across Cuba (35 in total so far) therefore becomes doubly important.
On the one hand, it broadens Internet access on the island, even though the cost is still too high: two CUC ($2.25 USD) for an hour, charged a population whose average monthly salary is a little over 20 CUC.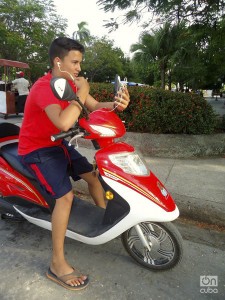 On the other hand, it introduces new means for people to interact, through cell phone applications, tablets and laptops which are still novelties in most Cuban homes.
The small amount of space required to install the application and its functionality, even when using small bandwidths, has made IMO the preferred application of Cuban Internet users, beating others such as Skype (blocked in State connections).
It is a video-calling platform that can be downloaded free of charge and is very easy to operate. The majority of cell phone repair shops, private businesses where cell phones are repaired and unblocked and applications installed, also offer this service.
IMO only requires smart-phones with Android 2.3 or higher and at least 4.3 MB of space.
The users interviewed by OnCuba at Marti park in Ciego de Avila and commentators at a number of digital forums such as CiberCuba pointed out the possibilities offered by the application in terms of bringing Cuban families closer, wherever these families may be. "It hurts to be so far apart," they insist.
They also share the concern that the application may be blocked in the future, as the math is very simple: calls are cheaper with IMO.
It Works, But It Could Be Better
Ever since the Wi-Fi network tests were conducted in Ciego de Avila on June 23, the Marti park has seen more people than usual. At night, the cityscape acquires an unusual aura, as the white light from the mobile phone displays bathes the faces of locals, most of them young.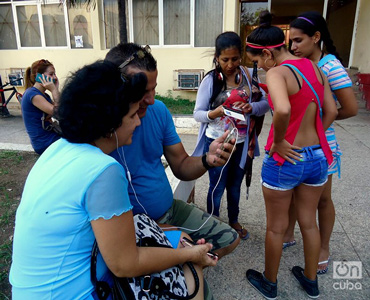 Darline Perez Molinet, head of marketing for landline services at Cuba's telecommunications company (ETECSA), recently told Cuba's Granma newspaper that the service is operating adequately and that they were frankly surprised by the fact more people opted for temporary accounts.
That said, some users in Ciego de Avila told OnCuba that the connection is sometimes slow and that they have to connect and disconnect several times. The long lines of people at ETECSA Internet access points and the frequent problems people experience with their passwords for permanent Nauta accounts could have a say in the trend pointed out by the executive.
After Wi-Fi areas have been in operation at several Cuban cities for a month, a number of conclusions have already been reached. The most basic one is that it works, but could be better. Idalmis, the woman from Ciego de Avila who sits down every afternoon to look at her mother's eyes through her cell phone, summarizes the experience humbly: "Internet helps bring people together."