Impressions on a Brief Stay in Havana
By Patrick Velasquez*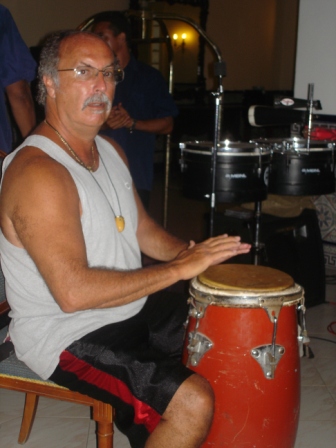 HAVANA TIMES, Oct. 13 – After negotiating the complex process of leaving Havana's airport and an equally complex departure from Mexico City's much larger airport, I thought about my impressions from this trip to Havana.  I carried several memories and thoughts, some more superficial or profound than others:
1. The strong presence of Cuban police was at times appreciated and on one occasion scary. Their presence at the market in Vedado kept hustlers from constantly offering us cigars, "coral negro," etc.  But one Sunday afternoon when we braved the heat, crowds, and incredible intensity of an outdoor rumba at Callejon y Hamel, the police detained a woman seemingly for asking my colleague Agustín for a drink and then engaging him in conversation.
While Agustín made a valiant effort to attest to the innocence of their conversation, the police still placed the woman in a patrol car and spirited her away.  Her friends at the rumba assured us that it was not our fault but it was a deflating experience nonetheless.  Having witnessed (and been the victim of) police brutality against people of color in the U.S., this was an unwelcome reminder of the often indiscriminate police powers found seemingly everywhere.
2. I was struck by the consistent kindness and generosity we received from Cubans in Havana. As a novice percussionist, I always found a warm response from Cuban congueros in the numerous Son groups in restaurants and bars.  They let me play their instruments, sit in with their group for a number, and informed me of how they obtain their percussion instruments in Havana. The musicians at La Sofia, a restaurant/bar in Vedado where we established an informal Chicano Embassy, were especially engaging.
We encountered other acts of generosity as well.  When I offered to compensate the venerable percussionist Oscar Valdes for his valuable time after our interview, he refused.  When Agustín and I told our taxi driver that our research included a focus on Afro Cuban culture, he gave us a lengthy, valuable description of his family's immersion in Afro Cuban religion.  He then pulled over the car, shut off the ignition, and searched for a CD of Afro Cuban chants and drumming.  After playing its hypnotic rhythms in the taxi, he gave us the CD when we arrived at our hotel.
We were also struck by the ubiquitous practice of hitchhiking among many Cubans.  Another taxi driver told us that the availability of transportation was not adequate for the many Cubans who work or attend school.  We saw a number of modern-looking public buses throughout Havana, which our driver said were of Chinese origin, and most were packed with people both day and night.  However, out of solidarity, many Cubans with cars frequently provide a ride to their compatriots.
3. Along with many others, I have struggled at UC San Diego to convince the campus to include public art (murals, statues, etc.) that reflects real communities of Chicanos and other underrepresented peoples.  Instead the campus maintains a racial monopoly on its art that excludes anything other than abstract, "post-contemporary" representations.  As a result, our Chicano students (in a state in which Chicanos are almost forty percent of the population) see no fixed images that validate their presence on campus.
On the other hand, Agustín and I saw a bust of Benito Juarez, the revered 1850's president of Mexico, in a small plaza on the campus of the University of Havana.  In the municipality of Miramar, we saw a square-block sized park dedicated to the great Mexican revolutionary Emiliano Zapata including his life-sized statue.  Seeing such representations so dear to the heart and spirit of Chicanos, hundreds of miles from the U.S. Southwest, seemed surreal given their striking absence on my own campus located some twenty minutes from the U.S.-Mexico border.
4. From numerous conversations throughout our visit, it was apparent that many Cubans form perceptions of the United States based on their access to television shows.  One Cuban at the hotel was extremely curious about the various levels of law enforcement present in the U.S.  His curiosity was piqued by watching episodes of any number of cop shows televised from the U.S. I'm still not certain of the degree to which most Cubans have access to "American" television but it appears to be fairly widespread.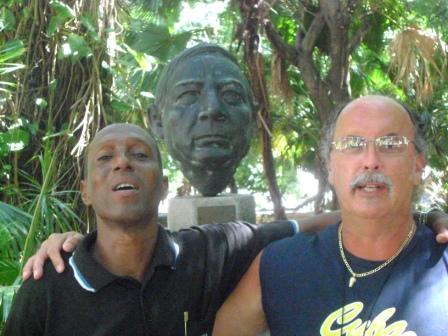 Regardless of such access, it's clear that Cubans in Havana do not pursue a largely solitary activity like watching television to the same extent as U.S. residents.  Driving by taxi through various parts of Havana at night (even past midnight), Agustín and I noticed the great number of Cubans who sit outside their homes in small groups to socialize.  Cubans are surely among the world's greatestplaticadores (conversationalists), a positive asset that might be connected to the island's lack of access to more material forms of recreation.  For each of my interviews I was armed with at least a dozen questions. I rarely made it through more than half my questions as inevitably my interviewee's response to the first question absorbed more than twenty minutes.
5. As any reasonable observer would expect, there is a range of perspectives among Cubans regarding their analysis of Cuba's political and socioeconomic situation.  Among younger Cubans and those employed in the tourist industry, we heard more complaints about material deprivation and the austerity measures imposed by Raul Castro's leadership (e.g., limits on the hours during which Cubans can run their air conditioners, which reminded me of similar measures limiting the times when we can run outdoor sprinklers in San Diego).
On the other hand, somewhat older Cubans (especially those who can remember the pre-revolutionary days in Cuba) were more reasoned in their analysis.  At the conference we attended, a Black woman from Cienfuegos described her parents' life before the revolution in which education was inaccessible for Blacks. Yet in post-revolutionary Cuba, she became a professor and her brother an engineer.
Other Cuban academics, their high-quality education having provided them a deep historic knowledge of consistent, systematic U.S. intervention throughout Latin America, perceive Cuban independence as an overarching priority.  The economic conditions under which virtually all Cubans suffer, conditions they no not perceive as specifically attributable to the socialist nature of the revolution (since many "capitalist" countries in Latin America, e.g., Mexico, also suffer from extreme poverty), are regarded as a very unfortunate by-product of maintaining their independence from U.S. domination. Certainly removing the cruelty of the U.S. economic blockade would provide a more realistic test of the Cuban economy's ability to meet the needs of its people.
This dichotomy of perspective might be applicable (albeit in an inverse way) to Miami's large Cuban American population.  The older, pre-revolutionary segment of that community still looks at the Cuban revolutionary regime with deep bitterness and resentment.  However, younger generations of Cuban Americans without that direct historical memory have a longing to know Cuba regardless of its economic system or form of government.  This generational split may well have a strong, direct impact on the sociopolitical situation of both Cuba and the U.S. Cuban American population, as well as economic and political relations between Cuban and U.S. governments.
6. After three short visits to Cuba, I perceive a strong sense of national pride among Cubans, a respect and admiration for the accomplishments of the fifty year revolution, along with cautious optimism for the future that gives strength.  Certainly, not all Cubans share this perspective.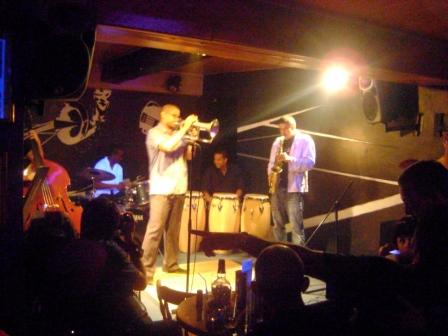 Some are very resentful of their material conditions and are anxious for "progress."  However I felt fortunate to visit Cuba in 2009 during its fifty-year celebration of the 1959 revolution. Indeed, the feeling of national pride, though intangible, was still palpable.  A consistent theme that I heard expressed by Cubans was their appreciation of Cuba's "tranquility" compared to the violence they read about in the U.S., Mexico, and other countries.
It made me reflect on our supposed "freedoms" in the U.S. and the degree to which they are accompanied by high rates of violence, drug use, and other crime.  Perhaps the excessive, unbridled individualism among whites in the U.S. that blames Chicano students' lack of educational success on Chicanos themselves also leads to such dysfunctional outcomes in society.
I couldn't help but contrast the national pride among Cubans to my own ambivalence when everyday in Havana, Cubans asked me, "De que país?" ("What country are you from?").  I would never feel comfortable responding, "I'm American," although they probably perceive any resident of the U.S. as an "Americano."  I certainly see myself as American in the sense that as a Chicano, I am an indigenous member of the Americas that includes Mexico, the U.S. Southwest, Cuba, and all Latin America.
But I couldn't feel comfortable (due to my own lack of national pride) in simply saying that I'm from the U.S.  Instead I invariably responded that I am a Mexican living in the U.S.  Surprising to me, some Cubans understood when I told them I am a Chicano.
7. I had an optimistic perspective on President Obama and the prospects of his advocacy for an end to the U.S. economic blockade of Cuba.  More recently I experienced much disappointment over his inaction (and occasionally negative action) toward Cuba.  I find it difficult to predict the near future in U.S.-Cuban relations.  Unfortunately it seems clear that Obama is listening to racist, imperialist "hawks" left over from the Clinton era (especially la Hillary) that pervade Obama's administration.
However, my tentative analysis and my intuition tell me that within the last three years of Obama's term, he will work with congress to remove most travel restrictions that prohibit U.S. citizens from visiting the island.  It may take longer to remove elements of the embargo that limit broader economic exchange between the two nations.  As I have discussed often with other Chicano colleagues doing research in Cuba, the island will change when it is overrun by U.S. tourists.
History (see Louis Perez' comprehensive account of Cuban history) tells us that when the gringos come to Cuba in mass as tourists, they will demand accommodations that provide them the comforts of home (e.g., cell phone service, Starbucks, McDonald's, etc.).  As the current tourist industry in Cuba expands along with the dual economy that accompanies it, more Cubans will demand those same comforts as well as other goods and services to which they now lack access.  Perhaps the tourist dollars will provide revenue that enables the Cuban economy to meet such a domestic demand, or perhaps not.
As Chicanos, my colleagues and I often lament the experience of visiting Mexican cities and seeing them overrun with white tourists from the U.S., people who, as the Chicano comedian Paul Rodriguez once said, "hate Mexicans but find Mexican culture enchanting."  If those same tourists invade Cuba unfettered, the island surely won't look or feel the same.
Imagine spring break in Havana with thousands of U.S. college students (see Cancun for a comparison).  I see few factors that might contribute more to a change in Cuba's economy and subsequently, its government.  However, I sense that the Cuban people's love of national independence is greater than we might realize.  In the end, I believe that Cuban people will no more tolerate a de facto economic colonization of their country by U.S. tourists and corporations than they would accept an external military conquest.  On the brink of such economic colonialism, I believe Cuba would push back and perhaps place limits on U.S. tourism.  Nothing less may save their sovereignty and national identity.
8. A California percussionist who frequently organizes U.S. tourists to visit Cuba for cultural exchange, Chuck Silverman, once told me something about Cuba. "While you are flying home, "he told me, "you will already be thinking about how you can get back to Cuba the next time." He was right.
*Profesor en Filosofía en la Universidad de San Diego