In Cuba, another Look at the Favelas
Irina Echarry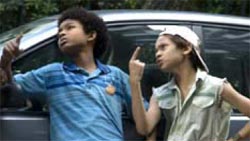 For the past several years at the Havana Film Festival of New Latin American Cinema, there's been no shortage of stories about Brazilian favelas (Ciudad de Dios, Tropa de elite, etc.)  These are films that speak to us of violence, marginalization and the lack of a future for the residents of those impoverished communities.
The situation repeats itself this year, but with notable differences.  5 X Favela: ahora por nostotros (the modern version of the classic 5X Favela, produced in 1961) is the work of the favela residents themselves.
Neighbors tell us how they would like to be treated, how they live, how they suffer and how their lives too include happiness, passion and love.  Though never ceasing to be surrounded by violence, this is not the sole flavor of this film that is divided into five stories.
The young directors try to present a different perspective toward this place where they live and to show how difficult it is to leave.  One youth who is doing all he can to study law — with no resources whatsoever — is shown to be forced to sell drugs to his classmates.
Another boy who does anything (even stealing) is celebrating his father's birthday.  Suddenly, the owner of a chicken that the youngster stole appears and a friendship is ended in violence.
Friendship and love are like arms to temper the aggressiveness and to make life less hostile.  Lastly presented is the story of an electrical worker, determined to get the lights back on for a community, which winds up celebrating Christmas together.
These are stories communicated to us through their five directors, tinged with humor, mischief and at moments sweetened in their attempt to eliminate the stereotypes and prejudices.  It is a movie in which those who up to now have observed are now the observers.  They reflect their own problems and try to solve them.