By Yael Prizant*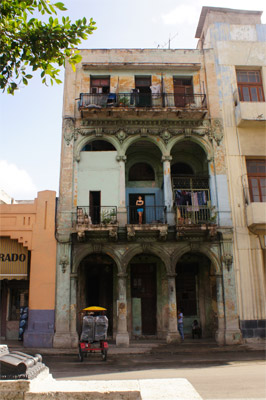 HAVANA TIMES, Jan 11 — Alfredo, the darling man whose apartment I stay in, is always aware of the street.  He lives on the 3rd floor and his balcony faces Calle 25 in Havana's Vedado district.
Everyone calls out to him when they want his attention – friends, neighbors, passersby, people selling string beans, etc.  I have learned to do the same.
I arrived from the airport, called up to him, and he appeared, throwing down the keys for me.  (Several neighbors also appeared, always eager to know what's happening…. I know them all and got tons of warm welcomes!)
Alfredo lovingly told me he'd made a mistake and I needed to stay with his neighbor in the building next door for a few nights.  This isn't strange in Havana. Lots of people rent out rooms, and I considered it a new adventure.
This neighbor's balcony is just above and to the left of Alfredo's – he called out to her, she appeared and warmly introduced herself, blowing me kisses and waving frenetically.
The electric hot water heater at her house must be turned on and off manually.  It's very loud, making a hideous buzzing sound that disturbs everyone in the building.
So just before I step into the tub I have to shout for her to turn it on.  And, of course, when I get out of the shower, I shout again to let her know I'm finished.  They listen, Cubans.
My rule when I'm here is to accept all invitations, no matter how odd, in order to see how Cubans live.  My hostess invited me to the "gym", to her 8 am aerobics class.
Believe it or not, the gym is actually the basement of the Sephardic Jewish Center.
It's a cavernous oven (and humid beyond imagination), with a small stage at one end and lots of antiquated equipment at the other.  There's no classroom, so aerobics happened in the middle of the room while others worked out around us.
There were curious crates with old plastic bottles filled with sand all over – these were their weights for the class.  Classic.  And middle class Cubans pay around 3 cents a visit for gym memberships.
While walking home, my hostess spotted a famous Cuban film critic named Frank Padron.  She dragged me over to him and introduced us, explaining he had a weekly TV program where he reviewed Latin American movies.
He was extremely kind and we talked about Cuban theatre and famous actors while we walked with him.  She listened intently to his every word.
And last night, as I walked home from dinner, I heard amazing drumming and chanting.  I followed the sound to the Casa Estudantil de la Universidad de La Habana.  The gates around the massive, elegant colonial mansion were locked, but I was able to hear the musicians on the balcony perfectly.
The music was for Yemaya, the santeria goddess of the sea and motherhood.  Women were dancing, dozens of musicians were playing all different kinds of hand drums, there was joyous shouting, and soon there was a little crowd outside with me.
We all listened silently, smiling and moving on the darkened sidewalk.
—–

(*) This is the first of seven pieces by Yael Prizant. The author has been traveling to Cuba regularly since 2003.  At home in Indiana, USA, she is an Assistant Professor of Theatre at the University of Notre Dame.  She has been translating the works of Cuban playwright Abel González Melo and hopes to translate more plays for production in English.