Is an International Cuba Baseball Team Possible?
By Ronal Quinones
HAVANA TIMES — It's what the great majority of Cuban baseball fans want, but taking a team to the 2017 World Baseball Classic including players who have abandoned the island, is more of a dream than a reality.
It seemed that the diplomacy of Fidel Castro's heir, Tony Castro, was on its way to achieving this end, but Cuban authorities have made it explicitly clear that they won't create a united team, at least for the time being.
It doesn't matter that the Cuban national team hasn't been doing very well in recent years; once again they're treating ball players like they're criminals, when anyone can leave Cuba in any other profession or social sphere without being turned into a persona-non-grata in their home country.
The MLB goodwill tour led by Joe Torre last December and another similar visit by the Tampa Bay Rays to play an exhibition game against Cuba's National Team made us think that there might have been a chance, but things haven't changed.
While it appears that the Major Leagues have given into a lot of the Cuban Baseball Federation's demands, however, it's the US State Department who really calls the shots. And while Cubans aren't allowed to play in the United States on a level playing field with the rest of those who've left their countries to play there, there'll never be tolerance in Havana.
The fans are almost all in favor
When I visited one of those public places in Havana where people get together randomly to talk baseball, in this case at the Virgen del Camino park, opinions on the current state of opinion favors opening up to the players abroad.
Marcos, a young man who sells Cds, doesn't understand why this tricky subject still hasn't been resolved: "The whole world works one way and we always work in another, which is mere politicking. If they're going to carry on in this way, it is better that we don't take part in professional competitions, because it's shameful."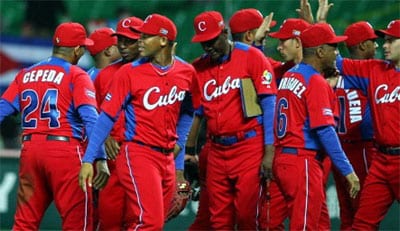 "The thing is that sport has always been super politicized and they make people be either with you or against you, when that's not the case," Raidel says. "That's why something so simple everywhere else becomes so difficult here. No other country in the world is against players who play in other leagues representing them, because normally it means that they are precisely the ones they need to represent them because they play at a much higher level. Here, we always end up taking second class teams when really we could be putting together an awesome team for the World Baseball Classic."
"Guys, but we can't just forget about the players who are still playing for the Cuban league," points out Samuel. "How are you going to tell a ball player who has stayed put against time that a player, who left Cuba looking for money and not caring about anything else, will take his place?"
"My friend," answers Richard. "Nobody's saying they can't play, but they have to deserve to play. We want the best ball players to be on our team, it doesn't matter whether they play for the National Series or in the Major Leagues. It's supposed to be the most talented and the highest quality players who go through to the Classic. You ask who says they can't be on the team, now let me ask you a a question: Who says Puig, Chapman or Abreu can't leave their room or go swimming in the hotel's swimming pool, or that they're going to have to go on a restricted diet until the tournament is over? Can you imagine that? That's what worries our leaders, because they can't manipulate or pressure these ball players anymore because they're free. They've already taken the most important step in their lives and nobody can intimidate them."
"That's the way to give Higinio and his accompanying sports officials a heart attack," Maikel says jokingly. "Can you imagine these ball players refusing to sign the National Declaration condemning bullying Venezuela, or a Manifest for Fidel's birthday? I better not go on, because it's comical."
"You never know with these kinds of things," states Abelardo. "If Barack Obama and Raul Castro could sit down and watch a baseball game together at the Latin American Stadium, it's likely that this can be resolved favorably too. The thing is, time is flying and we'll just keep bleeding until we manage to reach a solution. Life is passing us by and we can't just sit back and watch a Cuban team embarrassed in an international tournament. I'm not talking about winning the title, but about playing well, not like amateurs up against professional players."
"While we still believe that this is giving up our principles, then we're in a bad place," reflects Lazaro. "It requires a political maturity which I don't think we quite have yet. The worse thing is that we could be watching some of them play with other teams, and I'm not talking about the weaker players we've seen with Spain and Brazil, but about the the good ones, playing for the US, for example. That would be the icing on the cake for me and would put a stop to complaints once and for all."
"Or it might be worse, who knows?" Adonis asks himself. "It'd probably be used as an excuse to leave the entire team out, and then maybe the MLB will punish Cuba and make up the team up of players who exclusively play in the US. We don't know what might happen."
"But what we do know," Alexei comments, "is that Cespedes or Kendrys Morales play much better than the players we have on our team now. Unfortunately, what fans think this sport needs doesn't bear weight with those who should be making decisions for the best in Cuban baseball, and that doesn't look like it's going to change."
We still have a number of months until the Classic takes place next year and on the subject of Cuba-US relations there can always be surprises, let's hope that baseball is one of them.