Japanese Baseball Scouts Cuban Talent
Ray Otero  (baseballdecuba.com)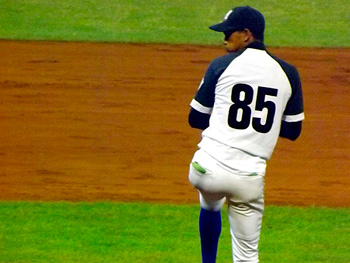 HAVANA TIMES — The Yomiuri Giants and another undisclosed Japanese baseball team continue to recruit Cuban players. These may be playing in Japan's Professional Baseball League (NPB) before the July 1st deadline for contracting players for the 2015 season.
The island's players are being recruited at Havana's Latinoamericano stadium. A total of 15 Cuban players, mostly pitchers, have already been recruited and could soon be participating in Japan's upcoming professional tournament.
The promising players, familiar names in Cuba's National Baseball League, are: Hector Mendoza (from Isla de la Juventud), Vladimir Garcia (Ciego de Avila), Yaisel Sierra (Holguín), Yoanni Yera (Matanzas), Julio Alfredo Martinez (Pinar del Rio) and Ariel Diaz (Ciego de Avila), pitchers evaluated the scouts this past June 24.
Right-handed pitcher Norge Luis Ruiz (Camaguey), last season's rookie Vladimir Gutierrez (Pinar del Rio) and veteran Ismel Jimenez (Sancti Spiritus) were assessed by different Japanese coaches days before. The players may be informed of the recruiters' decision as early as the end of this month.
This past Wednesday, the Japanese recruiters announced that, in addition to this large group of pitchers, they wish to evaluate players with greater experience. The Cuban Baseball Federation replied to this request with the names of Michel Enriquez (Isla de la Juventud), Yadiel Hernandez (Matanzas), Roel Santos (Granma), Alfredo Despaigne (Granma), Alexei Bell (Santiago de Cuba) and Yordanis Linares (Villa Clara).
The recruitment of Cuban baseball players by professional Japanese clubs – Yulieski Gourriel and Frederich Cepeda are two cases in point – and the current scouting process being conducted on the island has caught the attention other Asian countries, and there have been reports that South Korea is looking to arrive at an agreement with Cuba's Baseball Federation to sign Cuban players for the coming 2015 season.
This past week, the National Baseball Commissioner himself, Higinio Velez, announced that Havana's young outfielder Yasmani Tomas had left the country, and everything indicates he will attempt to join the big leagues in the United States.
The desire to try their luck in professional baseball abroad and the financial incentive this represents has drawn players such as Yasiel Puig (Los Angeles Dodgers), Yoenis Cespedes (Oakland A's), Jose D. Abreu (Chicago White Sox), Alexei Ramirez (Chicago White Sox), Dayan Viciedo (Chicago White Sox), Adeiny Hechavarria (Florida Marlins), Leonys Martin (Texas Rangers), Yunel Escobar (Tampa Bay Rays), Aroldis Chapman (Cincinnati Reds), Odrisamer Despaigne (San Diego Padres), Roenis Elias (Seattle Mariners), Erisbel Arruebarrena (Los Angeles Dodgers) Kendry Morales (Minnesota Twins), Francisley Bueno (Kansas City Royals) and Alex Guerrero (Los Angeles Dodgers) to join and play in the major leagues.
A long list of Cuban players are also waiting for an opportunity to demonstrate their skills in the minor leagues, as well as others who impatiently await to be discovered and signed by a major team.