J. Garcia: The Truth, Even Though It Hurts
Dalia Acosta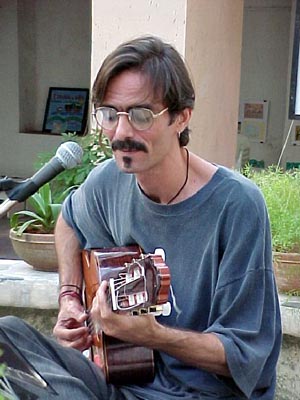 HAVANA TIMES, Dec. 29 (IPS) – For Cuban trova musician Jorge Garcia, there was only one thing in life as important as freedom: "Saying what you feel, even though it hurts."  In this way, with the truth on his lips and in each song, he lived with honesty and admirable consistency during the 50 years of his life.
"I don't see songs as themes to be addressed; I see them as realities that must be recounted, like sensations that have to be expressed.  This involves a bit of philosophizing, but without the pretension of being some sage.  What I have in fact done, always, is make songs from a position of honesty.  I could be mistaken, but that's my truth," he said in an interview for the weekly Uruguayan publication Brecha.
With that same integrity and total lucidity, this month Garcia went through a difficult time after he was diagnosed with Hodking lymphoma.  Fully conscious of the seriousness of the situation he was living, in the dawn of Sunday, December 20, he died calmly but without resigning himself to his fate.
The musician's ashes were spread the following day, just at the moment of sunset that he loved so much.  They were poured out at a place along the Havana seawall known as the esplanade of La Punta castle, where last year he had planned to record a "street concert."
"This was the only place in the city that I showed Garcia," said Marta Maria Ramirez with emotion.  She had been Garcia's "girlfriend," as he liked to call her, for almost 15 years.  With her, he was able to continue working closely on "Trovadamente," a music-video DVD in the process of production.  In it, Garcia was recreating his work using age-old instruments.
"In Renaissance sonorities, his songs found repose, a respite, as if they had been created in that epoch when the lute and harp were poetry," said Teresa Paz, the director of the Ars Longa Early Music Group.  "He himself was like the early troubadours: noble, cultured, possessing a certain simplicity and a special sensitivity," she asserted.
During endless nights and dawns in the middle of this year, Garcia -who had studied music since he was eight and had graduated from the Alejandro Garcia Caturla Conservatory of Cuba- wrote each one of the arrangements for the instruments to be used by Ars Longa, and as well as those for accompanying percussionist Ruy Adrian Lopez Nussa.
"Following his expressed will, the concert was recorded in a church on a street right along the docks.  Though it didn't have the proper acoustic conditions, he saw it as beautiful in that the sounds of the city would give texture to his songs," said producer Pavel Giroud, who directed the DVD "Trovadamente."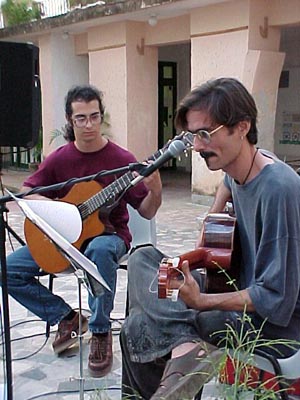 "To leave a legacy such as this before departing is a privilege that is only allowed not to the best artists but to the authentic ones… those who, even when silenced in life, know that they possess something distinct and that someone who needs to receive it will turn to it at some moment," added the film director.
In these times, increasingly influenced by the market and what's in style, whereby the word "troubadour" is substituted for "singer-songwriter", Jorge Garcia defended his affiliation to a unique form of Cuban trova…to a trova that goes back to the times of Sindo Garay.  He refused to let it be divided into old, new or "novísima" (contemporary) trova.
For him, being a trova musician meant much more than singing accompanied by a guitar.  "It is an attitude onto the world.  It is to put up with them calling you crazy in the most basic sense.  It's to have no fear of saying what you feel.  It's to experience the utility of a song without putting a price or label on it.  It's an unconditional giving of oneself," he told the press.
"Work is the only thing I've done in my life," he once said.  In the1990s, when daily blackouts undermined Cuba in the middle of an economic crisis, he came up with "El fandango del candil" (the lamp fandango), he recalled.  This was a unique cultural space in Havana of that time where performances were given only in candlelight and without electronic amplifiers.
"Traveling by bicycle, a guitar at the ready and a whole lot of desire, a bunch of candles and a lot more songs – this is the image that I guard of Jorge, my friend," remembered Rey Guerra, one of the most important Cuban guitarists, who has resided in the United States since 2003 and who is the only musician to whom Garcia dedicated a song.
With the same "magic" of those nights of the "fandango," Guerra ended up being on the trova musician's disk.  "I couldn't restrain myself.  I unwittingly saw myself with my guitar playing with him and learning his songs, his sharp and direct phrasing, without decorative or ornamental mannerism in the act of speaking the truth," he wrote to IPS via email.
It was with that same characteristic sense of his humility that in 1999 Garcia invited a group of trova musicians to record "Vamos todos a cantar," a Nuevo Trova homage to Teresita Fernandez.  Though she is the most important Cuban author of children's songs, for years she had been practically been forgotten by the media and official authorities.
"The fact that he (Garcia) is doing this project tells me that he is very experienced in solidarity, humanity and in trova, which is an art form of words and arguments that have always been of great interest to me," said trova musician Silvio Rodriguez when he was one of the participants in the project.
Garcia also devoted several months in 2000 to a unique tour throughout Cuba.  Instead of taking pleasure in the grand stages of the provincial capitals, Garcia favored smaller settings -communities lost in the marsh, in the mountains and even in time- places where no trova musician had ever ventured.
Five years later, when life took him back to the eastern city of Gibara as a guest at the Humberto Solas International Low-Budget Film Festival, without any planning or previous agreements with cultural authorities; it was enough for him to say: "I want to give a concert in the old theater."
Closed since 1972, the building built in 1889 opened to welcome Garcia and a loyal public that accompanied him, again by candlelight.  "We opened the theater because of the sincerity with which Garcia always did everything," explained architect Alberto Vives, who at that time was the director of Gibara's Office of Monument Conservation.
To return to Gibara was one of Garcia's many non-realized dreams.  Nor was he able to carry out another tour of remote places, or to sing in senior citizens' institutions in the Cuban capital or to assemble on a disk the songs by Sindo Garay (1867-1968), Rafael Gomez, Teofilito (1989-1971) or Maria Teresa Vera (1895-1965) – those that he used to return to in concert after concert.
After the launching of his disc "Jorge Garcia" (1991), it was followed by "Más Allá" (1996), "Cambios" and "Vamos todos a cantar, Homenaje de la Nueva Trova a Teresita Fernández" (1998), "Hay de todo en la Viña del Señor" (2003), "Jorge García en vivo" (2005) and the CD-DVD "1, 2, 3 trovando" (2008).
With performances on important stages in Uruguay, Argentina, Venezuela, Nicaragua and Germany, as well as systematic work in Cuba, Garcia was usually absent in the major Cuban media, particularly television, though his songs were heard frequently on the radio and in alternative settings.
For those who followed his work and passed his recordings from hand to hand, for his closet friends and for himself, his creations were the direct consequence of his always having been faithful to himself, of not having made concessions or accepted special privileges, but of having defended his artistic independence and the right to say -freely- what he thought.
"I've had the opportunity to live and work outside of Cuba.  But for me, up to now it's not been an option.  It would hurt a lot to leave behind my friends, the sea and the enchantment of the breeze of this island," he commented in the interview granted to Brecha in 2005 during a concert tour through Uruguay.
Those were the times in which Cuban writer Leonardo Padura on several occasions listened to the 14 songs that made up the new album.  He noted, "Jorge lived his days and created his art with a consistent defiance, as if solely his obsession, his rebelliousness and his love gave rise to the inspiration of his work and his walking the planet."
It was that consistency that was breathed when this trova musician sang "Only for you I will not leave / your body has the form of the country," or when he criticized the fact that beggars have again appeared in the streets of his city, or when he rejected the military that occupies the earth, and when he assured that he owed "many centuries of hope" to love.
With his songs, "I realized that Jorge Garcia -the man and the artist- could not be otherwise, because he was an unparalleled rendering of fidelity, above all to himself and his artistic responsibility.  Jorge was always obstinate, and he paid the price with pleasure (he would say happily) for being upright and conscientious," Padura told IPS.
Translation by Havana Times from the original IPS article in Spanish.