Kool & the Gang Boogie Havana
By Irina Echarry, Photos: Caridad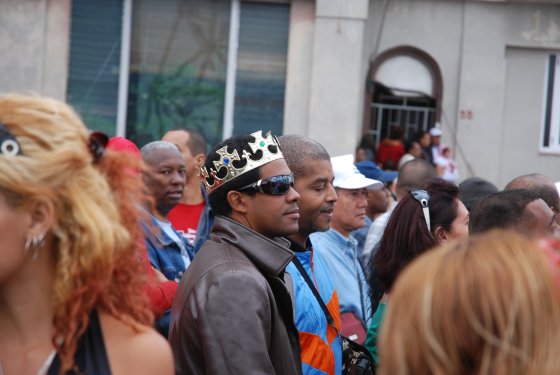 HAVANA TIMES, Dec. 21 – Sunday turned out to be a flashback of the 80s.  Many younger people sported bellbottoms and "speldrums" (Afros), while the older crowd dressed up like they did almost 30 years ago.
They left their homes ready to jungle boogie and hum to the lyrics of the famous group Kool and the Gang, who they would see live in Havana for the first time.
Ernesto Jose (around 60) -after singing "Ooh, la la la" and swaying from side to side- said, "My daughter's name is Yohana [pronounced "Joanna"] thanks to these guys.  She's somewhere around here with her little group of friends enjoying this just like me, because we always listen to this music at home.  Kool and the Gang is the max."
A middle-aged woman made a V-sign, as if saying "victory" with her fingers.  When I asked her why that symbol, her jaw dropped as she tried to explain to me, "This is how we used to dance in my generation. This is exactly the music we put on at parties!"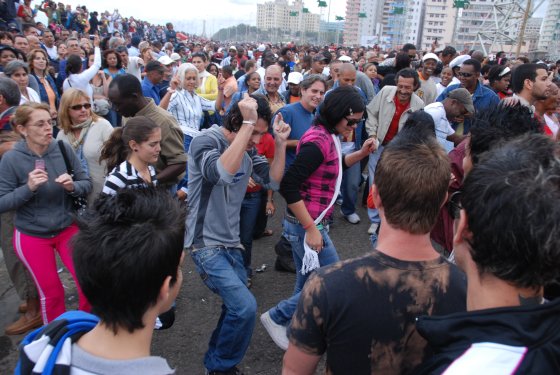 Listening to "Celebration," one of the most-liked songs by the group, I asked a young woman named Susana if she was happy… if she thought there was a reason to celebrate.
"There's always a reason," she replied. "I know things are all screwed up right now…that people have to work a lot just to get by, but this group reminds us of a time when we were happier.
"I think that's why there are so many people here at the Tribuna [an outdoor bandstand-podium used primarily for political speeches and concerts]."
People laughed, danced and choreographed spontaneously in the middle of the street, but -unlike the political rallies- no one had to be summoned.  It was one of the most cheerful mass concerts I've ever seen in Havana.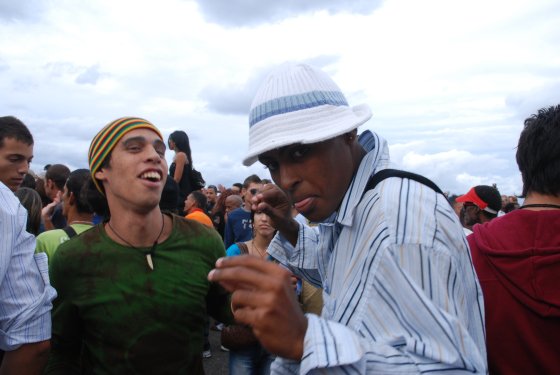 "So what if they came 25 years after their heyday; we're going to enjoy them just the same," asserted 43-year-old twins Osmani and Osvaldo.
For Lázarito (30), what was important was "to see them live, not only to hear them, but to see them." She added, "I'm a big fan of David Calzado, the director of the salsa group Havana Charanga, but I've always thought that he imitated these musicians a lot when he danced.  And now I can confirm for myself that it's true.  It was kind of hard to get a good look at them with all the people here, but I was still able to admire their moves."
In general, happiness was the master of the evening ceremonies.  People of all the ages came together, as the energy in the sprawling seaside plaza was clearly positive, with a fresh air that liberated Havana residents from the punishment of the sun.  People drank, enjoyed the songs, made new friends and embraced as a family.