Last December in Havana, Cuba
Yael Prizant*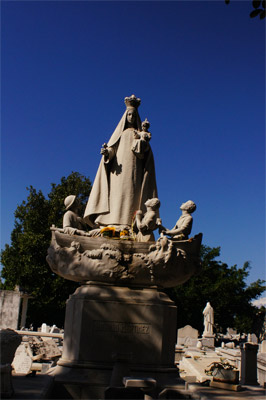 HAVANA TIMES, 19 feb — It's finally December, which simply means it's 76 degrees instead of 85 here – still sunny and breezy and bright, with very few Christmas decorations. A few observations of late:
There's paint.  You can tell because everyone in the whole world is painting – walls, furniture, cars, floors.  Cubans tint their own, so the colors are varied and delightful.  They like to use a thin wash, probably because the paint goes farther, and so every previous color comes through a bit.  History through shades.
A telephone cord out one's window means that a house has internet access. It's sluggish dial-up and it's fickle as hell, but it exists.  The Cubans who have computers tend to have old desktop PCs without many programs, so plenty of web sites won't work, but it's a start.
A lot of Cubans have no idea what they're wearing.  Yesterday I saw an Afro-Cuban man who must've been at least 70 years old wearing a black Limp Bizkit t-shirt.  And Chris snapped a photo of someone wearing the blue collared shirt that Best Buy employees wear.  (Trust me, they have never heard of Best Buy or half the crap it sells.)
Used clothing is sold to Cuba by weight – they never know what they're getting until the cargo container arrives and they use it whether they understand it or not.
The Virgin de Caridad del Cobre is in town these days.  She was brought here from just outside Santiago de Cuba, some 500 miles away, in a series of massive processionals across the island.  According to Alfredo, she hasn't been here in close to 6 years, so it's a big deal.  Her story is beautiful though – I'll let you look it up if it interests you.
Cubans think it's cold.  They're wearing long pants and sweaters everywhere, and coughing and sneezing a lot.  They're drinking tea and adding blankets to their beds because the low was 62 yesterday.  I'm still wearing flip-flops, but saw a girl in furry boots this morning.  Relatividad, I suppose.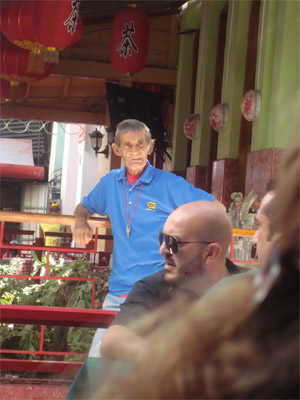 Went to dinner last night at a paladar with a majestic tree growing in the middle of it.  A paladar is a restaurant that's run out of a private home.  They're allowed to seat up to 20 people and the old rule that all the employees are supposed to be family members is no longer in force.
The food is miles better than in any state-run/public restaurant and the atmosphere is always surprising. I went to one years ago that had an enormous iguana on a leash and a chimpanzee in a cage. Perfect.
Oh – and the festival of new Latin American cinema starts tonight.  There's a ton of interesting folks in town for it.  The film critic I mentioned meeting in an earlier missive, Frank Padron, did a write-up for the peso paper and I'm gonna trust his picks.  There are more than 15 movie theatres or halls participating!
One last nugget.  I was sick this week and stayed inside my rented Vedado room a lot.  While trying to watch a Cuban movie Tuesday night, there were three blackouts, the longest lasting about 35 minutes.
"La Casa Vieja" will go down in history as the only movie I've ever seen with live running commentary from the man who runs the house I stay in – the blackouts gave us strange breaks to talk about what was happening in the film, and for him to explain bits of Cuban history and culture.  It was an accidental seminar, a private cinematic salon… and a total joy.
Two more weeks of my commercial-free Caribbean reality, and then back to pre-Christmas mania for my always brutal re-entry into the United States.  Good luck with the insane wind and snow out there, ya'll.   I'll be shoveling it with you soon.
—–
(*) This is the sixth of seven pieces by Yael Prizant. The author has been traveling to Cuba regularly since 2003.  At home in Indiana, USA, she is an Assistant Professor of Theatre at the University of Notre Dame. She has been translating the works of Cuban playwright Abel González Melo and hopes to translate more plays for production in English.
—–
In Cuba People Listen 
In Cuba the Meaning Can Change 
Cuba Trip: A Strange Map and Rusted Shackles on a Desk
Cuba is all about Coffee and Conversation