Last Notes from My Cuba Trip
Yael Prizant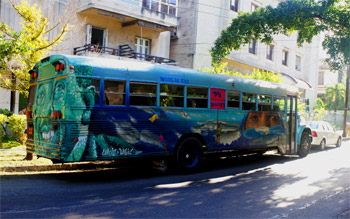 HAVANA TIMES, March 2 — I think that as my inevitable return nears, my impressions of Havana grow more intense – louder, funnier, more joyous, more bizarre.
The Festival of New Latin American cinema has been going on for the last week.  It might appear like any film festival elsewhere, except for one reality – the cartelera, the peso paper listing what's being shown and where, comes out daily.  There is no overall schedule for the entire festival.
You have to go each day to pick up the paper to find out what's playing that day and the next.  And if you go too late, they're out of them.   I'm not sure if it's a ploy to get people to visit the theatres in person, or to pay 1 peso each day, or simply to make people talk to each other – I've never seen so many strangers chatting.  Or sharing newsprint.
Patricio, a Swiss guy married to a theatre director I know, spoke to me in his rusty English instead of Spanish when we met for the first time this week.  When I replied, he said to my friend Alfredo, "Que bien habla ella en inglés!" (She speaks English really well!)  Alfredo and I are still giggling about that one.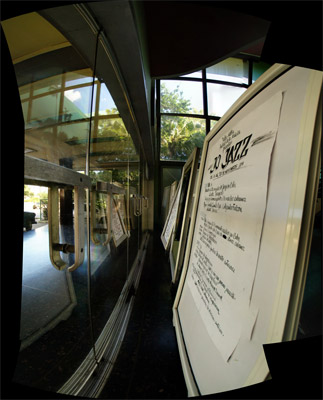 Sinecio's best friend Uli (pronouned Ooo – lie, short for Ulises, a fab name) was recently in the hospital with dengue fever.  There are public service announcements about dengue on TV here, but I'd never heard of anyone in the city (rather than the countryside) getting it.  Apparently Uli is fine, but a lot thinner (…and he was thin already.)  Yikes.
There is a system for distributing bread here, which I also saw in small villages on the Camino, that I love.   People leave money (usually change) in a plastic bag hanging from their front door.  The bakery guy leaves them bread and keeps the money.  Simple and super efficient.  I asked the neighbor downstairs if anyone has ever taken her money and she replied with one word – "Never."
I'm noticing more and more English misspellings on t-shirts lately.  These are either American mishaps or hilarious Cuban attempts at replication.  I've seen Surfboars (wouldn't those be amazing?), the Northeastern Rockys, and my all-time favorite?  The champion Los Angeles Lackers.  I only wish I could more easily explain to Cubans why these are so funny.
The U.S/Cuba solidarity movement, often coupled with Pastors for Peace, has its own school bus that's easy to spot around the city.  It has stylzed "graffiti" all over it, says things like "End the Blockade" in big letters and this time even had a tiny "Solidarity with Wisconsin" sticker that made me homesick.  But the idea I liked best scrawled on the back end?  "U.S./Cuba friendshipment."
And a final experience for this round…. When Alfredo left the apartment this morning, he casually said to me, "So lon, bai-bee."  Absolutely precious.
One week left and a lot to do before I get to curl up with my cat Willow.  It will be nice to read your comments.
—–
(*) This is the last of seven pieces by Yael Prizant. The author has been traveling to Cuba regularly since 2003.  At home in Indiana, USA, she is an Assistant Professor of Theatre at the University of Notre Dame. She has been translating the works of Cuban playwright Abel González Melo and hopes to translate more plays for production in English.
—–
In Cuba People Listen 
In Cuba the Meaning Can Change 
Cuba Trip: A Strange Map and Rusted Shackles on a Desk
Cuba is all about Coffee and Conversation
Cuba: A Poet, a Power Outage, and a Taxi
Last December in Havana