May Day 'in Advance' in a Cienfuegos Mountain Community
Photo Feature by Irina Echarry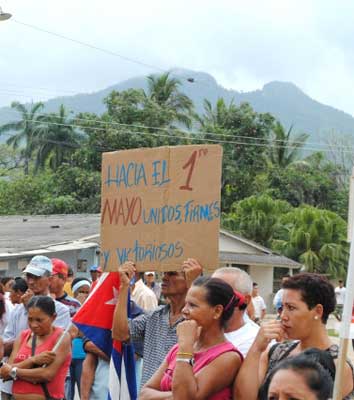 HAVANA TIMES, April 30 — When people talk about the city of Cienfuegos, it's common to hear it described as being such a beautiful city. After touring the province, I was left with the realization that it's not just the town that's pretty.
In its full sense, the province of Cienfuegos possesses more beautiful sites than the classic view of the city from Hotel Jagua, or the Valle Palace, Marti Park, the Terry Theater and the city's own Arc de Triomphe.
The province is one of the three that are partly covered by the Escambray Mountains. On the southern stretch one can find the Guamuaya Massif, along with one community that's called La Sierrita.
Inhabited by a farm population, La Sierrita has the advantage of seeing rain fairly often, something that's rare only a few kilometers below, along the road to Trinidad for example.
A stroll through its narrow streets allowed me to stumble on to May Day in advance. Well yeah, you heard me right: Their celebration of International Workers Day was held on April 27.
Therefore, those who want to (and even for those who don't, I'm not that sure) go marching in the nearest city or the provincial capital on May Day, had a chance to celebrate early in their locality, though you couldn't exactly call it a parade.
During the speeches (filled with slogans and blended with fragments of songs by Silvio Rodriguez) I could see that people wanted that part of the celebration to get over as fast as possible.
Exceptionally responsible grade schoolers exclaimed, "We workers will take a step forward, etc. A man who had a pair of boots in front of him preferred to walk around barefoot and dance without realizing what was happening (or maybe he did).
The place was filled with balloons, red t-shirts, posters, colorful sunflowers and flags unfurled and hoisted just for the celebration.
Then came the fiesta! A beer truck and music was all the locals needed to have fun – though not all of them did.
Two people came up to me asking why I was taking pictures. The first guy was serious, while the second one was more interested in finding out my opinion of their celebration. Most people looked puzzled or frightened, very few of them would look directly into the camera.
I thought that life in La Sierrita, like in almost every country town (especially in the mountains of Cuba), is both healthy and oppressive.
I guess that it wouldn't occur to very many of them to think differently, they would have to face the entire town or leave and live somewhere else.

Click on the thumbnails below to view all the photos in this gallery. On your PC or laptop, you can use the directional arrows on the keyboard to move within the gallery. On cell phones use the keys on the screen.