Mexico Earthquake: "At 93 years old, I have never felt one as strong as this one"
By Alejandro Ruiz (dpa)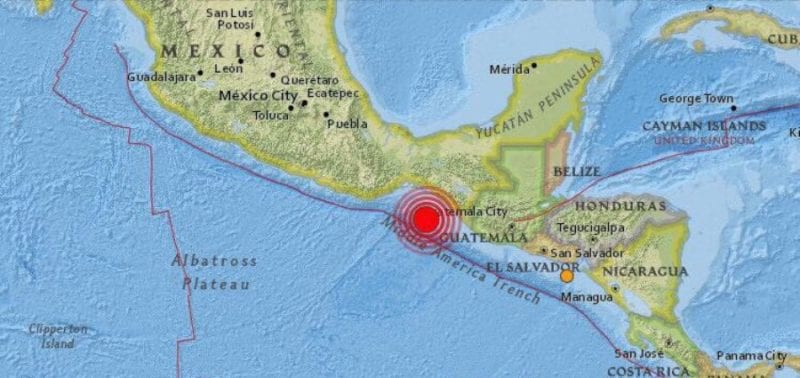 HAVANA TIMES — Dawn broke in the Mexican state of Chiapas on Friday, September 8th and its 5 million inhabitants hadn't fully taken in the fright they had experienced at nearly midnight, when they were surprised by the most powerful earthquake to strike in the last 100 years.
However, after the initial quake which scaled at 8.2 on the Richter scale, calm hasn't been restored. There were hundreds of aftershocks.
In San Cristobal de Las Casas – the colonial and indigenous city where the "subcomandante Marcos" with the Zapatista National Liberation Army (EZLN) became famous on January 1st 1994 -, residents can't carry on their lives as normal, given the fact that the earthquake alarm keeps going off, announcing a new aftershock which they fear will be more intense.
"In my 93 years, I have never felt such a strong quake that has lasted so long. I was very afraid, I even got a headache," Margarita Morales, an elderly resident in the Cuxtitali neighborhood, told dpa.
The majority of people were resting after their working day when the quake struck at 23:49 (04:49 GMT) in an oscillation movement, with its epicenter at sea opposite the coast of Chiapas, which didn't seem to end.
Seconds went by which became never-ending and the earth shook making old and colonial houses with colored facades crumble in the touristy San Cristobal de Las Casas.
For authorities in the southern state of Chiapas, the priority right after the earthquake, which left more than 30 fatalities in different parts of the country, most of which took place in Oaxaca state, was to evacuate thousands of families who live near the sea, due to the risk of sea surges.
Chiapas' governor, Manuel Velasco Coello, said that aid troops and personnel from Mexico's Navy and Armed forces evacuated people in the municipalities of Tonala, Pijijiapan and Puerto Chiapas.
Victor Amezcua Vazquez, the spokesman for Civil Protection, in San Cristobal de Las Casas, revealed that several Catholic churches in half a dozen municipalities in the mountainous region of Chiapas suffered serious structural damages, from towers collapsing and bells cracking.
Amezcua said on the weekend that it's still very early to make a definitive check of damage, as information is coming in very slowly. The Catholic dioceses of San Cristobal announced that several churches had suffered structural damages, and would remain closed as a result.
During the intense quake, the terrified people flew out of their homes out onto the street or into their backyards to get safe, in the face of the imminent danger that buildings would collapse around them. Some sick and elderly people couldn't leave their homes and waited for their fates.
Juan Martinez Ramos, an 85-year-old man, with serious blood pressure problems, said that he stayed in his bed waiting for death to come.
"My house was moving from side to side like a hammock and I thought that it was going to come crashing down, I was afraid that death would deal its blow with a heart attack," he told dpa.
An adult woman and her daughter lost their lives when they were crushed in an impoverished community located to the north of San Cristobal de Las Casas.
They were the first two victims out of the nearly dozen people who passed away in Chiapas alone.
A French tourist, who identified herself as Mimi, told dpa that she was getting ready to go to bed with her partner in an apartment located in a three-story building in San Cristobal when they began to feel the earth shake.
"We were in bed when the earth began to shake. We looked at each other, we got up and we pushed ourselves against the wall in order to protect ourselves," she said. "I was very afraid, because it's the first time I've ever experienced a quake. We don't have earthquakes in France."
The French couple spent the night wrapped up in a blanket on a bench in Zocalo, San Cristobal's main square; because the apartment manager told them that they had to stay outside the building for safety reasons.
People are trying to get back to their everyday activities. The recently installed earthquake alarms, which were going to be tried out today with a simulation, keep going off and off. Nature beat them to it, putting them to the test with a real earthquake.