Mexico: Fear, Doubt over Swine Flu
By Guillermo Fernandez Ampie*
Special for Havana Times from Mexico City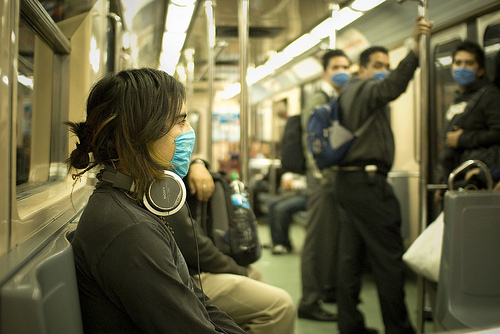 HAVANA TIMES, May 5 – It has been 10 days since the Mexican government declared extraordinary measures to impede widespread infection of this new type of influenza. The government ordered the suspension of classes at all levels of the educational system, as well as the cancellation of mass activities (such as soccer games, recreational activities and other public events).
In addition, restaurants and other food service establishments have been temporarily shut down. Still, there is one element that has been constant and remains strong:
fear and the public's distrust of the statements made by the authorities.
The skepticism is logical and influenced by several factors. One of them undoubtedly is the fact that after two years of being in power, the current government is still not viewed as legitimate by all of its constituents.
In fact, there are more than a few Mexicans today who continue to say they are not convinced by the figures produced by the Federal Electoral Institute, which in 2006 handed the victory to the current president, Felipe Calderon. That shadow has not disappeared; it hangs like a giant question mark over any governmental act or decision.
Another factor that contributed to the creation of uncertainty-perhaps the main one-was the form in which these same officials announced the crisis. A few hours before the public health emergency was declared, several functionaries had affirmed that everything was under control, and that there was nothing to worry about.
Such a sudden change increased suspicion and stirred up all types of rumors. At that moment, e-mails and videos began circulating, along with insistent telephone calls. The questions being posed were similar: "Do you believe the government?" "What do you believe is in fact happening?" "Will you accept the decisions?"
Independently of the doubts people had, the final consensus was that it was necessary to follow the recommendations "just in case": precaution is better than regret. The juggling of figures that announced a certain number of dead on one day and a lower count the next also contributed to generating mistrust in the official version of the emergency.
Another frequent question being asked these days has been where to go in the event that one experiences any of the symptoms? The official recommendations included avoiding self-medication and going to the doctor. However, this could-and in fact did-produce mass concentrations of people who felt sick in places that became potential focuses of infection and the spread of the influenza. The hospitals themselves became potential breeding grounds.
Fortunately, soon after this the authorities decided to install mobile clinics, 100 in all, in different points of the city. At these, people could receive their initial diagnosis, which prevented greater numbers of people from showing up at hospitals and clinics. Although it has worked, the measure was not without its own limitations.
Health System Weaknesses Exposed
In this aspect, the Cuban healthcare system could teach its Latin American counterparts a lot. "Just think how useful and efficient it would have been to have had small healthcare posts with at least one doctor serving every city block or area of the neighborhood!" This phrase was not from me, but a comment similar to many others that have been circulating frequently these days.
The emergency has also served to expose the weaknesses of the Mexican public healthcare system and that country's pharmaceutical industry. Privatization campaigns led by the elites in power in Mexico infected the country several six-year presidential periods ago.
A journalist with the newspaper La Jornada recalled how during the Vicente Fox administration, a quasi-public manufacturing company was dismantled. Though it produced vaccines, diagnostic reagents, serums and other specialized products for provision to Mexican healthcare centers, the company's liquidation was carried out to benefit a European transnational corporation.
The journalist also noted that Fox's predecessor, Ernesto Zedillo, now a senior executive with several American institutions and companies, dismantled the National Institute of Hygiene and the National Virology Institute, which had been devoted to scientific research on viruses and the development of vaccines.
Faced with those facts, all sense of doubt and disbelief stands justified. How can one trust a government whose principal actions are not to protect and benefit the people, the public, or its citizens, but to privilege and defend the interests of international capital, of the transnational corporations? To offer such trust would go against all common sense.
According to another information source, a little more than ten years ago, twelve of the most well known and widely used vaccines in the world were manufactured and used in Mexico. Today that country only produces two. These cut backs were what made it impossible for the country to carry out studies to detect the new virus.
For that reason, it was necessary to send samples from deceased patients to Canada to determine what the disease was. Moreover, only after those results were discovered abroad was the emergency then declared. It is a very sad situation for a country in which many of its citizens at some recent moment believed the tale that they had entered into the exclusive club of the so-called First World countries.
Surgical Masks and Protests
In the same way, the public health emergency has also been good at concealing or turning attention away from other important events in Mexico.
One of them was the passage of a law that allows addicts to carry a minimum quantity of narcotics (marijuana, coca or heroine) without being subject to imprisonment.
Likewise, another new law was approved concerning the federal police. This confers power to that body to tap telephones, intercept electronic communications (Internet), and to carry out undercover operations. In a country with high indexes of crimes, kidnappings and impunity, these matters have not ceased being problematic.
In the media, however, these two issues were barely mentioned, if at all. Again, suspicion arises. By impeding the concentration of people due to the public health emergency, it is not very probable that the protests and marches so common in this immense city will take place, at least for the time being. Surely thinking of this, an ingenious cybernaut circulated an e-mail that urges: "Don't let a simple surgical mask keep you quiet."
In the last few hours, authorities announced that the epidemic was on the decline, and it looks like by the middle of the week everything will return to the "normal." But here, a new question is raised. Will we really be returning to normality? The doubts, fear and distrust continue in force, maybe even stronger now.
They have not discovered a vaccine, and the infection has expanded beyond all control. So how can everything be under control? Does the new virus in fact represent a serious danger? Do we deserve this emergency situation? These are more questions that are beginning to arise.
Despite everything, today (Monday) more people were seen in the streets, and somehow in them can be perceived that feeling of insecurity and fear that has now settled in as an uncomfortable guest in many Mexican homes. This will surely be the last thing to disappear-a lot long after the A/H1N1 virus has stopped being a threat.
*Guillermo Fernandez Ampie is a Havana Times contributor from Mexico City.