New Exhibition of Wooden Sculptures in Alamar, Havana
By Irina Echarry
HAVANA TIMES — The sculptor had planned to arrive incognito, like a regular gallery-goer with her hands extremely clean and showed well-painted fake nails. No one would have suspected she was the author of the works on display.
But she thought about it and decided not to undertake that performance. Nails are expensive, and the money is better spent buying drinks for the exhibition.
Alias Lazara Caridad y mi interior ("Alias Lazara Caridad and My Inner Self") is the title of the exhibition of wooden sculptures that opened at Alamar's Fajad Jamis gallery on August 15.
At any rate, it would have been difficult for artist Ivett Orozco to go unnoticed, as most people in attendance at the opening were neighbors and friends (only a few passersby entered the gallery out of curiosity). A sudden shower kept people from other municipalities from attending.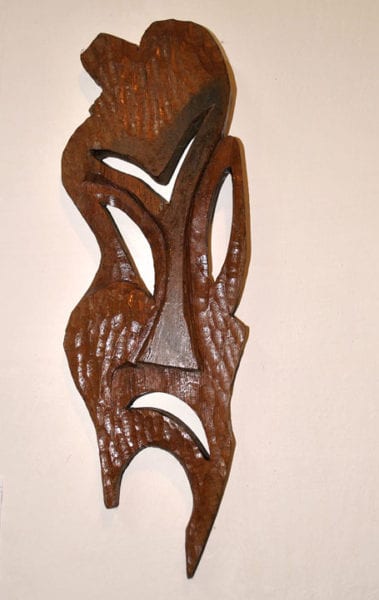 In Cuba, it's hard to come across a female sculptor that works with wood. Ivett started 20 years ago, in the midst of the Special Period. At the time, many printers had shut down owing to a lack of paper and craft workshops were opened in those locales. That is when she began to develop a naive style, highlighted by how she chisels the wooden cores.
Suggestive masks look down on us from the walls. From a corner of the gallery, the quiet Lazara Caridad waves hello at us. A wooden countenance shows us a pair of red eyes, the kind one sees in pictures.
An unsual contraption lies ready to shoot out multi-colored flowers and a wide range of smells that contrast with the withered and desolate atmosphere of today's Cuba.
The Fayad Jamis gallery is located at the intersection of 5ta B and Avenida de los Cocos (164), Alamar. It is open Monday to Sunday, from 10 am to 5 pm. For more information, you may call 7765-3253.
Click on the thumbnails below to view all the photos in this gallery. On your PC or laptop, you can use the directional arrows on the keyboard to move within the gallery. On cell phones use the keys on the screen.