Nicaragua: Rural Leaders Face Terrorism Charges without Legal Rights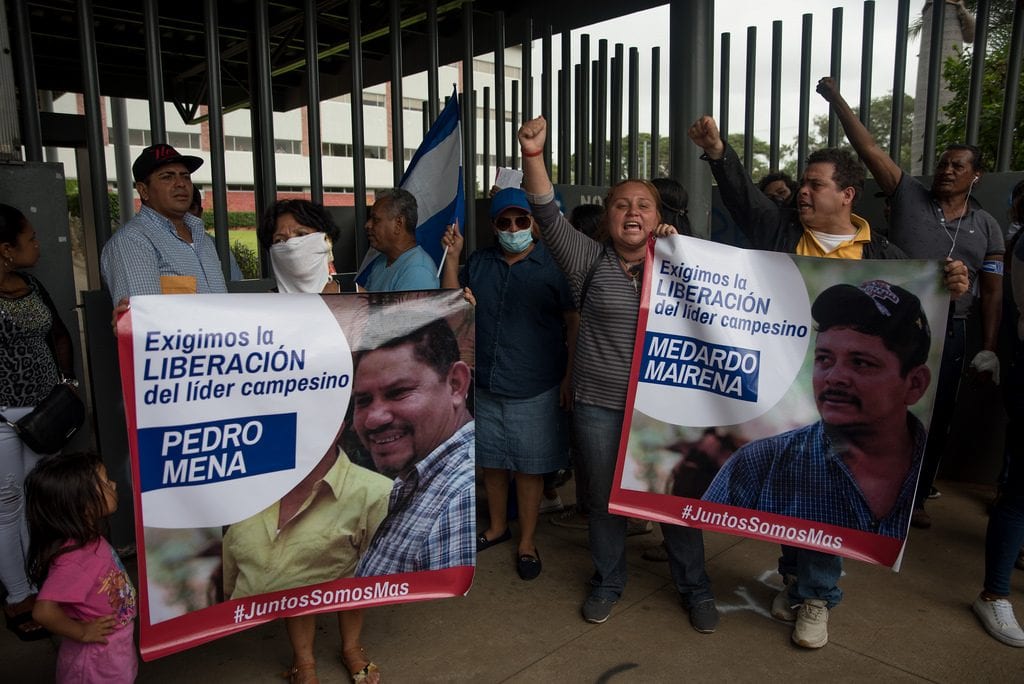 D.A. accuses two rural leaders of eight separate counts. Initial hearing set for August 15.
Neither Mairena's family members nor those of his fellow protester, Pedro Mena, have had any information about the farmers since they were detained on July 13.
By Maynor Salazar (Confidencial)

HAVANA TIMES – The Nicaraguan State prosecutor has filed a formal accusation against Medardo Mairena, representative for the Civic Alliance for Justice and Democracy at the National Dialogue Table, and Pedro Mena, a rural leader. The two have been charged with the crimes of murder, terrorism, organized crime, kidnapping, aggravated burglary, damages to public property, hindering public services and damages.
Mairena and Mena are accused in the killing of four police officials in the department of Rio San Juan. Henry Morales, judge of the sixth penal court, which holds its hearing in Managua, accepted the accusation and held the preliminary hearing under strong security, without the presence of any family members or their defense lawyers.
Mairena and Mena arrived at the Managua court on Tuesday morning in a white van, handcuffed and staring straight ahead. They listened carefully to the District Attorney's accusations and later to Judge Morales, who ordered them both to be held pending further proceedings and set a date of August 15 for the initial hearing.
Julio Montenegro, lawyer for the Permanent Commission for Human Rights (CPDH) criticized the fact that authorities in the Judicial Complex denied access to the lawyers from this organization, instead holding a "clandestine hearing" with only Police officials and a few reporters from government media present.
In addition, we have an illegal detention and violations to their rights since they were presented before the court without an opportune defense. In addition, family members were kept out as well as the media, except for the official outlets," Montenegro affirmed.
The CPDH has insisted that the judicial proceedings should be public and that this right can't be ignored by the authorities. However, in the cases that this human rights organization has attended (totaling around 40 during these months of protests) the hearings have been held in this secretive manner. Further, they're imposing lawyers on the citizens being prosecuted, to "give the appearance of a defense."
Montenegro assured that they would introduce a motion for change of defense, although to file this suit they need information from the judicial system regarding the defendants' case numbers, thus far being denied.
"This will be our principal dynamic as lawyers. I'm going to keep trying to speak with the president of the Appeals Tribunal, Gerardo Rodriguez. However, he hasn't responded to our request and has made us wait, Montenegro stated,
Family members desperate
Alfredo Mairena, Medardo's brother, and Kelner Mena, Pedro Mena's son, assured on the television news show Esta Semana ["This week"] that they have limited information regarding the whereabouts of the accused, and they don't know what prison they're being held in.
"We have no information, they haven't let us see them. They haven't been allowed to see anyone, not even their lawyers. They've been stonewalling us; only after the hearing had concluded did we learn that they were being accused of crimes they never committed. We don't know if they're being beaten, but that's what we're speculating," declared Kelner Mena, who reiterated the negligence of the judicial official in charge of the case in not allowing the CPDH lawyers to exercise the defense.
Regarding the murder charge against Mairena and Mena, their family members affirmed that they had nothing to do with that crime, since at the time of the attack in San Miguelito, Rio San Juan, both were [hundreds of miles away] at the "Together we're a volcano" march that was held in Managua.
"The police who received help from the people after the attack stated that the shots came from the City Hall. That is, there's no evidence to incriminate Medardo and Pedro. The day of that attack, Medardo participated in the Managua march and Pedro too. It's illogical that they could have caused that massacre. It's an absurd idea that only they (police and authorities) can believe," Medardo's brother insisted.
Mairena was arrested together with Pedro Mena last Friday, July 13, at the Augusto C. Sandino International airport, when they attempted to travel to the United States for an activity in Los Angeles, California in support of the Rural Movement.
According to Alfredo Mairena, the detention of his brother and Mena took place in the boarding area of the airport. The immigration agents took away the two farm leaders' passports and later took them into an office for interrogation.
"We had gone to see them off, together with some other young people. From the beginning we saw their bad intentions. We got very concerned when they took them into that office, because after that we didn't see them again," Alfredo recalled.
Picketing in support
This Tuesday morning, dozens of human rights and civic activists stood outside the Managua Judicial Complex holding photos of Mairena and Mena and demanding that both farmers be freed. Their signs said, "Justice for farmers", and "Justice for Nicaraguans". They were accompanied by shouts of "No more repression!" "Terrorist State!" and "No to Ortega-style justice."
Some held aloft the blue and white Nicaraguan flag, while other covered their faces for fear of reprisals from the government. With a large megaphone and a microphone, they intoned songs like "Solo le pido a Dios" [I only ask this of God"] by Mercedes Sosa, demonstrating their opposition to the illegal detention of the rural leaders.
At moments they prevented vehicles from passing. The drivers honked their horns in support. Even the rain didn't stop their cries demanding that Medardo and Mena be freed.
Maria Jose Molina stated that as a result of the latest events of repression, "the people should be more united" in their support and pressure so that Daniel Ortega's regime not continue to commit more outrages against citizens who only want to demonstrate against their government.
"In addition to the killing, they're abducting people arbitrarily, illegally. This causes indignation, -where else can we look for help if the State is an accomplice?" Molina questioned.
Carlos Lopez of Managua expressed his dissatisfaction with the Ortega government. He supported the demonstration, in view of the State's repression against the people during these past three months of protests.
The families of Mairena and Mena urged citizens to continue supporting the demonstrations and marches that are planned. Alfredo Mairena emphasized: "It's now that people have to unite. Not only because these leaders are in jail – this has to stop. We have to keep moving forward."
Kelner Mena echoed him: "People have to unite. Support this, hold marches, go out, don't get depressed. And I also ask the Civic Alliance to support us, to advocate for Medardo and my Dad, because they've been essential figures in support of this struggle and it would be unjust to abandon them in this moment, when they need us most."