Nicaragua's Sexual Abuse Epidemic Devastates Young Girls
Survivors of child sexual abuse speak out.  "I don't want this to happen to other girls."
By Carlos Salinas Maldonado  (Confidencial)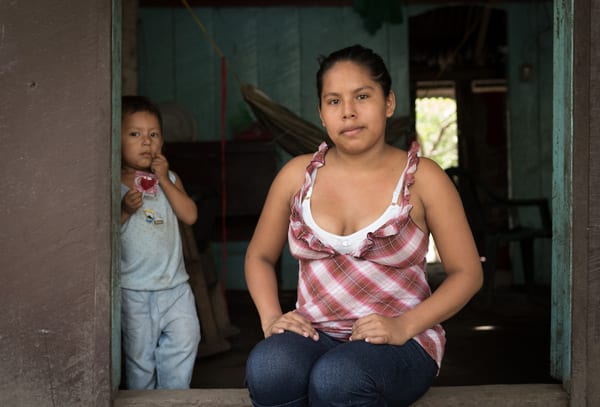 HAVANA TIMES – At sixteen, Agne Patricia Alvarez is the full-time mother of two boys: Yuleymi Marcela, 4 months old, and Edier Antonio, almost 3.  When Agne was twelve, she was the victim of sexual abuse from her teacher Manuel Ortiz Hernandez, at the time the principal of the school where she was studying sixth grade.  Edier was born as a result of this abuse.  Agne Patricia's childhood world was torn apart.
Pull is a small community in the municipality of Altagracia on the island of Ometepe. It can be reached along a rocky path, surrounded on all sides by the island's extensive plantain orchards, an important source of income here. Agne lives in this community with her children, her mother and other siblings. The house is typical of poor communities in Nicaragua: constructed of cracked wooden boards and painted a turquoise color now somewhat faded by the passage of time, the humidity and the dust.
The house stands in the middle of a large yard, with a corral in the back full of chickens with feathers so white they shine in the sun.  Raising these birds is the chief sustenance of this family.  There are no luxuries here, none of the small pleasures considered normal in the city.  Life follows a routine centered on keeping the house clean, raising the chickens, cooking beans over a pot and laboring in the plantain orchard.  For a time, Agne had broken away from this routine with her schoolwork, sports, and the possibility of further study and a different life.  This broader horizon was ripped away from her by her own teacher.
Manuel Ortiz Hernandez showed up one day in Agne's classroom in the locality's public school called San Juan Bautista.  He announced that he wanted to form a soccer team with the students.  Agne liked soccer and she signed up, together with some other female classmates.  It was during the practices that Ortiz – chief authority in the school and a man who was well-respected in Altagracia Pull – began to pay special attention to Agne.
"He told me that I was pretty, asked me if I wanted to be his girlfriend, told me that he was going to take me to visit many different places," relates Agne, sitting in an old plastic chair in the small living room of their house, with her back to the dirty turquoise wooden wall where photos of the family's children are hanging.
Agne initially refused the attentions of her teacher, but he increased his insistence.  The girl didn't complain to anyone and no one suspected his intentions.  "He told me that we should have sexual relations, but I said no.  He told me that he was going to show me something unforgettable that I should know, that he wanted to be the one to introduce me to that," she recalls.
The young mother shows signs of nervousness as she tells her story. It's hard for her to talk about what happened. At one moment during the interview, she breaks into tears. However, she has agreed to tell her story because she doesn't want other young girls to suffer a similar kind of sexual abuse.  Her teacher abused her a number of times, submerging her into a nightmare in which the girl sank ever deeper without being able to talk about it, until she became pregnant.
When she told Ortiz that she was expecting his child, he threatened to fail her in class.  He demanded that she not say anything.  And he even said that the pregnancy wasn't his fault. "He told me to say that it wasn't his, to find some boy and get him involved.  He didn't want to take on the responsibility," Agne explains.
She continued suffering her nightmare in silence. Her mother, Adelia Ojeda was unaware of what was happening with her daughter until rumors arrived that led her to confront Ortiz.
Maria Teresa Blandon, of IPAS Central America – an organization that supports women in the areas of sexual and reproductive health – recalls what the prohibition of therapeutic abortions has meant for the women and children of Nicaragua. These have been penalized since 2006, when – in the heat of the presidential campaign of then-opposition candidate Daniel Ortega – the National Assembly representatives, including those for the Sandinista Front, voted for this reform to the Criminal Code.
"I'd heard some commentaries, but I didn't believe what they said about him," the woman explains. "The first time I heard the rumors, I went to school to see him.  I trusted him, and I said: "Teacher, I want you to tell me the truth, because people are saying some strange things about you.  They told me that you're going around trying to cozy up to my little girl," Adelia recalls.
The teacher denied the accusation. "And I let it go," Agne's mother recognizes.
We held this conversation with Adelia – affectionately known as "doña Mari" in Pull – in the kitchen of her house, also constructed of old wooden boards, but in this case unpainted ones. The only furniture is a table that serves to hold the chicken feed.  On the stove are large cauldrons blackened by smoke and years of use.  Doña Mari still displays indignation because, she says, her hopes were placed on her daughter. She had made a great effort to keep Agne in school, buy her the dresses she needed during the schools' special holiday celebrations.
It was a neighbor who opened her eyes and submerged her in the same nightmare her daughter was suffering.
"She called me over to a quiet place and she said: 'Doña Mari, I want to tell you something. You don't know anything about Agne?' 'No, I don't,' I answered. 'What I'm going to tell you is difficult.'  We sat down on a rock and she said, 'You know, your daughter is pregnant.'  That was very hard news for me," she assures.
The neighbor accompanied her back home.  When Agne saw them coming, she began to cry because she knew that her mother now realized what was happening to her.
Doña Mari supported Agne.  With her help, and with economic and legal help from the Ometepe Women's Network, an organization that helps women fight against violence, the girl found the courage to denounce her abuser.  Manuel Ortiz went to trial and was sentenced to 15 years in prison, a sentence he's still serving in the Granada penitentiary system.
Agne's dreams were shattered.  Her pregnancy kept her from finishing secondary school.  Today, at 16, she's a full-time mother, dedicated to caring for Yuleymi Marcela and Edier. She shares her days with her partner, Erling Obregón, age 27, who supports the family by working in the island's plantain fields. Agne assures that out of shame she doesn't want to return to school.
Sexual violence perpetrated against young girls is a daily reality in Nicaragua, to the point of being considered a serious public health problem. A study conducted by the organization IPAS Central America – an organization that supports women in the areas of sexual and reproductive health – has analyzed data from the Ministry of Health to demonstrate that in the last decade, 16,400 girls under 14 have given birth in Nicaragua's public hospitals.
According to the Code of Childhood Rights, all pregnancies in a minor should be considered legal rape, meaning that the State has an obligation to investigate each one of these cases.  Nonetheless, feminist organizations affirm that the State forces maternity on these minors, to the detriment of the higher interest of their welfare as the Constitution establishes.
Marta María Blandón is the IPAS director in Nicaragua.  She affirms that pregnancy in children has become "normalized" in the country, meaning that it's viewed by society as natural.
"So much so, that there aren't any options for a girl who becomes pregnant as the result of sexual violence. That's what the Police say, that's what the Ministry of the Family says, even her own family," Blandon explains.  "In the study we did, we interviewed fifteen girls.  Every single one of the fifteen said that they didn't want to continue the pregnancy.  However, no one recommended the interruption of pregnancy for them, no one encouraged them to do so because it puts their life in danger, because it's a torture, because it's impossible for a young girl to take on the physical, emotional and spiritual responsibilities of an adult woman," she adds.
Blandón recalls what the prohibition of therapeutic abortions has meant for the women and children of Nicaragua.  These have been penalized since 2006, when – in the heat of the presidential campaign of then-opposition candidate Daniel Ortega – the National Assembly representatives, including those for the Sandinista Front, voted for this reform to the Criminal Code.
The reform eliminated the possibility for women and children to obtain an abortion for therapeutic reasons, including minors whose pregnancies resulted from rape. The measure generated criticisms and complaints from international organizations such as Human Rights Watch. "The criminalization of abortion in Nicaragua is incompatible with the obligations of the Nicaraguan State under international law, because it threatens the right of women and children to life, health, equality, privacy, physical integrity and freedom of worship and of conscience," affirmed the organization in an open letter addressed to the Supreme Court on August 29, 2007.
Blandón classifies obligatory pregnancy for girls who suffer sexual abuse as "torture". "For ten years in this country, there's been no other road for these girls except to give birth. Further, once the girls do have the baby, it's also not seen as a good thing to offer her the option of giving the child up for adoption, because the stigma still exists that the mother who carried the baby has to raise it.  That's how they treat a girl of nine," the expert explains.
Carla Vanessa Calderón, 17, lives in the León neighborhood called "Tomas Borge". The area is a living picture of extreme poverty in Nicaragua.  Here there are neither paved streets, nor sewage systems.  Dust, hunger and oppressive heat are daily realities, contrasting with the beauty of the colonial city.
Carla lives in a hut made from wooden boards, rusty sheets of tin, cardboard, and anything else that could help cover holes and protect from the rain or sun. The young woman spends her time caring for her children.  The oldest, three years old, is called Rosa Isabel. She was born when her mother was fourteen, when she was raped by a family acquaintance, Máximo Rayo García.
This afternoon we find her with her hair in a bun, and wearing a torn and stained grey dress. Her round face, still childlike, displays beautiful dark eye that reflect a certain sadness, abandonment, loneliness. Her left hand has a large scar, and the fingernails are very short, with the skin swollen around the fingertips, sign of someone who bites their nails when nervous.  Carla confides that the ghosts of her nightmare experience still visit her from time to time.
Máximo Rayo approached her for the first time one day when Carla was going to the house of her grandmother to help out with some of the domestic chores. "He made friends, he would give me clothes and other things. But I never thought he was going to do that," the youth  tells us, sitting on a wooden platform covered with a ripped curtain that serves as a sofa or bed, with a plastic fan rigged up to one side to alleviate the heat.
The young woman relates that starting with the first time they had relations, Máximo would accompany the sexual abuse with blows. The violence continued, but Carla Vanessa didn't have the courage to denounce him.
"He hit me when he was abusing me, when I didn't want to let him do anything.  He punched me, he tied my hand and feet, he told me that he was going to kill me and my mother if I talked," the young girl recalls.
The sexual abuse and the violence continued for almost a year.  Even when the girl got pregnant, Máximo's blows didn't stop. "He hit me so that the baby would come out. He hit me in the stomach," Carla Vanessa states.
The pregnancy worsened the nightmare as she didn't want to be a mother. "I felt bad, because I wasn't going to be the girl I was anymore. I wasn't going to go out and have fun, like when I would go out with the kids. For those reasons, when I was pregnant I thought that I wanted to get rid of the baby," she affirms.  "When my baby girl was born, I didn't feel affection or love, rather I thought that she had ruined my life. My mother said that I should give her love, that it wasn't the baby's fault that her father was a coward and that I had no reason to take it out on the baby.  I said to my mother that I didn't want to see the little girl," the young woman added.
Carla Vanessa's abuser was put in jail, went to trial and was found guilty with help of the organizations that offer support for victims of violence. He is serving a 15-year sentence in the Chinandega penitentiary system.
For Carla Vanessa, the sentence wasn't enough. "Even his being jailed doesn't take away all the things I feel, the things that sometimes grab me," she says without hesitation. "But it's still a relief, because I know he's not walking around out there."
Luis Alvarado Palma, judge in the Special Courtroom for Violence of the Leon Judicial Complex. Carlos Herrera / Confidencial.
"Every day we have sex offenses"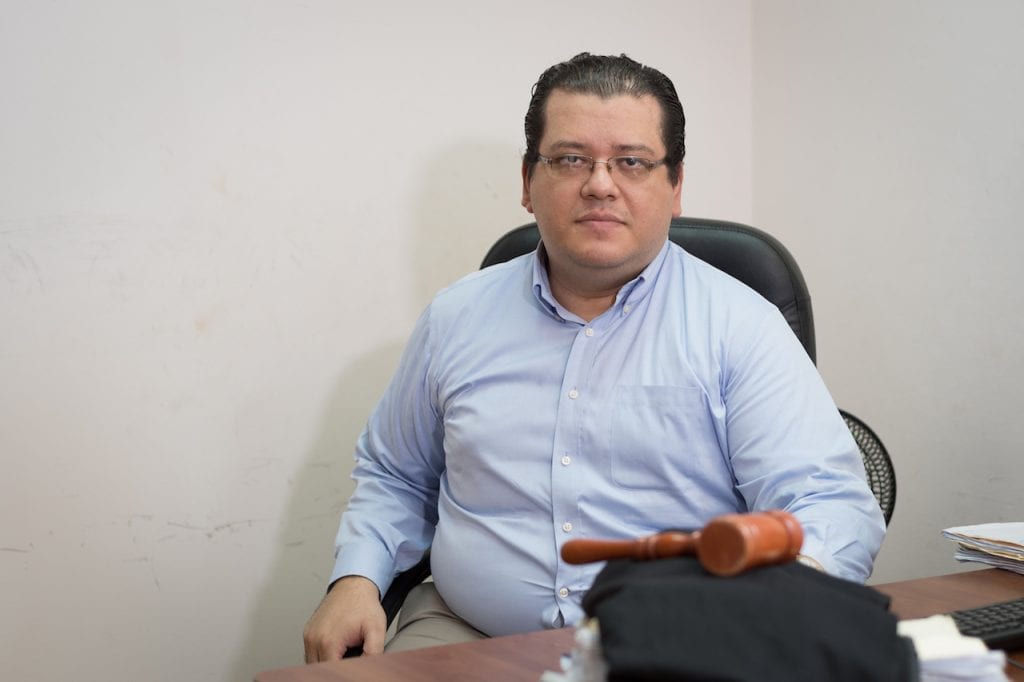 Every year there are more cases of violence, partially because the women and mother have decided to denounce them legally.
Judge Luis Alvarado Palma assures that he hears daily cases of violence against children. He views the situation as concerning, although he also assures that the good news is that the women are ever more disposed to denounce the abuses. Judge Alvarado is exposed day after day to the worst manifestations of violence perpetrated against the most vulnerable.  He himself assures that he's afraid to go out on the street, to permit his daughters to leave the house. We interviewed Judge Alvarado in his chambers, a small room full to bursting with documents, just before he was to preside over a hearing for violence – one of more than 800 cases that he officiates over in a year.
What's your appraisal of the violence that girls suffer?
The quantity of cases where this sector of the population has been victims is very worrisome. This is due to the vulnerability that children have. But the most disturbing thing is that these crimes often take place within the family. Every day here we have two or three cases of that.  It's tremendous!  Every day we have sex offenses.
Do you have sufficient resources to confront this avalanche of cases?
We have a very well trained staff, principally the members of the inter-disciplinary team of the Violence Tribunal. We have a social worker and we have a psychologist. They help to handle these cases. We have the help of the Supreme Court which gives us the means to visit the homes of each one of these persons to carry out a psycho-social investigation. I know that in some places these efforts are limited, but here we have worked well and we have fulfilled our jurisdictional function.
What happens when you run into resistance from the victim's families, when they don't want to accuse those who are sexually abusing minors?
When a father or mother doesn't want to accuse, which has happened to us already, it's important to remember that offenses perpetrated against children and adolescents are crimes of public action. This means that any person can put in the complaint, you don't need a denunciation from the father or mother of the girl in order to get the wheels of justice moving. Sometimes you can't persuade them, because they're already convinced that their partner wasn't the person that did it.  There was one case, several years ago, in which a stepfather raped an eight-month-old baby.  The mother of that baby was convinced that her partner hadn't been the one to do it, to the point where she quit her job so that she could use the final payout to hire a lawyer for him.  She would visit him in his cell.  The man was declared guilty, he was sentenced, and she still continued to support him and not her eight-month-old baby.
"When a father or mother doesn't want to accuse, which has happened to us already, it's important to remember that offenses perpetrated against children and adolescents are crimes of public action. This means that any person can put in the complaint, you don't need a denunciation from the father or mother of the girl in order to get the wheels of justice moving," notes judge Luis Alvarado Palma.
Now that the media talks more about sexual violence, would you say that abuse cases have increased?
Every year these cases of violence increase, primarily because the woman has decided to make the denunciation.  This decision is the result of the awareness campaigns that are being held. They make women open their eyes and know that they have rights, that violence isn't a private matter, but a public one. There's been a greater opening on the part of the justice system as well, in the creation of the special courtrooms. But also, people are more aware of their rights. That's why there are ever more complaints filed of this type of crime.
How do you manage to keep your distance from the tough cases you hear, from the violence against children?
When children give their testimony in the courtroom, it tears you apart to listen. It's inevitable that in that moment you can't separate your judicial function from your personal feelings, although when we're acting as judges we have to function as such and demonstrate impartiality.  But when one listens to a child narrate how the sexual violence occurred, it's hard. Even though you might not want to, you take these feelings home at times. And that's a concern, because it diminishes the quality of life we judges have with our family. However, it's inevitable that we carry these feelings home at times.
Does this violence affect you as well?
In my personal case, I don't even go out on the street because I'm afraid, because I think that if I go out on the street with my daughters, something is going to happen to them.  This is because of everything that I witness every day here in the courtroom. I don't let my daughters go out alone anymore, because I've seen cases of girls who are going to study in other homes and something happens to them.  It's inevitable that these negative sentiments creep into our consciousness when we're judges.