Oliver Stone Compares Venezuelan Opposition to "Embittered" Cuban Exiles
Oliver Stone released his documentary "My Friend Hugo", dedicated to the late Venezuelan president.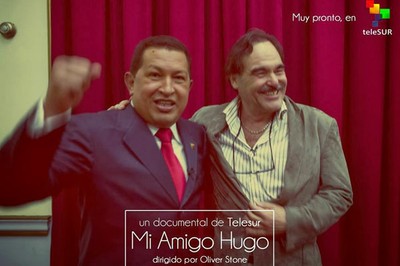 HAVANA TIMES — US film director Oliver Stone is surprised at the "verbal violence" on social networks prompted by his support of the Chavez government and has compared the Venezuelan opposition to "the right-wing Cuban exiles in southern Florida."
Stone, a confessed admirer of Venezuela's political process, had announced that his 52-minute documentary Mi amigo Hugo ("My Friend Hugo") was to air on the Venezuelan news channel Telesur this past Wednesday, as a tribute to the memory of former president Hugo Chavez, who passed away on March 5, 2013.
The film gathers testimonies on the late Venezuelan president from relatives, friends, intellectuals and political leaders. It was shown on Argentinean public television simultaneously.
"At least I had the guts to go down there and see it with my own eyes. Now I may not have seen everything, but I have a feeling that many of you who are writing to me are an embittered exile class, similar to the right-wing Florida Cuban exiles who've helped keep the US in a dungeon of ignorance rather than allowing oxygen to flow between two countries with differing points of view," wrote Stone on his Facebook page.
Vile and Ugly Comments
"In all the social media I've been involved with over the years on film issues, history, and discussions of other counties—such as Japan, China, Russia, NATO, Afghanistan, Iraq, etc.—I have never seen such verbal violence," the filmmaker declared.
The 67-year-old Stone went further in his defense of the Venezuelan regime:
"You can't you imagine the US can be involved in organizing violent protests against the government? Do you not realize that Maduro won the municipal elections in December by more than 10%? (You say "fixed elections" after every election since 2000, but there is no honorable evidence)," the film director asked.
Crazed Tea Party Republicans
Further on, Stone compared his critics to US Tea Party extremists:
"You act like a bunch of crazed U.S. Tea Party Republicans in your comments. Remember the 'Brooks Brothers riot' in Miami during the 2000 election debacle? You don't read anything that's different from what you think. You write to me calling me all kinds of horrible names. You don't entertain any opposing ideas."
Stone told his detractors that "invective is not reason" and invited them to see his film.
"That will, I'm sure, incentivize some of you to write me even more debased and horrible stuff. But some of you might watch the film at least. And keep your arguments and your tirades non-violent, non-threatening, and non-absolutist. Let's elevate the debate. I Would much appreciate it. Thank you."
Stone is also the director of Comandante (2003), a controversial portrait of Fidel Castro which gathers 30 hours of interviews with the Cuban leaders shot between 2002 and 2003.