Pablo Milanes on the Musical Bridge from Cuba
Musical Bridge from Cuba (*)
Osmel Almaguer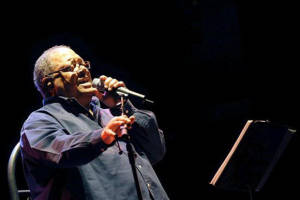 HAVANA TIMES, Dec.  21 — As one of the icons of the Cuban Nueva Trova movement, Pablo Milanes is characterized for maintaining a critical position toward what he considers to have been errors committed by the leadership of the Cuban Revolution, though without ceasing to defend that revolution despite its mistakes.
He was born in the city of Bayamo (the capital of the Cuban province of Granma) and he went on to study music at the Municipal Conservatory of Havana.  When he was younger he was keenly influenced by Cuban traditional music and "feeling" music.
In 1965, after some incursions into the local musical panorama, he produced Mis 22 años, considered by many to be the nexus between "feeling" music and Cuban Nueva Trova.   He included new musical and vocal elements that would be precursors of Cuban music to come.
Pablo began to take part in social causes, raising in his songs concerns for what surrounded him.
He gave his first concert with Silvio Rodriguez in the Casa de las Americas center, an event that would be the first sample of what later, in 1972, would emerge as the popular Nueva Trova musical movement.
At that same center he met members of the cultural and musical elite of other American countries, artists who shared his social concerns.   These musicians included Violeta Parra, Mercedes Sosa, Daniel Viglietti, Chico Buarque, Simone, Vinicius of Moraes, Milton Nascimento and Victor Jara.
As a composer Pablo has explored diverse styles, among them Cuban son music and protest songs at the end of 1960s.  He belonged to the Grupo de Experimentacion Sonora and has composed music for the cinema.
At the beginning of the '80s, Pablo Milanes formed his own group.  This stage was characterized by the richness of the musical resources he used and by the variety of the intermixed genres, though his content continued to have a strong social foundation.
A particularly important album in Pablo Milanes's life was the one titled Querido Pablo, a work recorded with some of his great friends, and on which participated people of the stature of Victor Manuel and Ana Belen, Luis Eduardo Aute and Mercedes Sosa, among many others.
This disk had a sequel that was released in 2001 titled Pablo Querido.  Twenty years later, a good number of artists reunited to sing the son music of Pablo Milanes.  On that occasion, in addition to Pablo's "classic" friends, artists of the new pop music came together, musicians such as Fher (the singer of the Mexican rock group Manna), Marco Antonio Muñiz and Armando Manzanero).
Pablo has recorded a host of solo works: Versos sencillos de Jose Marti (1973), Canta a Nicolas Guillen (1975), La vida no vale nada (1976), No me pidas (1977), El guerrero (1979), Aniversarios (1979), Filin 1 (1982), Acto de fe (1982), El pregon de las flores, (with Lilia Vera, 1983), Años 1 (with Luis Peña, 1983), Ao vivo no Brasil (Live in Brasil, 1984), Querido Pablo (1985), Comienzo y final de una verde mañana (1985), Años 2, (with Luis Peña and Cotan, 1986), Buenos dias, America (1987), Trovadores (con Armando Garzon, 1987), Proposiciones (1988), Filin 2 (1989), Filin 3 (1989),  Identidad (1990), Canto de la abuela (1991), Filin 4 (1991), Filin 5 (1991), Años 3 (with Luis Peña, Cotan and Compay Segundo, 1992), Canta boleros en Tropicana (1994), Evolucion (1994), Igual que ayer (with Caco Senante, 1994), Origenes (1994), Plegaria (1994), Si yo volviera a nacer (with Maria Felicia y Jose Maria Vitier, 1995), En blanco y negro (con Victor Manuel, 1995), Despertar (1997), Vengo naciendo (1998), Dias de gloria (2000), Live from New York City (2000), Pablo Querido (2002), Como un campo de maiz (2005), Lineas paralelas, (with Andy Montañez, 2005) and Regalo (2008).
I grew up hearing Pablo Milanes's songs on the radio
That was in the 1980s.  He and Silvio were like the sacred singers of the proletariat.  They demonstrated to the world the sensitivity of the socialist human being.  They were socially conscious and politically committed to a revolutionary process dedicated to improving or saving the lives of everyone.  As they often said, "You're here thanks to the Revolution." And it was a great truth.
But in that epoch, the years had yet to transform me into this distrustful and unsociable being who questions everyone, who tries to sift each particle of information through the finest sieve.
When I was four, five, six or seven years old, I didn't clearly understand what "Pablito" was saying in his songs.  The Soviet-made VEF radio, or whatever country it came from, would repeat a refrain daily: "Never has our earth had so much love or such beautiful fruit, which has come from our sweat."
The song that I liked most was you "Amame como soy" (Love me as I am).  I was far from having learned how to read between the lines.  I didn't understand the subtleties exclusive to adults, a talent acquired from being victims and consumers of the wickedness of the world.  At the time I was innocent, almost as much as the adults.  The Cuban people shared a level of naiveté which people like Pablo Milanes barely escaped.  He was visionary, as one might say, who was deprived of the facility to express what he wanted.
"Amame como soy" is one of the archetypal songs of that time.  When I think of it, it's impossible not to recall those characters that appeared in the magazines and comic strips in the first half of the 20th century.  Characters like El loquillo, El Bobo and Liborio; these were Cuban archetypes that served their producers to express in code much of what was impossible to say openly.
For better or worse, the limitations of censorship contributed to a deeper and more poetic search in the use of language; and in that search Pablo was the leading character in the Nueva Trova movement.  It is a great contradiction, however, that in his prototypical revolutionary song, an intimate tone prevailed.
In the lyrics of this song, one can clearly find this:
Ámame como soy (Love me as I am)
Love me as I am, take me without fear / touch me lovingly, so that I will lose my chill.  / Kiss me without bitterness, treat me with sweetness / look at me please, how I want to reach your soul.  / Loving was a labyrinth that I had never known / since I gave myself to you I want to break that myth.  / I want to leave from your hand defying all the rites / I want to shout that I love you, and I hope everyone hears my shouts.
Love me as I am, take me without fear / touch me lovingly, so that I will lose my chill.  / Kiss me without bitterness, treat me with sweetness / look at me please, how I want to reach your soul.
What is beautiful is what's been born from the purest sentiment / the beauty I carry within, the beauty that is being born within me.  / I want you to feel as beautiful as I feel / I want us to join those feelings and take the most beautiful road.
—
(*) A Musical Bridge from Cuba: This is an effort to find new bridges that promote communication between peoples of the diverse regions of the planet.  I will be using simple narration in a series of articles to connect with those who are interested in the messages transmitted by Cuban songs, which due to their limited commercial potential and the difficulties posed by their translation, languish in a state of communicational stagnation – despite their being true jewels of Cuban culture.