Personal Stories of Cubans on the Receiving End of the US Embargo
This is the next installment from the Palomas Project, which promotes a culture of peace and denounces inequality.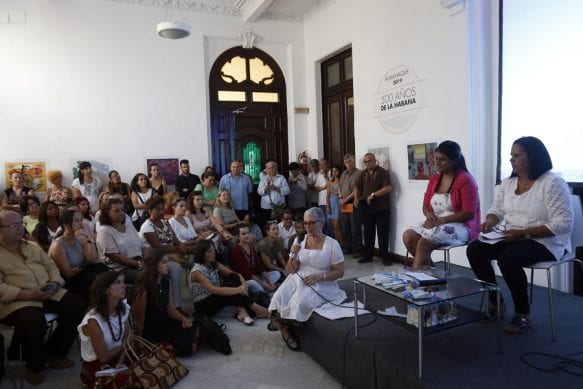 HAVANA TIMES – With its debut scheduled for October, the documentary Mujeres… resiliencia, derechos a la vida (Women… resilience, rights to life), the Palomas Project, synthesizes the ability of Cubans to overcome the effects of the economic and financial embargo/blockade imposed by the US in 1962, time and time again.
The film tells the stories of 22 women and 4 men who reveal their life secrets, extreme moments, steps forwards and backwards. To make it possible they received funding from the Felix Varela Center, an NGO here, the United Nations Educational, Scientific and Cultural Organization (UNESCO) and its commission in Cuba…
"Most films from the Palomas documentary production company denounce inequality and violence, reflect people's pain and then, their recovery. They deal with everything," Lizette Vila, the production company's director, comments during an experimental screening at the Chaplin movie theater, on June 26th.
It was the most moving experience for us as documentary-makers, she said, referring to the Palomas strategy of inserting "these sequences of accounts [between life stories] to go deeper into and reflect a little more upon these issues," as well as film material about the Cuban-US conflict.
With interviews at 28 different locations, filmmakers Vila and Ingrid Leon unravel the story of Omara Durand's life, a visually-impaired Cuban sprinter who has won gold medals at the Paralympics, and the life of Pilar's family, the only girl with GLUT1 deficiency syndrome in Cuba.
The stories of Nomi, a trans woman, mothers and fathers who learn how to raise their children in prison and the optimistic Dulce Reina, a farmer, intertwine.
The narration warns from the very beginning of the 51-minute long documentary: "blockade doesn't only mean control, it also means siege, confinement, isolation, obstacle, restriction, impediment… it's a trap, pressure, coercion and persecution, it's putting on the brakes and so much more… Cuba has known this for nearly 6 decades and we, as women, too."
While the blockade is a discourse that has been used to death for many, geneticist Beatriz Marcheco explains the hurdles that it imposes today in the purchase of medical and research equipment, while orchestra director Zenaida Romeu, complains that she can't get a hold of strings for musical instruments.
This policy of pressure has endured for nearly six decades, and the US has taken a hostile stance again with Donald Trump's government in power. In June, the current administration banned cruises and visits from private US-owned boats and planes, and limited authorization for trips of US citizens to the island.
After so many years, these limitations are even present in the family imaginary. "No, we aren't blocked parents, we are living in a country under a blockade," Pilar's father stresses in the documentary.
The production team was made up of 11 women (narrators, writers, editors and filmmakers) and 15 men, something which "hasn't happened in the Palomas project, in a documentary with this feminist approach," Vila emphasized.
TV presenter Marta Araujo shared that "Palomas' work is insurmountable, in social terms. I don't know any journalism that has the ability to tackle and give visibility to all these problems we have, with the sole intention of wanting to find a solution and raise awareness."
"I suffered with these people's stories in this documentary and at the same time, they filled me with optimism and hope that things can change, to not be afraid to live and that makes the documentary great," she said.
Teresa Diaz Canals, co-screenwriter with journalist Sara Mas, believed that the documentary's direction was "extraordinary because, like somebody else said, it deals with Cuban life."
The premiere is scheduled to take place on October 5th, before the UN General Assembly votes on the resolution to end the US blockade in Cuba.
"We asked for this to happen before the vote because we believe that it expresses national sentiment, a heartfelt accompaniment," Vila said, who stressed the fact that October 5th is World Smile Day.