Private Gyms Still Trending in Cuba
By Leydis Luisa Hernandez Mitjans (El Toque)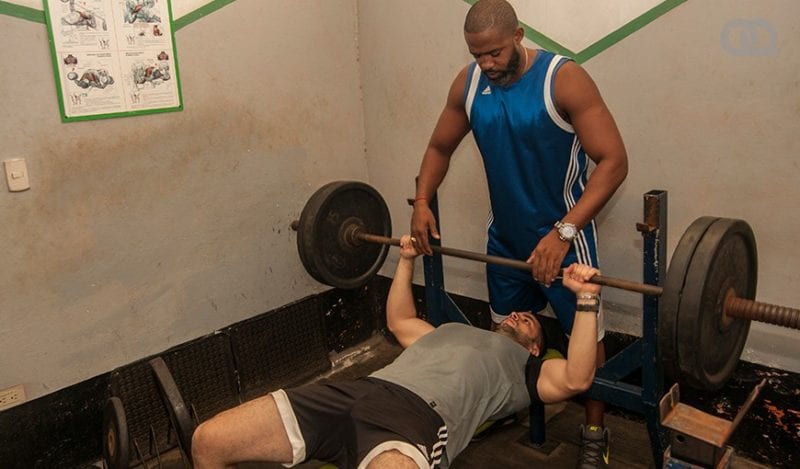 HAVANA TIMES – The private gym boom in Cuba began in 2010, like many other small businesses did. Even though it seemed to be a fleeting trend, "something that would soon pass" according to some people's predictions, almost a decade later, these spontaneous initiatives have shown the impact that they have had on society.
***
Alejandro was 16 years old in 2010. Back then, "he and some friends improvised a gym in one of their Lenin Vocational Pre-University's empty residences". That's where he began to work out "in order to build up muscle" which he is still doing today.
The once slim boy gradually, but radically, became someone whose figure awakens people's curiosity and admiration, and not just because he is 1.88m tall. A well-defined chest, strong arms and a broad back are some of his physical qualities.
Discreet in his behavior and speech, he says that "exercise has not only had a positive influence on his physical appearance, but on his physical and mental health too."
"I've been coming to the same place for a while now, on 112th and 43rd streets (in the Marianao municipality). I have tried out other gyms that people have recommended, but I always end up coming back because I am used to the equipment here. Plus, it's quite affordable, as they only charge 5 pesos (CUP) per day," he says about the gym he goes to.
The community matters
"There are many ways to look after your body and exercise is one of them," Oscar Diaz explains, one of the trainers at "La spinaca d'Popeye" Gym, located in Havana's Nuevo Vedado neighborhood.
"Right now, there are four of us trainers that work in shifts, and we all have degrees in Physical Culture and Sports. We are always on the lookout for professionals because there are lots of people who know about exercise, but they don't all have expertise in methodology; so people suffer muscle atrophy among other things," Oscar stresses while watching people working out.
At "La spinaca d'Popeye", most of the gym equipment are locally made because it is very expensive to import them, and it's also very expensive to buy them at state-owned stores that sell this kind of equipment. Nevertheless, the instructor specifies: "the equipment is made to correspond to specific measurements so as to prevent injury."
According to the employees there, care, respect for people and the professionalism of the sevices they offer have been the keys to their success. "We have worked with people who come recommended by physiotherapists in the health sector which we belong to. We have also received elderly persons because we are committed to improving the quality of life and health of each one of our clients."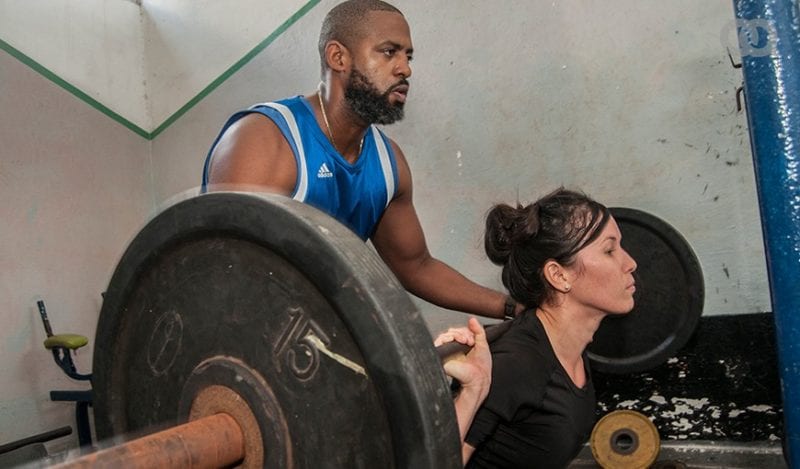 Amed has been working out since he was 13 years old, although he has been working out more systematically as he's gotten older. "I've been at this gym ("La spinaca d'Popeye) for about six months. I come every day and sometimes even on Saturdays because I'm motivated, I can feel the progress in my body and I enjoy the atmosphere here."
Maybelis Quesada agrees with him, who alternates her time between being a trainer and working out. "The atmosphere at these places makes you want to work out, you set your own goals, you mentally prepare yourself and you feel the benefits of this at the end of the day."
However, expensive fees at some businesses is one of the main obstacles that prevents people from coming as much as they need to. Research carried out by elToque revealed that some gyms in Havana can charge up to 30 CUC per month (even more), which is the equivalent of 750 CUP, which exceeds most monthly wages.
Personal workouts (outdoors or at home) are an alternative for people who can't afford to go to the gym or prefer to develop their own exercise regime.
"I've been working out since I was very young, but I do it without a trainer or company most of the time," university student Karen Lay says, who says she is happy with the way she works out, although she didn't fail to recognize the benefits of going to a gym.
State-run gyms which were open to the public such as Sports Centers or university stadiums are used a lot too, just like the so-called "bio-healthy" gyms are, which will be produced by Cuban industry alongside INDER (Sports and Recreation Institute) according to an announcement made in December last year.
Different gym options in the private sector
Maria Cleofas Gomez, the manager of "Pura Vida" gym, points out that "health and wellbeing" feature among her incentives, but from a more unique perspective, if you bear in mind Cuban culture and idiosyncrasies.
"Stemming from the concept of "healthy body and mind", we have created (…) a fitness center that has been designed to give our clients physical and mental balance and wellbeing. At "Pura Vida" you will also find a space to socialize, exchange experiences; where you can relax after working out, in a calm and pleasant atmosphere." This is how she describes it on their Facebook page.
"Approximately 50 people come every day, and from 7 AM until 9 PM, we offer classes that work the whole body, les mills classes, gymnastics, yoga; always respecting each and every one of our clients' anatomies, without overdoing weights which can affect your health," the owner of "Pura Vida" explains.
The businesswoman recognizes that they don't have too much to do with other gyms. "We've taught zumba classes, but that's as far as we go. The thing is we're different, very few of them understand our mission. The spirit at other places centers around strength, muscles, and that's not what we're looking for here."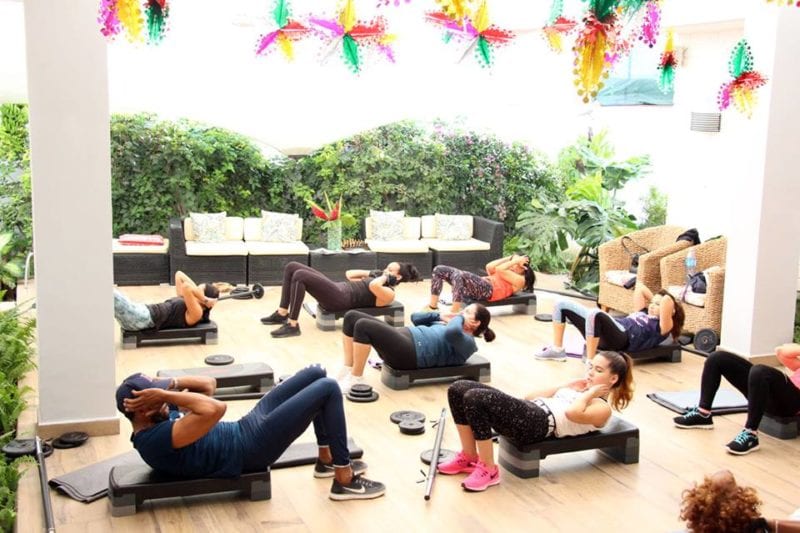 Maria claims that it has been a learning curve not just for her clients, but also for trainers, who came with a different mindset and had to mold their knowledge to the center's objectives. "We're not 100% there yet, but we've taken a great step forward," she says with an expression of satisfaction.
Nevertheless, the concept this fitness center defends doesn't appeal to everyone and some clients who came with certain expectations, preferred to leave and go somewhere else with a more "practical" approach.
Bodybuilding: a bone of contention
"Mandy's Gym" is one of the "best" gyms in Havana, according to people who go there. The owner, Armando Yera Godoy, was a National Bodybuilding Champion and president of this Association which, in spite of being around for three decades, has still not received official recognition from the National Institute of Sports, Physical Education and Recreation (INDER).
In Cuba, bodybuilding isn't explicitly banned; however, no formal recognition of the practice and its followers has become as obstacle for citizen initiatives that have been developed for this field. In fact, the cancellation of bodybuilding events has already made news headlines.
It seems that doping is one of the sports authorities' "concerns", whose vision stigmatizes a universal practice that is gaining more and more followers every day in Cuba.
On January 23, 2018, the first Digital Debate Forum took place which was organized by INDER. The topic: Gyms in Cuba.
Mentioning results and problems, Dania Garcia Fernandez, an official at this state institution and one of the panel members, said: "The widespread incorporation of people at these gyms has been positive (…). The downside is the problems we face, that not all staff working in private gyms have the qualifications they need. So as not to make a sweeping statement, some centers are overcrowded with equipment, which could lead to accidents; they also don't meet hygiene/sanitary standards because of a lack of bathrooms, changing booths, water (…).
Meanwhile, Garcia Fernandez pointed out that at state-run gyms, users need to present a medical certificate that attests to their good health so they can begin or carry on exercising, and it also gives teachers the opportunity to learn about the illnesses their students suffer.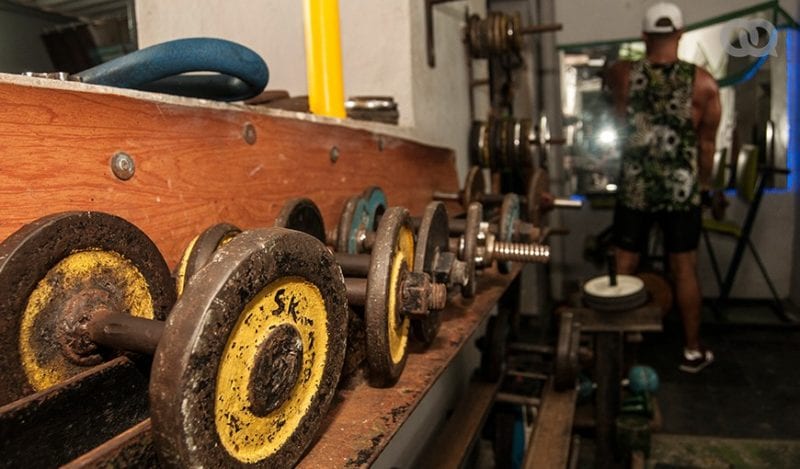 Even though the expert made the exception of "state gyms", many private gyms also require an official document that attests to their clients' good health, something which people going to work out say gives them "more confidence".
At this forum, it was made clear that "INDER issues a series of guidelines every year for its sports teachers and programs. Meanwhile, it is in talks with the Ministry of Labor and Social Security to approve regulations for private gyms once and for all. MINSAP also plays a crucial role in exams for trainers and practitioners and verifying that these gyms meet hygiene and environmental standards.
However, state-run gyms aren't the most attractive option for gym users, in spite of their low prices. Some of them have more unpleasant conditions in terms of space and the number of equipment available, according to people who used these facilities when they didn't have any other option.
On the other hand, "bio-healthy" gyms, which the population like a great deal, are far from satisfying demand in terms of quantity, and lots of them have become run-down over time.
"People are always trying to look for the best and, right now, private gyms are the closest thing to this, as they have known how to offer an alternative for all kinds of interests. Plus, these spaces have become real places for exchanges and socializing." At least this is what Alejandro believes and feels, who began to work out when it seemed to be nothing more than a trend.