Remittances to Cuba via the Internet on the Rise
By Vicente Morin Aguado
HAVANA TIMES — Without the chance to give a formal interview given the fact that the kind of journalism we practice lies outside the Communist Party-State lines, if you take a look at reality, you could say, without any fear of being wrong, that remittances to Cubans via the Internet are on the rise. This is what a FINCIMEX employee confirmed at least at its head office.
On a rainy morning – Friday October 6th – there were still about ten people applying for the much-needed AIS (American International Service ltd.) card which the Cuban corporation offers the Cuban people as a way to receive remittances and then withdraw it from any ATM nationwide or directly from the bank.
"Customers keep on coming every day," the receptionist says and adds, "the number of applications is increasing, people trust our company." We should point out here that there isn't any commercial propaganda about this card, word is traveling from mouth to mouth even though you can also access the company's website online: www.aisremesascuba.com.
In fact, several companies are competing to win over citizens that reside in the Caribbean's largest archipelago. Fonmoney stands out as it probably has the best exchange rate in the sender's favor as when you send 100 euros, 107.50 euros are charged to the sender. Other just as trustworthy companies are Small Word, Cash2Cuban and Sendvalu, the latter has a personalized service that notifies the beneficiary about a transfer by sending an email normally within 24 hours.
Asking around on the street, as people leave Fincimex's offices, I gathered some opinions:
"I prefer it to Western Union because it goes directly onto my card, I don't have to go to the pain of standing in that bothersome line at this famous US company's money handout kiosks.
"It has the advantage that there aren't any discounts on the receiving end, when I'm sent money, I can withdraw even the last cent of it."
"I can use it all over Cuba, I can save, and accumulate money on the card without any problems."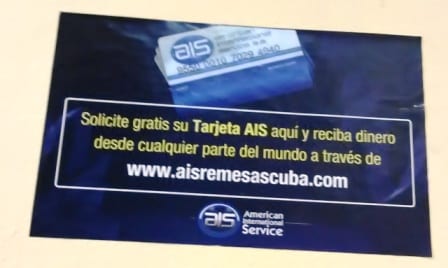 From the other side, beyond our borders, the advantage for people is that they can send money transfers sitting in the comfort of their own homes, they don't need to go to an office and make a cash deposit. In Cuba, AIS cards are given out for free. If you have a problem because you lost your card or it gets demagnetized, FINCIMEX will replace the card within three days at no cost to the customer, who will keep their same number.
Remittances from abroad have become the inefficient Cuban economy's number one source of sustenance. Specialist companies such as The Havana Consulting Group in Miami believe that the annual figure for remittances stands at over 3.5 billion USD and this is just from the United States, you'd have to add remittances from the Cuban community living all over Europe and the rest of the world to this.
After Hurricane Irma swept through the country, there is greater hardship, national food supplies have declined and electrical appliances were lost as a result of flooding. Plus, house roofs need urgent repairs which the government offers in reduced cases, even charging people for them. Corruption related to these misfortunes is growing. Solidarity among family members and friends abroad is more pressing than ever for the Cuban people.
Vicente Morin Aguado: [email protected]
—–