Renewable Energy Sources in Cuba
By Alexis Llanes Ramos*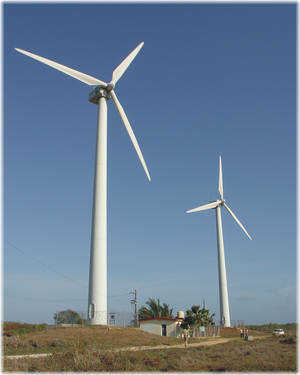 HAVANA TIMES, Sept. 1 (IPS) – Energy is essential for the functioning and development of any country. In recent months, the Cuban government has emphasized the need for more energy awareness to reduce consumption, after national energy consumption skyrocketed above forecasted amounts.
Over consumption, a problem under normal conditions becomes even more of a problem in the context of the current global economic crisis.  The country's inability to pay an oil bill larger than forecasted also highlights the need to diversify energy sources to avoid similar situations in the future.
Cuba and the world's energy problem will not be solved with one or two energy sources, but with an intelligent combination of several.
Although there are many different energy sources, this article focuses on the three most widely used and with the best development perspectives in Cuba: solar, wind and biomass.
Solar Energy
The sun is the main source of energy on the planet, transmitting 4,000 times the energy used on the Earth at any given time; it is also one of the first kinds of energy used by humanity. With scientific-technical development, this source went from providing light and heat to providing electric energy through photovoltaic cells and steam, and hot water from solar heaters.
Though the costs of the photovoltaic cells are relatively high, setting up an additional unit is almost free of charge, since the maintenance and exploitation costs are very low or non-existent.
In addition, the sun is a renewable, inexhaustible and clean source of energy. Finally, the systems can by set up on a small scale, making them very portable with a wide range of applications.
In Cuba, this technology has been applied in remote and mountainous areas to power audiovisual and other equipment in more than 2,300 primary schools, 400 doctor offices and more than 1,800 small TV/video facilities, among other things.  Solar heaters made in China are sold in Cuban stores and widely used in public facilities.
In addition, several homes in remote areas of Guantánamo and other regions of the country are powered by photovoltaic systems.  Recently in Pinar del Río, more than 90 houses were outfitted with solar energy systems as result of a cooperation process between the Total French oil company and the United Nations Development Program (UNDP).
Recently, in Ciego de Ávila the electrification of a community of 30 houses and the construction of a pump station were completed, all using solar energy. The project was financed by the Autonomous Delegation of Bizkaia (Spain), the Ciro Redondo municipal government, the Cubasolar Company and the Sodepaz Spanish NGO.
The solar panels used in the project are partly produced by the Cuban Electronic Industry -70 percent of all the solar panels were assembled in Pinar del Río, and 100 percent were installed by the Copextel company ran by the Ministry of Computer Science and Communications (MIC).
Every square meter of the country receives an average amount of solar energy equivalent to 0.5 kilograms of oil or 5 kilowatt-hours, throughout the year and almost without fluctuation.
This greatly underdeveloped energy source is slowly making its way across the island: there are currently more than 6,000 photovoltaic panels and 1,500 solar heaters in use.  The installed solar energy generating capacity in Cuba is around 3 megawatts, or 0.07 % of the total installed capacity. And there are several projects underway to increase this percentage, although costs remain a serious obstacle.
Increase in energy production from solar devises in Cuba since 2001:
Change over the previous year (percent)
2001 up 24.8;  2002 down 13.6;  2003 up 40.1;  2004 up 27.7;  2005 up 86.5;  2006 up 149.1;  2007 up 121.2;  2008 up 85.8
Source: National Inventory of Renewable Energy Sources. National Office of Statistics (ONE), May 2009.
Wind Power
Wind power is one of the oldest energy sources used by humanity. It was used centuries ago to propel sail boats and windmills used to thresh wheat or move water.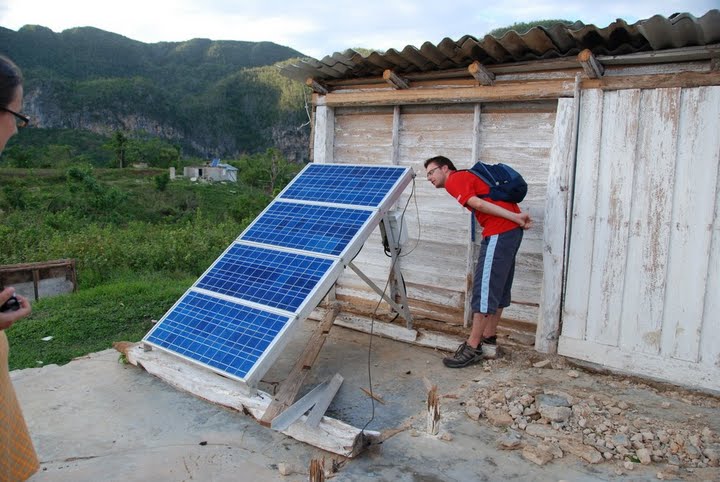 With scientific advances, this source of energy began to be used to obtain electricity through wind generators of different capacities, changing their sizes and characteristics over time.
In Cuba, wind energy use is relatively new, beginning with small generators used to extract water from the wells for cattle ranches.  Currently, there are three wind farms set up in Ciego de Ávila, Holguín and the Isla de la Juventud, and several places are being studied to set up new farms.
A wind map of the entire country was recently created with 32 areas identified with good potential.  There are currently 55 stations installed to measure wind and some 8,631 wind towers by the end of 2008, up 14 percent from 2007.
Studies show the potential of generating between 5 and 14 gig watts of electricity by wind.  With a cost of two cents per kilowatt, once the initial investment is recovered this is one of the cheapest sources of energy sources in the country.
Another area of research is currently the affect of natural disasters, especially hurricanes. In the experimental wind farm on the Isla de la Juventud, windmills are being used that can be fully taken apart in 45 minutes if need be.
Biomass and Electricity from the Sugar Industry
After the sun, biomass is probably the second oldest energy source used by human beings. With the discovery of fire, biomass became to occupy an important place in the lives of early humans, and was used for heat, to cook food, in religious rituals, and as a defense mechanism.
The Cuban sugar industry shows the greatest possibilities in using biomass from sugarcane waste, taking advantage, among other things, of the vast experience of farmers.
The production of sugarcane biomass has been gradually decreasing from 2002 when a restructuring of the sugar industry led to the closure of dozens of mills.  In 2008, the production of biomass in the industry increased 13 percent in relation to 2007, while power generation from this source increased 28 percent, showing an increase in efficiency when using this raw material.  This is also in keeping with an upturn in sugar production during the last period.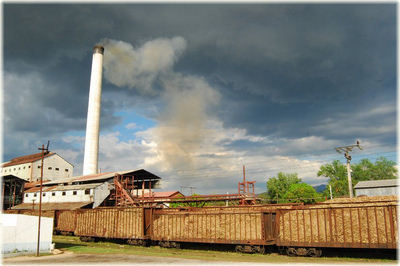 The infrastructure of the sugar industry provides a good avenue for the whole scale treatment of waste materials, turning them into useful by-products.  Currently, biogas, electricity and fertilizers are obtained from sugarcane waste materials.  What the sugar industry now needs is a policy focusing on generating power for the National Power Grid so as to wean its oil dependency.
In Cuba, power generation by cogeneration promises several benefits and could provide a boost to a declining industry, generate profits through the sale of electricity, lead to growth in other industries, reduce the costs of power production, guarantee a greater amount of energy for the industry and the country, increase the installed capacity, reduce the dependence on imported oil, and have a positive impact on the trade balance.
For example, a sugar mill that grinds 4,000 tons of sugar a day, using boilers and condensation turbo generators with regulated extraction, could meet all its energy demands by burning the resulting bagasse, while providing 12 megawatts to the National Power Grid (more than 44 gigawatts/hour during the sugarcane harvest). This could result in a savings of between 8,800 and 17,600 tons of diesel oil, an import savings of US $4.3 to 8.6 million (at US$ 62 per barrel).
Two of the most serious problems that the sugar industry faces today are inefficiency or technological lag, and the fact that energy production is not included in their mandate.
An example of this is the fact that in 1992, 12 percent of the power generated in the country was produced in the sugar industry; however, a study by the United Nations Organization for Agriculture and Food (FAO) in 1996 states that in 1995 power production in the sugar industry had a deficit of 544 gigawatts/hour.
The study proposes, during a first stage, the possibility of reducing that deficit by 200 gigawatts/hour by increasing the efficiency of the existing facilities and implementing energy saving measures.
In a second stage, it shows that the industry could contribute up to 300 gigawatts/hour to the National Power Grid.
The study reports that from 1989 to 1990, the industry produced 21 million tons of bagasse (each ton of ground sugar equals roughly 0.35 tons of bagasse), while waste reached 35.2 million tons.  The latter represents almost two times the equivalent oil used to generate electricity in 1989.
In addition, Cuba has made significant advances in the development of a variety of sugarcane with high fiber content and thus a superior energy producer.  Crop performances under ideal conditions can surpass 100 tons per hectare, and harvest waste produces up to 20 percent more combustible material.
Sugarcane Isn't the Only Source
However, sugarcane is not the only source of biomass.  There are other sources of organic material, such as firewood, rice and coconut husk, forest debris and coffee waste, which are not currently being used to their full potential.
Moreover, the country has obtained power from solid organic material, by using bio-digesters, which rot the organic components to obtain biogas used to cook or to generate power, and fertilizers.  In Cuba, there are around 700 plants of this type, although only 50 percent of them are used to this end.
The Palmira Pork Production Facility, in the province of Cienfuegos, is a good example of the use of this type of plant.  The facility has a bio-digester to process the waste of 35,000 pigs.  The City of Havana also has a bio-digester at one of their municipal waste centers (100th Street and Boyeros Ave.) that processes between 15 and 20 tons of organic waste per day, generating between 60 to 70 kilowatts/hour.
Projects like this one and others to exploit renewable and environmentally clean energy sources will help Cuba reduce its dependence on fossil fuels, while lowering its energy vulnerability.   The main limitation facing this area is financing.
To fund these projects the country currently relies on credits within the framework of the Bolivarian Alternative for the Americas (ALBA), Petrocaribe or other energy alliances, and foreign investment, as well as reinvesting savings obtained from successfully implementing these policies.
*Alexis Llanes Ramos, economist and employee at the Ministry of Higher Education
Havana Times translation of excerpts from an IPS original in Spanish