Reunion of Africa and Cuba
By Yusimi Rodríguez
(Photos: Elio Delgado Valdes)

HAVANA TIMES — At the end of 2012, Havana Times published Emma Christopher's Cubans Visit the Home of their Ancestors in Africa and Sergio Leyva's An Old Slave Trade Route. Through these articles, readers were able to come into contact with the story told by the documentary They Are We, a film which changed the lives of many people even before its release.
I don't believe I am exaggerating when I say that I am one of those people. Having had the opportunity to see many of the materials used in the documentary and others which were not included in the final edit, and, later, the privilege of interviewing director Emma Christopher and cinematographer Sergio Leyva, not only exposed me to a fascinating part of history but also led me to ask myself about my own African ancestors.
I traveled to the town of Perico, in Cuba's province of Matanzas, to get to know, first hand, the experience of the Cubans who had traveled to the community where their African ancestors had lived. At the close of my interview with Elvira Fumero and Alfredo Duquesne, I mentioned that an exhibition of Sergio Leyva's photographs and sculptures by Duquesne would be held in Havana in November.
Titled Reunion, the exhibition was inaugurated on November 2 at Havana's Casa de Africa. Alberto Granados, director of the institution, delivered the opening remarks and Leyva wrote the words of invitation.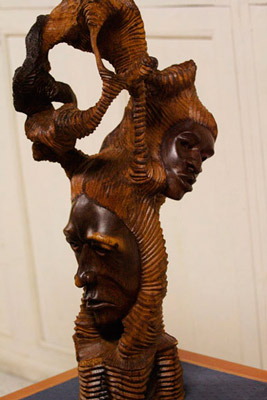 The moments captured by Leyva tell of a reunion among people born in continents far apart, people who had never seen each other before and do not even speak the same language, but who nonetheless feel that they are part of the same family.
I managed to have a conversation with Leyva, in snippets. Many wanted him to sign the invitation. Others wanted to take his picture or have their picture taken next to him. The gallery was full of experienced photographers who praised his work.
When I interviewed him last December, we talked about what it had meant for him to be part of the documentary crew. Then, I'd failed to tell readers that Leyva, in fact, graduated as a computer engineer.
Sergio: I didn't like it. I finished my degree because I had to get a degree and because of family pressures. When I started working, it was clear to me that it wasn't my thing. The problem back then was that I didn't exactly know what I liked, and I was very depressed.
One day, my buddy Douglas, an amateur photographer who also makes origami figures, said to me: "let's go out and take pictures." That was at the end of 2008. It started out like that, as a hobby. I was also influenced by the fact that all of my friends were in the art world. My girlfriend was an illustrator.
Afterwards, I took a number of photograhy courses, including one at the Cabrales del Valle Photography Academy and the workshops offered by Arcos. Those were the best for me.
The idea for this exhibition came up during the trip to Mukpangumba. Initially, I wanted to do two exhibitions: one about Ganga Longoba, in Perico, and the other about Africa, leaving the images of the reunion for the documentary.
But, later on, I wanted an exhibition that would tell a story. Emma then said to me: "Why don't we include Duquesne's sculptures as well?" I thought it was a great idea, because Alfredo is a wonderful artist and his sculptures have a lot of Africa and what we lived there in them.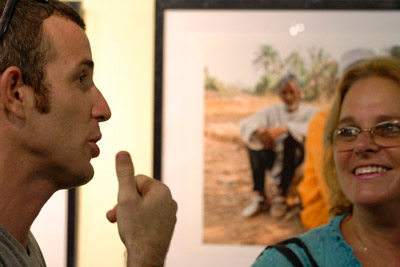 This is Sergio Leyva's second personal exhibition in the short four years since entering the photography world.
Sergio: I feel I should try and make up for time lost.
Looking at his images, I notice that the photographs of the Ganga Longoba African folklore group in Perico, Matanzas, are in black and white, while those taken at Sierra Leona are an explosion of color.
Sergio: When I took the photos of Ganga Longoba, I didn't know anything about Africa. Their songs struck me as sadder than the Afro-Cuban songs I had heard till then, they were something like laments. I felt the photos had to be in black and white. Then, when I got to Africa, I ran into that explosion of colors. What's more, that's where the Cubans met the inhabitants of Mukpangumba. It was a joyous moment, and I wanted to capture that and all of the colors of Africa.
Duquesne's work awakens so much interest that, no sooner has he finished conversing with someone and I think it's my turn than someone else shows up to ask him about his work. I am not surprised by the African influences in his pieces. I had noticed it when I interviewed him months ago. It was present in his work before he traveled to Mukpangumba.
Duquesne: When they saw photographs of my work in Mukpangumba, they were very much surprised that my pieces had so much of Africa in them. I learned a lot from them. Their sculptures are incredible. The pieces on display here are part of a series titled "Traces of Africa". I finished them after I got back from Mukpangumba.
But, in contrast to what they do in Africa, where they polish the pieces, I wanted to leave some texture on the surface, create a contrast between polished and rough areas. I saw a lot of color there, a lot of pain. I realized that they are used to that pain, they live with it and it is as though they didn't feel it, as though they weren't aware of their wound. I, coming from elsewhere, couldn't help noticing them. The texture I left on the surface of my pieces are those wounds.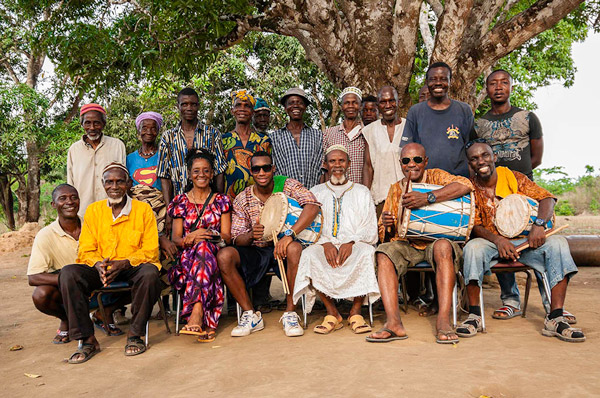 In spite of the wounds on Duquesne's pieces, the artist looked particularly elegant and happy at the exhibition. He also brought pleasant memories back from Mukpangumba, like the sculpture given to him as gift by one of the wives of the village chief, and the shirt he wore at the opening, a gift from Baggy, whom he embraces in Sergio Leyva's photo and he calls his favorite photo, the one that best captures the moment of reunion.
Duquesne: Baggy told me I was the brother he never had.
I am not surprised by the emotions I see well up in the faces of those who look at Leyva's photographs and Duquesne's sculptures. I had the same feelings on hearing the story told by Emma, Serio, Elvira and Duquesne.
A woman at the exhibition told me she had always wanted to visit Africa and now, more than ever, feels she must. These reactions afford us a sense of the reception The Are We will have upon its release. Many of those present at the opening of Reunion didn't know about the documentary. Now, they enthusiastically await its release.
Reunion will remain at Havana's Casa de Africa for the month of November.

Click on the thumbnails below to view all the photos in this gallery. On your PC or laptop, you can use the directional arrows on the keyboard to move within the gallery. On cell phones use the keys on the screen.