Rodrigo Espinoza, the Musician Jailed by the Ortega Regime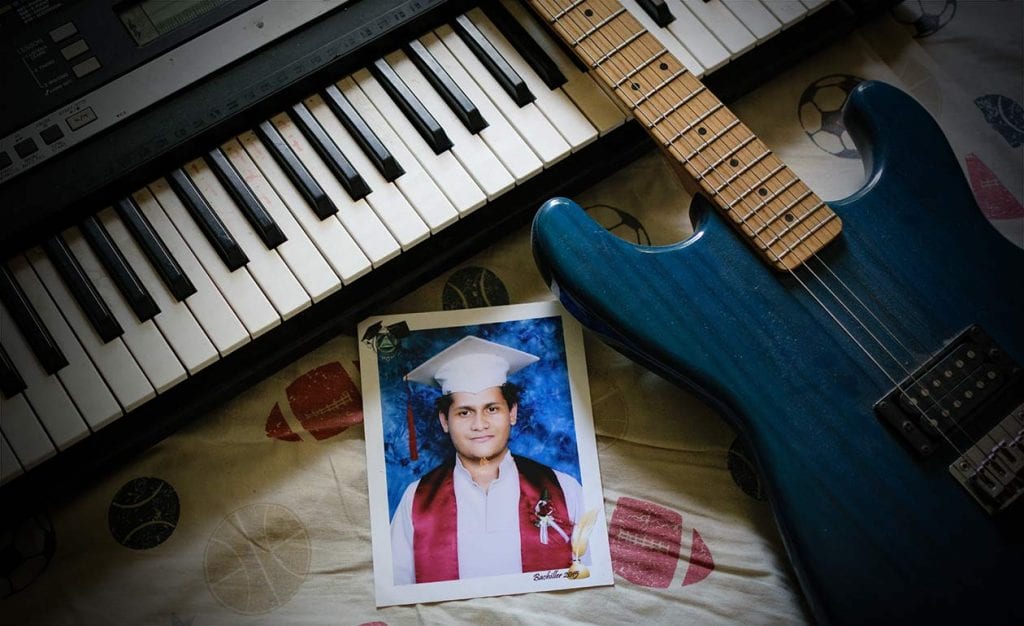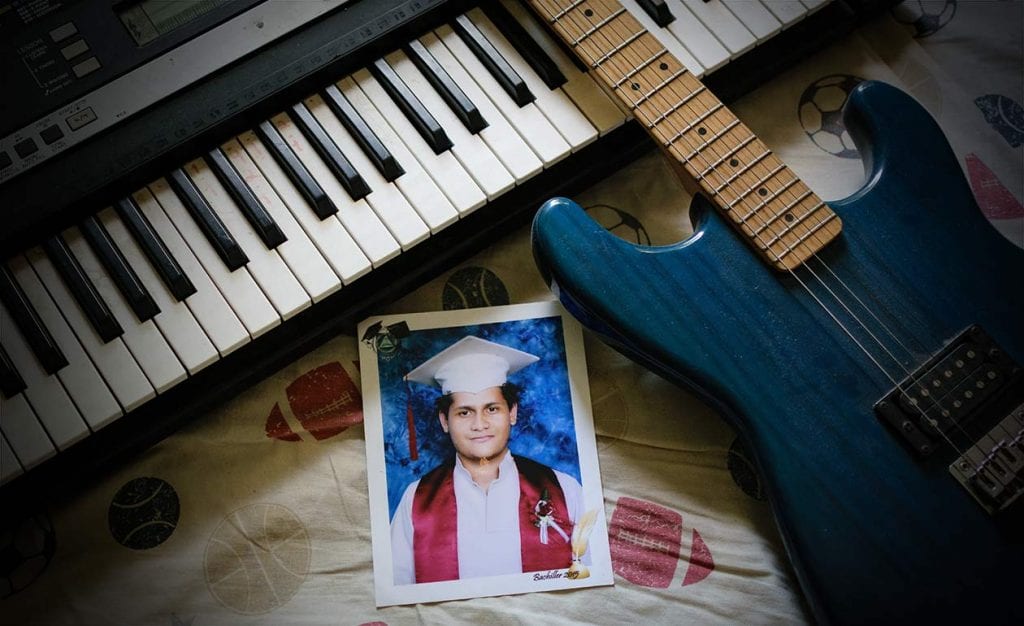 In the April insurrection, Rodrigo Espinoza lost the things he loved most: his guitar, his curls and his freedom. Now the only thing that accompanies him in prison is the dream of a free Nicaragua.
By Keyling T. Romero (Confidencial)

HAVANA TIMES – In the early morning of April 20, 2018, Brenda Gutierrez realized that something had changed in her son, Rodrigo Espinoza. She caught him creeping into the house, and as soon as he saw her, he said brusquely: "I only came so you'd be at peace. Tomorrow, I'm leaving early and I don't know if I'll be back."
Right away, she understood the weight of those words: from the moment that he'd left in the morning, ready to join in with the university students who were protesting against Daniel Ortega's regime, the political repression had begun. By the end of that same evening, someone had been shot and killed.
Previous to the events of April, Rodrigo had been disinterested in politics. His mother never heard him raise that topic, and he preferred to spend up to five hours in his room practicing guitar. That was his passion, Gutierrez says. On weekdays he stayed in the Pedro Arauz Palacios University Hall, of the National Engineering University (UNI), where he was studying his third year in Agricultural Engineering. On weekends, he studied music at the Conservatory of the Polytechnic University (Upoli).
Rodrigo, 21, has only a few close friends. He's reserved, but he's almost always doing pranks. For that reason, they nicknamed him "risita" [giggler] in the University. He was president of his section there. And even though the Inter-American Human Rights Commission put him under precautionary measures in May of this year, he – together with Hansell Vasquez and Marlon Fonseca, all of them members of the 19th of April movement of the Upoli – have been declared guilty of terrorism, arms and weapons trafficking, disrupting public services and frustrated homicide against workers from the radio station Radio Ya. For these charges, the prosecution is asking for 28 years in prison.
Kevin, the kid with the curls and the guitar
Rodrigo's legal name is Kevin. They use this name at home, but outside everyone knows him by "Rodrigo", his middle name. Beginning in seventh grade, he started asking people to call him Rodrigo, because that name is more unique, less common.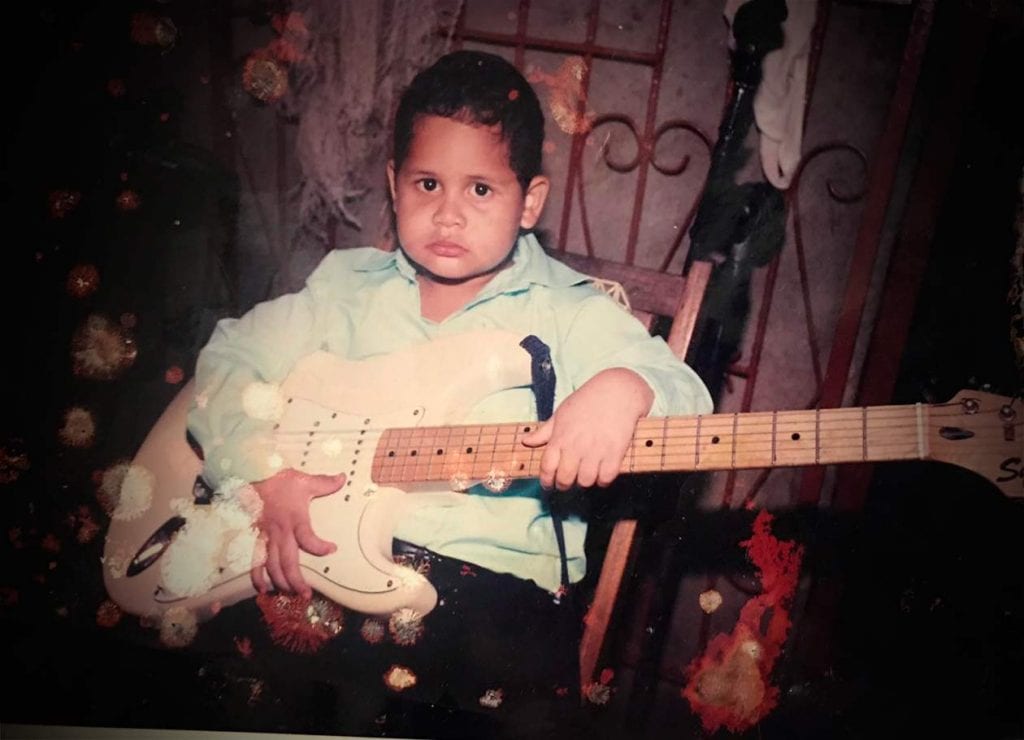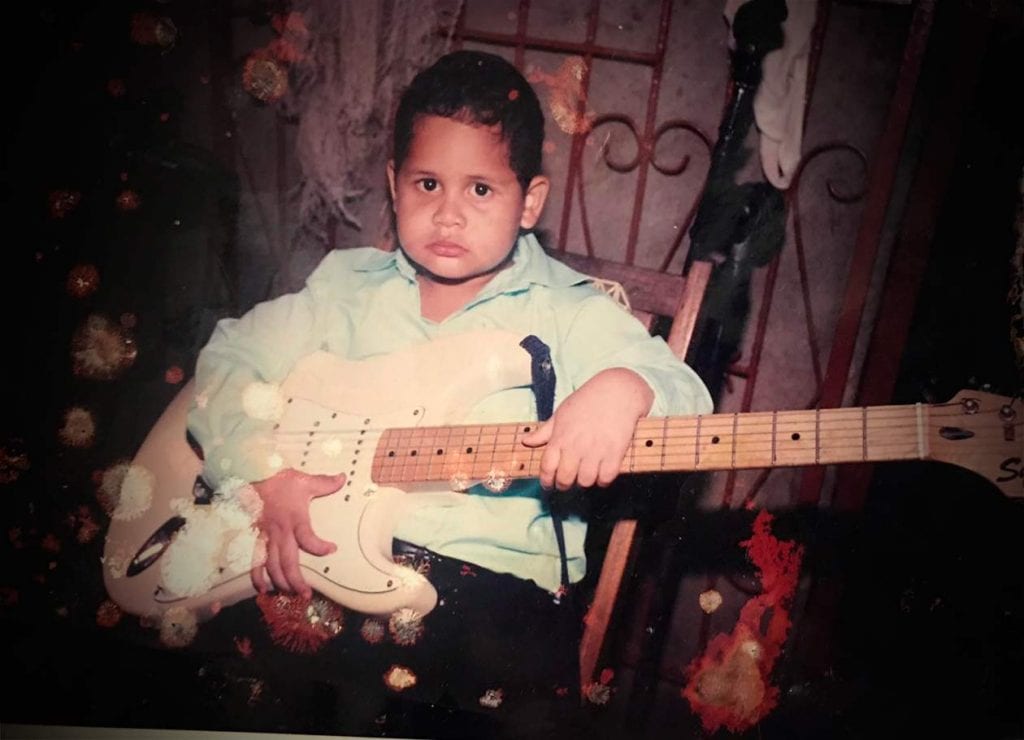 The first time he held a guitar in his hands, he was three years old. It was a small white guitar, and it wasn't his, but from the time he saw it he felt an inexplicable urge to play it. His parents noticed how excited he was and took a picture. Today, his mother looks at that photo with nostalgia. In the Christmases that followed, they gave him a drum, a flute and a toy piano. That's when he discovered his love for music.
"One Christmas, we gave him a toy piano. He grabbed it so eagerly that the keys came loose. He wanted to learn anyway, and got it to play music. That's when we noticed his interest in music. But his real love was the guitar. He'd look at a guitar and he'd melt," Gutierrez tells us.
Years later, he began to take online classes to learn to play guitar. He joined the school band where he learned to play the lyre, the bass drum and other instruments. His passion for music grew so much that they left him to lead the band. He also joined a musical group from the church he attended.
"He wanted to dedicate himself to music. Before he graduated from high school, he asked me to pay for a music course that they were offering in the Upoli. I told him I couldn't pay for that because I was going to be financing his career at the Engineering University. So, he said: "If I can get a scholarship at the university, would I have earned the music course?" I told him yes. He fought to get a scholarship from the UNI, and he succeeded. After that, he got a sponsor to pay half the cost of the music course at the Upoli, and I gave him the rest of the monthly fee," Gutierrez recalls.
One of his friends, who preferred not to use his name, states that Rodrigo's dream was to be a music teacher. Every time they talked about their goals, he always added that he wanted to help his mother get ahead.
The struggle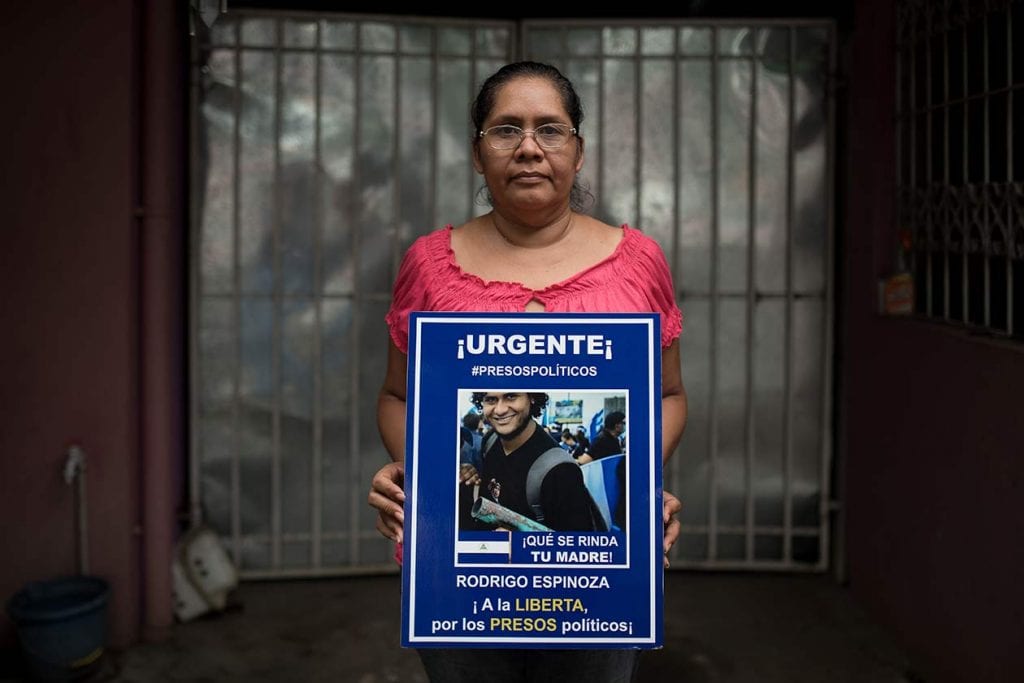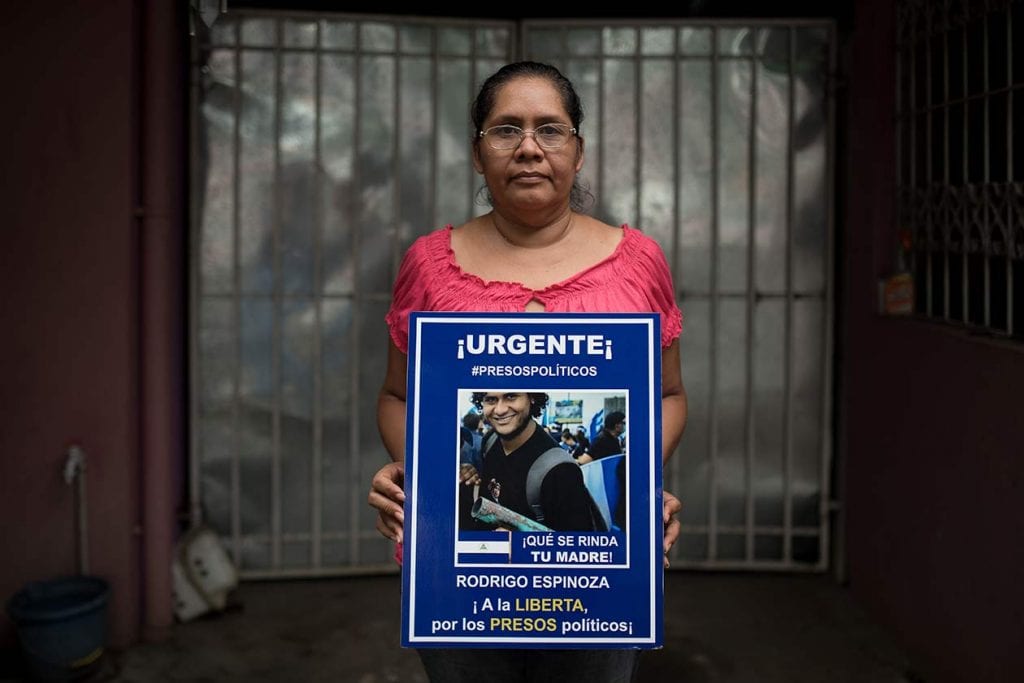 When Rodrigo Espinoza left his house on the morning of April 19, his mother guessed he was going to join up with other members of the Nicaraguan National Students' Union.
"Look, son, don't go there. It's a sin, they're beating up the old people," she told him, concerned.
"I'd never hit an elderly person. And no one's going to make demands on me because of a scholarship. I'm going to do what I feel like," he answered. And he left.
She was left waiting anxiously at home. When she saw on the news that the police were violently attacking the students, she went out desperately to look for him. She found him in his University hall, but he told her: "go take care of yourself and of my sister. Be careful. I'm going to stay here." She didn't hear from him again until that midnight when he told her that he was going to join the university struggle.
Beginning on that day, Rodrigo Espinoza joined the occupation in the Upoli, and she only saw him when he came home to get a change of clothing. Those days were murky ones for her and her family, as the attacks on the Upoli intensified.
"It's been hard for me. I don't know how I've gotten the strength. When I see him on television, I get such a horrible feeling. When he'd come home, I'd only put my hand on his shoulder; I was afraid to hug him, because if I did, it would seem like I was saying goodbye," says Elena Gutierrez, Rodrigo's grandmother.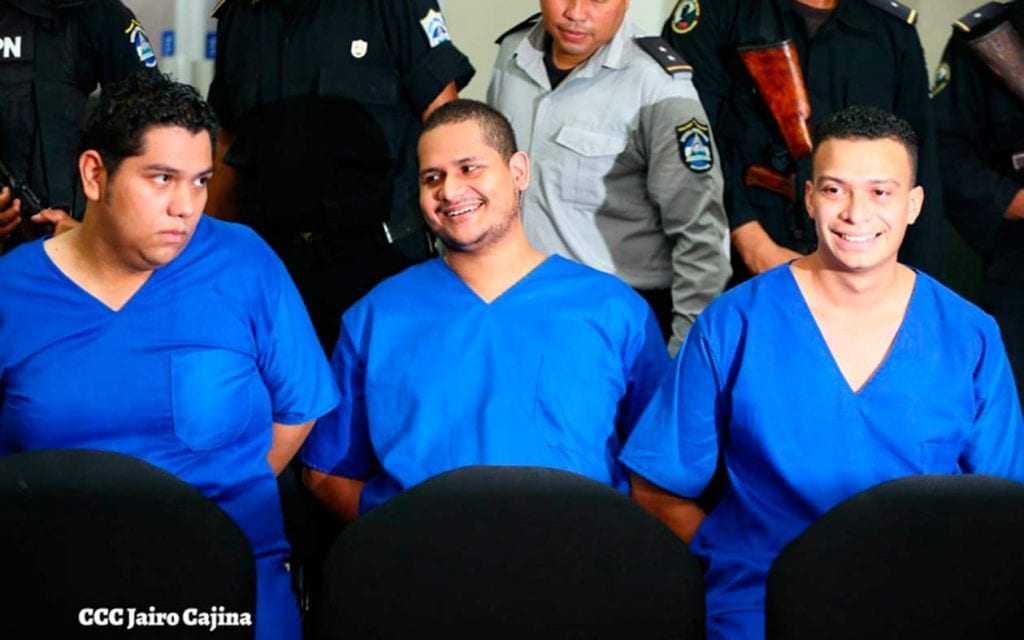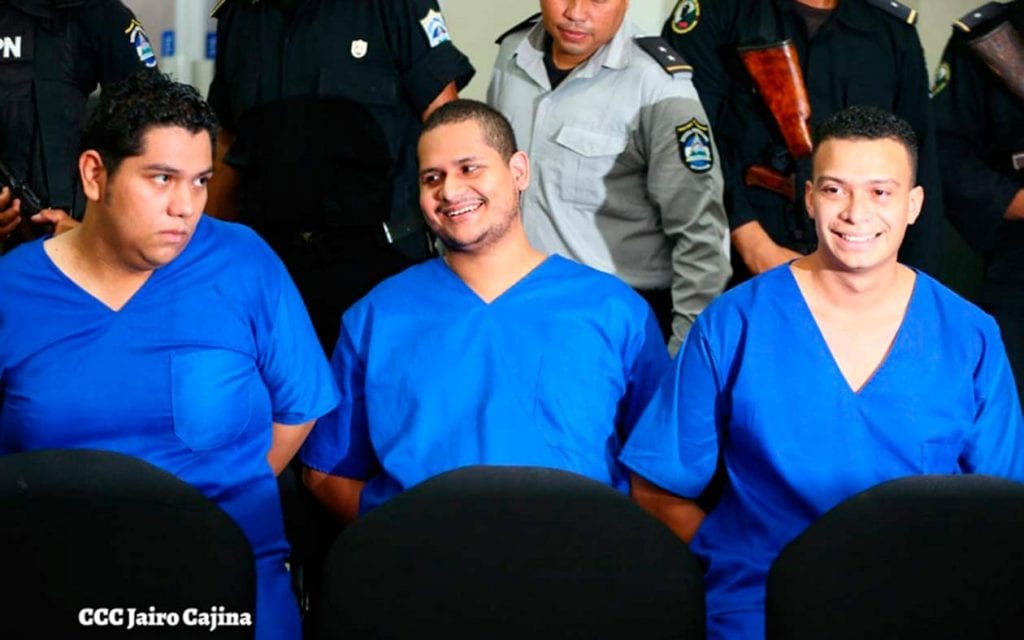 During the time that he was occupying the university, his family barely saw him. He came home a few times to get clothes, and his mother and grandmother took advantage to beg him to stay, but he always told them: "Don't be selfish. Don't think only of yourselves, we have to struggle." And then he'd leave.
Rodrigo became one of the leaders of the April 19th Movement. He also became a member of the University Coalition and that brought him some threats. So much so, that at the end of May the Inter-American Commission for Human Rights ordered precautionary measures to protect him, together with the other student leaders.
Nevertheless, around six pm on July 11, 2018, Rodrigo Espinoza, Hansel Vasquez and Marlon Fonseca were intercepted by several Hilux pick-up trucks full of paramilitaries while they were on their way to Nindiri to leave supplies. They were subsequently transferred to the Office of Judicial Assistance, better known as the El Chipote jail, where they were tortured. They're now being held in the jail known as El Modelo, waiting for their sentencing.
According to his mother, of the three detained youth leaders, Rodrigo has been treated the worst as a result of the precautionary measures. He's detained in a maximum-security cell known as "little hell". There's little ventilation there, no sunlight, it's completely isolated and they even pass him his food under the door. Meanwhile, the others are in Gallery 16 with the rest of the political prisoners.
The serenade
One of the saddest days for Elena Gutierrez, Rodrigo Espinoza's grandmother, was the day of her birthday. The previous year, Rodrigo woke up early and played "Las Mananitas", the traditional birthday song, for her on his flute. This year, though, he couldn't play for her since on the day of her birthday the state prosecutor was asking for 28 years of prison for her grandson.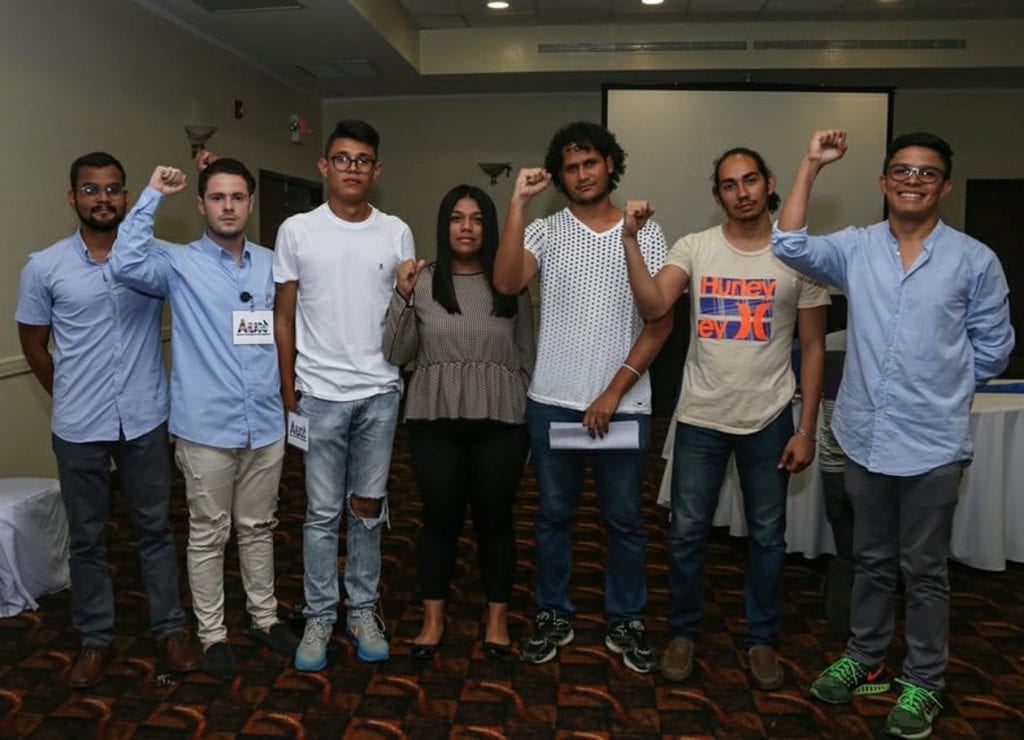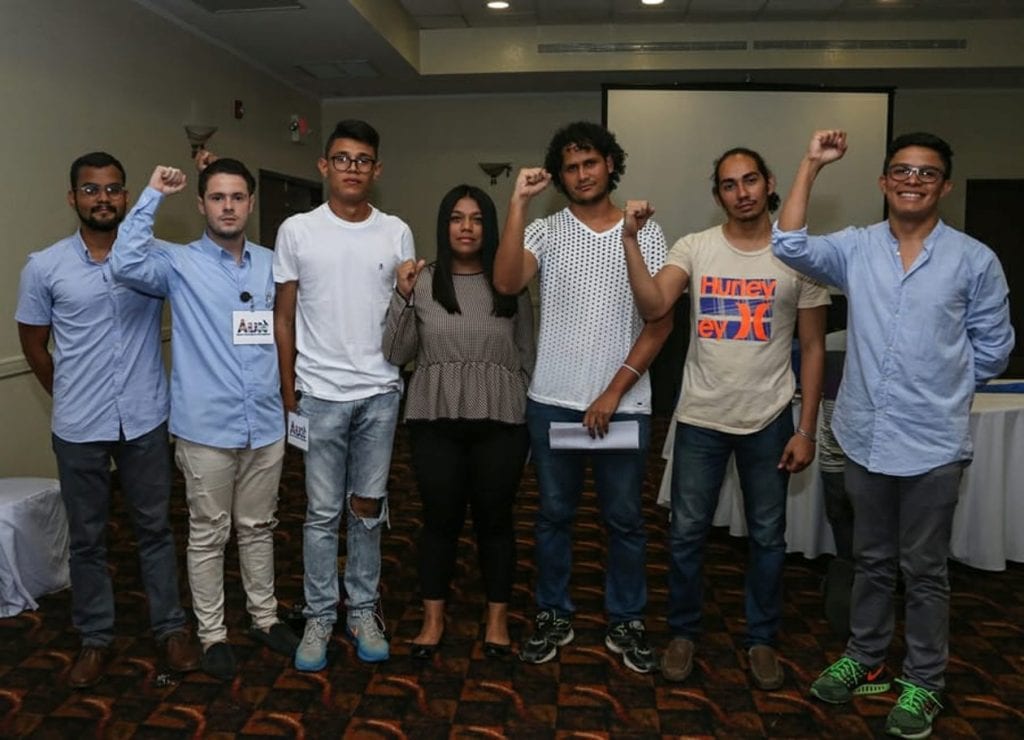 "The day that he was declared guilty, she was marking another year of life. He'd already said: "Elena's – because that's what he called her – birthday is coming and I won't be able to sing for her." And I just looked at him and told him, "Don't worry, it'll by okay," relates Brenda Gutierrez.
Her grandson's detention has been extremely painful for his grandmother. The last time she saw him was three days before he was arrested. Since then, she hasn't seen him at all because she feels that she couldn't stand seeing him in prison.
"It's really hard. Even now that we know he's there, we still have fears. I haven't seen him. I don't think I can stand to see him there. I saw him in photos taken about the third day, and I saw that he had those tight shackles on his feet," states Elena Gutierrez.
In prison, in addition to his freedom. Rodrigo lost his curls. According to this mother he always said, "I hope they don't cut my hair." For about five years, he'd let his locks grow. He took care of them so devotedly that he wouldn't even agree to cut them for his high school graduation.
He'd had those curls for five years. I remember that he'd spend hours taking care of them and I believe that one of the worst things he's suffered in jail is that they cut off his curls. He tells me that he's more handsome that way with a shaved head, but I know he's sad about his hair," Gutierrez says.