Sandy's Tracks through Santiago de Cuba
Photo Feature by Dariela Aquique & Janis Hernandez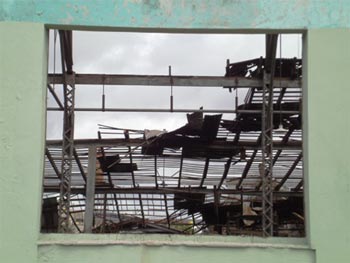 HAVANA TIMES — It was the evening of October 24 when they announced on the news that a tropical storm named Sandy was moving away from Jamaica and approaching the coast of Santiago de Cuba.
It was said that it might reach land as a Category 1 hurricane, with winds up to 95 miles per hour.
As always, the nation's Civil Defense force went into action, directing people and declaring the alarm stage in the eastern part of the country.
But Sandy played a trick on all of us. At close to midnight on October 25, it made landfall on the Mar Verde Beach at already a Category 2 speed (up to 110 mph), almost reaching Category 3 gales.
All of the Santiago coast would be hit by those powerful winds, with gusts of up 155 mph. Huge waves and the raging sea poured past the coastline.
The wind, though, was what did the most damage. More than a million trees were downed across the city and the surrounding areas. About 47,000 homes suffered serious damage – losing roofs and suffering partial or total collapse. Many schools and an unknown number of other facilities also show the footprints of Sandy's passage.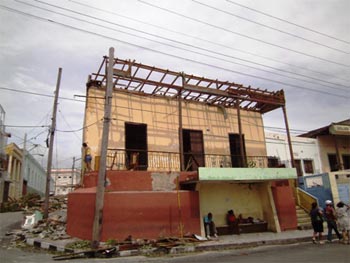 More than 41,800 telephone lines were disrupted due to 985 fallen poles and 150 miles of electric cables on the ground. This left the whole city without electricity, except those sites that had generators, such as hospitals and funeral homes.
A few hours after the passing of Sandy, we went out into the streets and saw scenes that seemed more like those of a bombed out city than anything else.
Transportation stopped because there was no way for vehicles to get around in the streets, therefore we couldn't get to more distant places. In any case, we walked about eight miles around town taking these pictures in the slums.
The death toll of eleven — nine people in Santiago and two in Guantanamo — occurred in the early morning hours. There was desperation and speculation. Exact figures on the damage and losses were of course not accurate. Acts of vandalism even occurred. All of this was brought on by Sandy.
Today, 20 days after the disaster, the people of Santiago are working on the recovery of their city.
I promise a post in which I will give more details about this unfortunate situation.
—–
NOTE: Until today, November 14, we couldn't get news out to our readers because work was still being done to restore communication services.
:
Click on the thumbnails below to view all the photos in this gallery. On your PC or laptop, you can use the directional arrows on the keyboard to move within the gallery. On cell phones use the keys on the screen.