Sayli Navarro: "I've had to grow up prematurely"
By Ivette Leyva Martinez (Café Fuerte)
HAVANA TIMES — One of Sayli Navarro's earliest of childhood memories is going to the headquarters of Cuba's State Security in the province of Matanzas at the age of six, when she went to visit her father, who had been detained there.
"I still remember his purple pants, how he showed us some bruises on his knee after his first arrest," 27-year-old Navarro, now visiting Miami, recalled.
In December 1992, Felix Navarro was detained in the town of Perico, where the family lives, for writing anti-government graffiti. In October 1993, he was sentenced to three years in prison for the crime of "enemy propaganda."
This was a turning point in Sayli Navarro's life. She spent a good part of her childhood and youth visiting her father in prisons, which she can name like someone quoting from books they've read, and remember like landscapes one has seen on a trip: Aguica, Combinado del Este, Canaleta, Ceiba Mocha, Bayamo and Guantanamo, among others.
In 2003, when she was only 17, her father became one of the 75 people imprisoned during Cuba's Black Spring.
As of that point, Sayli began accompanying her mother to church, in company of Cuba's Ladies in White. Today, she is one of the main activists of this organization in Matanzas.
This past July 14, authorities unleashed a wave of repressive measures against the Ladies in White who attempt to participate in the Sunday mass held in the town of Colon, Matanzas. Some twenty Ladies in White from different municipalities in the province regularly attempt to meet at the local Catholic Church, but they are generally detained on the street and dropped off in remote locations, far from their homes and any populated area.
Sundays of Repression
Navarro has been keeping tabs: this past Sunday was the 18th time of repressive measures against the Ladies in White. Throughout her life, she has been detained 15 times, mostly for attempting to participate at mass in the Colon church.
"The fear is always with you. I always say I'm never going to lose the fear. When I go to mass, however, I leave it behind," young Navarro says. "One Sunday, they picked me and my father up and left us out in a field, where loose cattle were grazing, six kilometers from the municipality of Maximo Gomez. On another occasion, they left us near the municipality of Marti, more than 20 kilometers from my house. Luckily, a horse-driven carriage stopped and took us part of the way back."
The aim, she explains, is to prevent them from going to mass and, at the same time, to avoid having to issue the detention order they have to draw up if the activists are taken to a police station.
"I never resist arrest, but they always use excess force and hit you. I am able to overcome my fear because I know they are the ones who are committing a crime," Navarro added.
To carry out reprisals, the government's repressive forces are increasingly relying on people employed in prisons and individuals from municipalities near Perico, particularly young people from the city of Cardenas, who are offered jobs in the tourist industry in Varadero in exchange for harassing the Ladies in White, Navarro explained.
"State Security agents are increasingly repressive. What's more, they are corrupt. There's one who goes by the name of Orestes Martinez, whose real name is apparently Yosvani, whom we call the "transporter", because he steals meat from the Los Arabos plant to sell in Havana," Navarro told us.
Another individual, identified as Orlando Figueroa (his real name), is an officer at the Aguica prison. Before that, "he stole and sold animal fodder to make ends meet and now he rents out rooms in the prison's conjugal areas for 20 CUC," she reported.
The repressors also fear being exposed in the video recordings made by the opposition.
"They're so afraid of being filmed by us that, when they detain us, the first thing they take away are our telephones," she said. "New technologies have changed the rules of the game."
A Childhood of Persecution
In 1992, after serving 20 months in prison for writing anti-government graffiti, Professor Felix Navarro was released on probation and expelled from the Ministry of Education, where he had worked as a teacher for 20 years.
In the Aguica prison, he met the person who was to become his comrade in arms, Ivan Hernandez Carrillo. Together, they founded the Pedro Luis Boittel Party for Democracy.
Felix Navarro's activism was met with surprise raids of his home, permanent harassment and brief but systematic detentions. Sayli Navarro, then 8 or 9 years old, began to suffer the effects of this: anxiety and hair loss. Her mother, Sonia, sought psychological aid. The young girl began to adapt to the circumstances little by little.
Before 2003, "The longest they ever detained him for was eight days, in November 1999, following the Ibero-American American Summit hosted by Havana. Then, they took him and other activists away and we didn't know where they were. We later learned they had put him away in a place in Mocha, where there are camping grounds," Sayli recalls.
Then, on March 18, 2003, while heading back home from Havana, Felix Navarro was detained in a bus in Jovellanos. Cuba's "Black Spring" was beginning. Subjected to a summary trial, he was sentenced to 20 years in prison. Sayli was still a teenager.
Baptism as a Reporter
"My mother worked in Perico's maternity home. They started to put pressure on her. We were afraid they would falsely accuse her of a crime, so she quit her job," Navarro recalled. "We managed to get by thanks to the support of our family, which is very tightly-knit, and friends here and in the United States."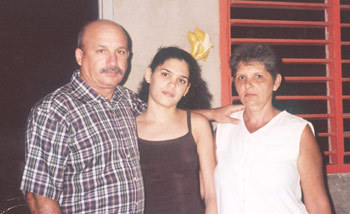 Forced by the circumstances, Sayli took her first steps as a reporter during this time. Her reports on the situation of her imprisoned father or the social conditions in her locality began to be heard in Miami through the program Lunes de comunicación con Cuba, hosted by Radio Mambi journalists Agustin Tamargo and Nancy Perez Crespo.
Gradually, she and her mother became involved in the activities organized by Cuba's Ladies in White. The two were Catholics and assisted mass in Perico regularly. On some occasions, they travelled to Havana to take part in the mass held at the Santa Rita Church. Once they participated in a mass held at the Las Mercedes Church to demand the release of political prisoners.
"They were hard times because I couldn't see my father for very long periods. First, he was in isolation at a prison in Guantanamo and, later, he was placed in regular confinement there. He even had to go on a hunger strike to protest mistreatment by prison authorities," Navarro commented. "Every time I went to see him and had to leave, I felt I was leaving him behind, helpless."
Released on March 23, 2011, Felix Navarro was one of the last of the political prisoners government opponents in the group of 75 to be let out of prison. Upon his release, he refused to leave the country. That same year, Sayli joined the Ladies in White chapter in Perico, which was initially made up of around ten women.
Difficult Study Years
Upon completing junior high, Sayli Navarro wanted to enroll in a senior secondary computer sciences vocational school, but was denied admission.
"They denied me admission even though I had good grades. Because of this, I had to spend two years at home, until I turned 17, in order to become eligible for enrollment at a senior high school course for workers," she recalled.
In 2006, she enrolled in Law at a campus of the University of Matanzas. At the time, she dreamed of becoming a psychologist. The only available career, however, was that of social service. In 2010, she was expelled from the university after attending a journalism course offered in the US Interests Section in Havana.
Navarro believes that, despite the hard blow the government dealt them in 2003, the opposition has been gaining strength in recent years. Some 200 people are members of Cuba's Patriotic Union (UNPACU) in the province of Matanzas. In February, Felix Navarro became the organization's coordinator, chaired by former political prisoner Jose Daniel Ferrer, who lives in the eastern end of the country.
When not involved in her work as an activist, Sayli likes to spend time at home with her dog and plants, helping her mother in household chores.
"I don't like parties that much. I've had to grow up prematurely. I feel good about what I do, I assume it as something natural. My dream is to see a democratic and legally constituted State arise in Cuba. I also want to study and become a psychologist."